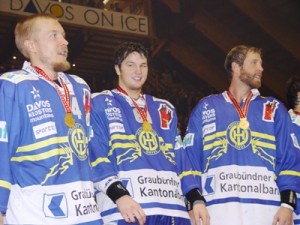 With the NHL lockout now in place, rumblings in the Swiss media have begun about the influx of NHL players into the Swiss NLA. In 2004/5, the NLA saw around 43 NHL players join the league including the likes of Dany Heatley, Danny Brière, Joe Thornton and Rick Nash.
Speculation began early Sunday via the Swiss online/print media newspaper 20 Minuten regarding an influx of North American talent during the NHL lockout. The paper writes that HCD team president Gaudenz Domenig has stated that players Rick Nash and Joe Thornton will most likely return to the same club they played for during the 2004/5 lockout, HC Davos. Joe Thornton has often spoken with admiration of his time in the Swiss league and he also met his Swiss wife Tabea in Davos.
The president was quoted via 20min.ch as saying:
 Ja, wir gehen davon aus, dass beide wieder für uns spielen. Wir waren in den letzten Tagen mit beiden im Gespräch. Ich schliesse nicht aus, dass wir bald eine Einigung erzielen und beide schon am Wochenende für uns spielen.

Yes, we are going by the notion that both players will join our team again. We have been in discussions with both players in the past few days. I am fairly confident that we will soon reach an understanding and both may play for us on the weekend already. (translated)
SC Bern GM Marc Lüthi was also quoted as saying his team would be actively chasing NHL players. Among those rumoured to be in talks with the club is former player Roman Josi (Nashville), who played for SC Bern until the end of the 2009/10 season and Islanders captain Mark Streit.
According to the SC Bern sporting director Sven Leuenberger, Roman Josi is the number one target for the team with Mark Streit as the number two. The club aims to sign Josi and check how the remaining budget looks from there. A third player, Yannick Weber of the Montreal Canadiens, has also been named as a possible candidate to join Bern.
The newspaper has also confirmed that Islanders player Nino Niederreiter will not go back to his former club HC Davos but will stay and play for New York's AHL affiliate, the Bridgeport Sound Tigers.
In further news, Swiss NHL players Raphael Diaz and Damien Brunner have reported to training with Swiss club EV Zug.
Luca Sbisa and Jonas Hiller have also been said to be talking to Swiss clubs and further details should be released within the next couple of days.