When the Manchester Monarchs hit the ice in less than a month to take on the Albany Devils, there could be a bit of a Stanley Cup flavor in the air.  Alright, very little but there could be some residual bad blood and very likely some of those players who participated in the run for Lord Stanley's Cup last spring.  That is in part because the Los Angeles Kings, like most other NHL clubs, have assigned a plethora of players to their AHL affiliate in Manchester.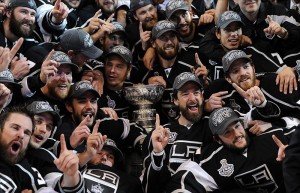 Sent down to the Monarchs thus far, are the following: Andrew Bodnarchuk, Stefan Legein, David Meckler, Andy Andreoff, J.F. Berube, Robert Czarnik, Nicolas Deslauriers, Martin Jones, David Kolomatis, Brandon Kozun, Andrei Loktionov, Jordan Nolan, Brian O'Neill, Tanner Pearson, Nikolay Prokhorkin, Tyler Toffoli, Linden Vey, Jordan Weal. Other players who could possibly join Manchester include, Slava Voynov, Andrew Campbell, Marc-Andre Cliche, Rich Clune, Thomas Hickey and Jake Muzzin.
Of the players listed above, there are a few who saw some ice time in L.A. last year.  Loktionov appeared in 39 games and two playoff games, registering three goals and four assists during the season.  Nolan, who was quite the spark plug for the Kings, played in 26 regular season contests and 20 playoff games.  During the regular season, Nolan chipped in two goals and two assists and in the post-season added a goal and an assist, plus 21 penalty minutes.