In today's News & Notes, Tuukka Rask has returned to practice, Tom Wilson has had his suspension reduced and Brian Boyle has been placed on the injured reserve.
Related: NHL News & Notes: Buchnevich, NHL Concussion Lawsuit & More
Rask Returns From Personal Leave
After missing a few days due to a personal leave granted by the Boston Bruins, Rask returned to the team's practice Tuesday. When addressing the media, Rask offered the following about his absence:
If I can just open up, and if you guys have any question — I'll be happy to answer them. First and foremost, I want to thank all the people who sent me messags and contacted me and supported me. Second of all, I want to thank the Boston Bruins for giving me the opportunity to take time off with my family.

I've never been more proud to be a part of this family with the Boston Bruins. Because we talk about it, obviously, this is a family and we area family and we all take care of each other when times are tough. That being said – I have a job. My job is to be a hockey goalie for the Boston Bruins. But I also have another job and title and that's a family man and this was a time where, deep inside my heart, I felt like I needed to take time to be with my family and make things right so I can be back here and focus on my job. That took three days. I'm back here, I'm back to work and I'm ready to battle with these guys.

At the end of the day, I realize that a hockey career is a very short career. But your life is much longer than that. I appreciate I got privacy and the time I need. I'm ready to move on now. Thank you.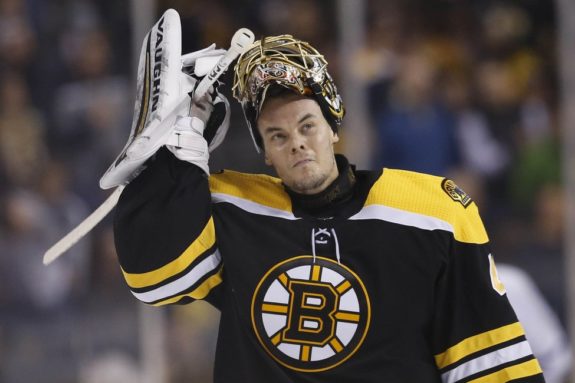 In Rask's place, the Bruins used Jaroslav Halak as the starting goaltender with Providence goalie Dan Vladar as his backup. With Rask back at practice, Vladar was re-assigned to the Providence Bruins on Tuesday.
Wilson's Suspension Reduced
A neutral arbitrator has reduced Wilson's 20-game suspension down to 14 games.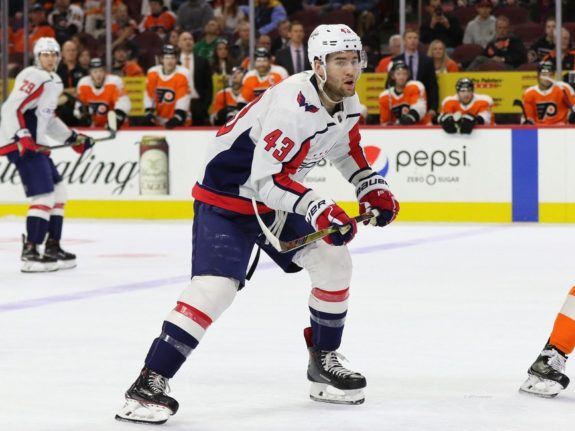 After originally receiving a 20-game suspension for an illegal check to the head of St. Louis Blues forward Oskar Sundqvist during the preseason, Wilson appealed his suspension to NHL commissioner Gary Bettman. Bettman opted to keep the length of the suspension untouched which force Wilson to turn his attention to a neutral arbitrator.
Related: Tom Wilson's Suspension Reduced
Wilson has been suspended four times in the last 105 games including the preseason, regular season and postseason. He was set to forfeit $1,260,162.60 for 20 games. With his suspension being reduced to only 14 games now, Wilson will only lose $882,113.82, saving him $378,048.78.
Boyle Placed on Injured Reserve
The New Jersey Devils have placed Boyle on the injured reserve with an upper-body injury. The veteran forward is in his second season with the Devils and was having the best start of his career offensively with six goals and seven points in 15 games.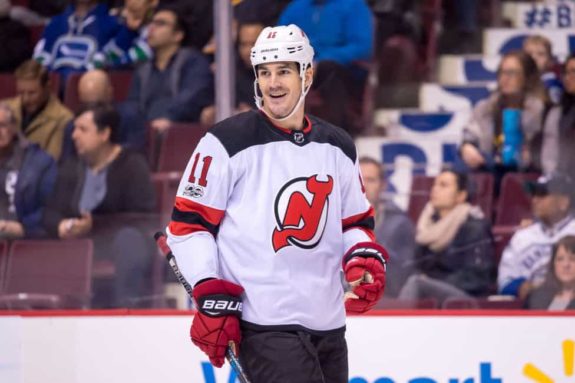 In 708 games, Boyle has scored 112 goals and 199 points. He's spent his 12 seasons in the NHL with the Los Angeles Kings, New York Rangers, Tampa Bay Lightning, Toronto Maple Leafs and now the Devils.
After dealing with cancer for the entirety of the 2017-18 season, Boyle announced last month that his cancer is in remission. In a touching moment, Boyle also scored his first career hat-trick earlier this month on Hockey Fights Cancer night. It was a moment that won't soon be forgotten in the hockey world.