Boston Bruins goaltender Tuukka Rask returned to practice on Tuesday after taking a three-day leave of absence to attend to a personal matter.
"This is a family and we are a family and we take care of each other when times are tough," Rask said about the team he's been with since 2006.
The Bruins granted Rask the leave of absence on Friday. Rask acknowledged the matter was related to his family, but didn't share details.
"I have a job, my job is to be a hockey goalie for the Boston Bruins," he said Tuesday. "And I also have another job title, that's a family man, and this was a time that deep inside my heart I felt like I needed to take time to be with my family and make things right so I could be back here and focus on my job."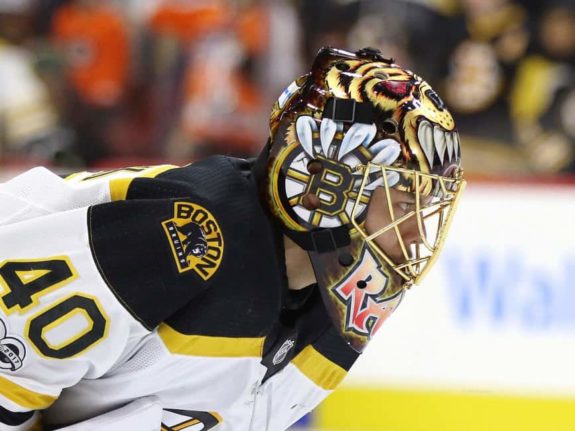 When asked if he felt unburdened after the time off, he said "yes" and added "resigning (or) quitting the job wasn't" something he considered.
The 31-year-old Rask is second on the Bruins' all-time list in games played (457) and wins (242). He's 12 games and 11 wins from passing Tiny Thompson for the franchise records. This season, he's struggled with a 4-4-0 record, .901 save percentage and 3.05 goals-against average.
But he didn't draw a line between his off-ice issues and what's happened on the ice.
RELATED: More Boston Bruins News & Analysis
"It hasn't affected my job," he said. "I'm not going to make excuses that I played good games or bad games because of my personal life. … Those are not easy decisions and things happen in people's lives that you kind of do some soul searching and try to seek the best answer."
The Bruins won both games over the weekend. Goaltender Jaroslav Halak stopped 77 of 79 shots in a 5-1 win against the Toronto Maple Leafs on Saturday and a 4-1 win against the Vegas Golden Knights on Sunday. Boston is 10-5-2 and tied for second place in the Atlantic Division.
The Bruins won't rush Rask into game action. Coach Bruce Cassidy said Halak will start the next game on the road against the Colorado Avalanche on Wednesday.
Rask will start either Friday at the Dallas Stars or Saturday at the Arizona Coyotes.
"He's been here a long time, he's a big part of the team, so it's good to see him back," Cassidy said. "Hopefully, the time away was what he needed to get squared away and he's ready to get back to work. That's kind of the approach we're going to take with him and see how it plays out going forward."
The Associated Press