Don Sweeney elected to add Jaroslav Halak to the Boston Bruins' goaltending depth chart on July 1 to replace Anton Khudobin, a fan favorite who had simply gotten too expensive for the club. After Khudobin's early season performance arguably saved the Bruins a year ago, many were disappointed by the fact Sweeney and company allowed him to walk to Dallas as a free agent.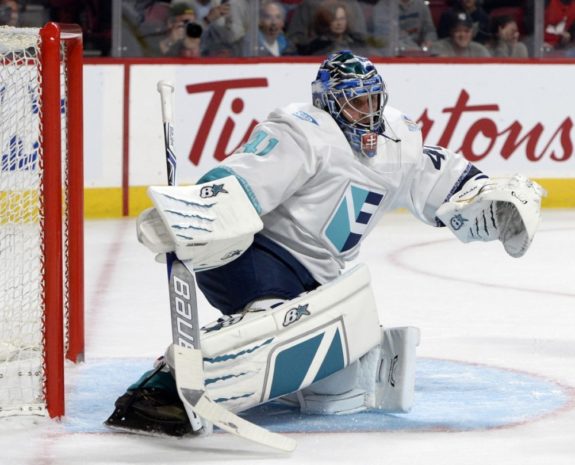 Making matters even worse in the eyes of some? Halak was coming off of a tough stretch to conclude his career as a member of the New York Islanders. With the Isles, Halak appeared in 82 games during the 2016-17 and 2017-18 seasons combined. He struggled, posting save percentages of .915 (2016-17) and .908 (2017-18) while also seeing time with the AHL's Bridgeport Sound Tigers in the winter of 2017.
Halak has turned the clock back in Boston, looking more like the goaltender that stole playoff series victories for the Montreal Canadiens back in 2010 and who was traded to St. Louis to settle the Blues' goaltending woes. He's proven everyone wrong, and as of now he has officially taken over the net as Boston's top option.
Halak Steps Up
It started on opening night for Halak with the Bruins. The Washington Capitals, riding the high of banner night and their home opener, absolutely ravaged the Bruins and starter Tuukka Rask. Halak came on in relief and stopped the bleeding, then got the start the very next night and blanked the Buffalo Sabres to help the Bruins win their first game of the year.
Halak settled things down for a Bruins club on the second half of a back-to-back set and playing against a fired up Sabres squad opening their season. He's been a brick wall in goal ever since then. He shut down the Edmonton Oilers next time out, recovering nicely after giving up a Connor McDavid goal early, and hasn't looked back since. Even during a tough road trip to Western Canada, Halak played well enough to steal two loser points for his team against the Oilers and Vancouver Canucks.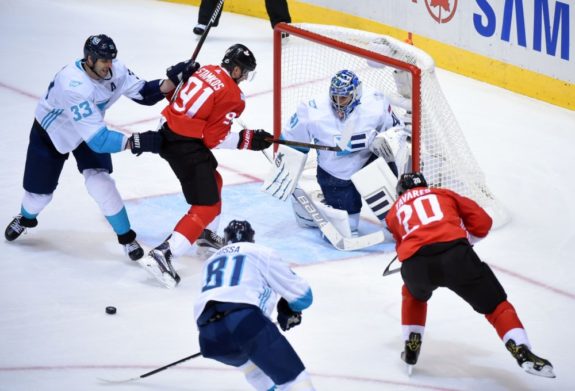 On the season Halak has a .945 save percentage to along with a 1.77 GAA and a 6-1-2 record. Even when he plays poorly, as he did against Vancouver on Thursday, he responds with major outings. Look no further than his 40 saves on Saturday night to pace the Bruins to an important divisional win over the Toronto Maple Leafs. After shutting down the Maple Leafs, Halak turned right around and slammed the door shut right in the faces of the Vegas Golden Knights.
Halak faced 78 shots in two games this weekend, a heavy workload for any goaltender. He stopped 76 of those shots, won both games and has his team feeling very good heading out to Denver on Wednesday night.
A low risk signing to provide insurance on July 1, Halak has stepped up in a major way for the Bruins and given them something that they sorely needed. He's making the big stops every night and giving his team a chance to win. That's the job of a starting goaltender in this league, and Halak has filled it to a tee.
Giving The Bruins Confidence
It's not a secret that I think Tuukka Rask is a high level goaltender and that I believe he is key to the success of the Bruins. That thought process has not changed, I still think the Bs are going to need Rask if they are to make a deep run this spring.
That being said, it is paramount in this league to have a goaltender that makes all the saves he is supposed to and then a few that he probably shouldn't. Right now, Rask just isn't making all the saves he is supposed to be making and it is killing the Bruins. Early this season, he's given up a considerable amount of weak goals that have killed momentum and hurt the club.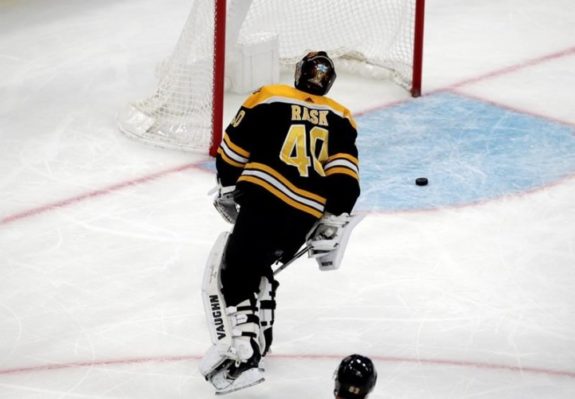 Now, before we continue I just want to point out that this isn't meant to bash Rask. He's not playing well right now, but he's a good player. He's slated to return to the club as early as today from his personal time off, and I think I speak for everyone when I say I hope all is well and that whatever issues he has get resolved.
Back on topic, Rask wasn't giving his teammates confidence. So far in his young Bruins' career, Halak has done nothing but give his team confidence. That's they key here, these guys believe every night that Halak is out there that they'll win the hockey game. He's making all the saves he is supposed to make, then adding a few he shouldn't make on top of that.
Halak has kept the Bruins in games this season, specifically against the Predators and to a lesser degree against the Golden Knights when they pushed hard on Sunday. He's playing at an elite level right now.
Bruce Cassidy has no choice. This isn't riding the hot hand, no, this is giving his team the best chance possible to win. Jaroslav Halak has come to Boston and been lights out, earning the net for the Bruins until further notice.
A 2016 graduate of Springfield College, Alex graduated with a degree in Sports Journalism and Communications. Since September of 2016, Alex has served as the Director of Broadcasting and Play-By-Play announcer for the USPHL's Boston Junior Bruins. Alex has also called games for Northeastern University, Holy Cross and UMass Lowell. Alex is the founder and lead writer for The Oilers Rig, and Edmonton Oilers blog he created in June of 2013. He's also currently serving as a contributor to Murphy's Hockey Law in addition to his work at THW. Alex is a native of Woburn, Massachusetts.