What is the Boston Bruins' best bet right now? To completely erase their Western road trip from their memory. Although the club did get two points from the trip, they finished without a victory and didn't exactly play good hockey. The good news?  They finished the overall road trip last night in Ottawa with a win before returning home for a couple of rivalry games. It's amazing the difference a week can make. Last week, we were talking about how good the Bruins looked. Now, people in Boston are panicking after an admittedly tough week.
It wasn't good, I think we can all agree on that, but a tough three-game stretch on the road early in the season is no reason to lose your mind. The Bruins will be just fine, last night proved just that.
Bruins' Week That Was
It seemed like the Bruins forgot the road trip started on Wednesday night. Coming off an 8-2 drubbing of Detroit the Saturday before, Boston was down 3-0 before they it even blink in Calgary. I thought that was the club's worst performance of the season—even worse than the embarrassing opening night bloodbath in Washington.
The Bruins couldn't do anything right in Southern Alberta. Tuukka Rask simply was not good in this game and unfortunately opened the door for more questions about his game. The defense seemed to give up the blue line far too easily and allowed the Flames to set up seemingly at will. The transition game? Let's just say the B's could have used Torey Krug. Offensively, it wasn't much better. The top line was a turnover factory and never got any kind of sustained pressure. All around, this game was ugly and there really wasn't a single positive to take out of it.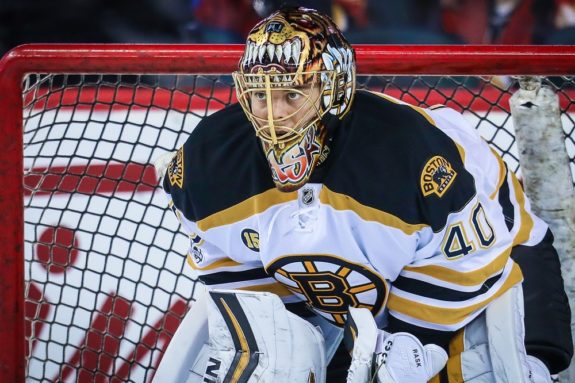 Boston was better 24 hours later in Edmonton, but still not good enough to get a victory. They dominated the first ten minutes against the Oilers and tied the game late with another dominating five-minute stretch to conclude regulation. Other than that? They allowed a weak defensive team to shut them down, as neither team really generated much of anything for long stretches. I don't care how good Boston's top line is; you are going to be in trouble in 3-on-3 overtime when Connor McDavid and Leon Draisaitl are on the other side.
Saturday night was a trip to Vancouver, which featured another poor showing in goal early. This time, however, it was Jaroslav Halak giving up the soft goal. Interestingly enough, the "Tuukka is bad" crowd wasn't vocal about this goal. Anyway, the Bruins did fight back in this game and probably deserved a better fate. Sometimes that doesn't matter in hockey, however, and the Canucks managed a 2-1 overtime victory to push Boston to 0-1-2 on the trip.
The good news? The Bruins got better as the games went along on this trip. They weren't good enough—no one will argue that—but at least they showed improvement and started to get some secondary scoring.
Last night was the cleanest game of the trip for Boston without doubt. The Bruins controlled the play from the opening puck drop and never trailed against a weak Senators team. David Pastrnak struck 11:17 in to give the B's a lead they would not lose on this night, as the club's main line scored three of their four goals. David Krejci chipped in with his second of the trip, while Tuukka Rask was solid in goal for Boston. Even with a number of injuries on defense, the Bruins controlled this game and ended their losing streak before heading back to the Garden.
The Bruins' Week Ahead
On Thursday, the B's will be back home to take on Philadelphia in the first of three meetings this season. The Bruins have played the Flyers quite well the last few years, and this is a very winnable game. Philly has a ton of talent, but the defense and goaltending is very inconsistent. Some nights you get a team that looks like it is going to be dangerous. Other nights? You get a team that looks like it is bound for a top-five draft pick.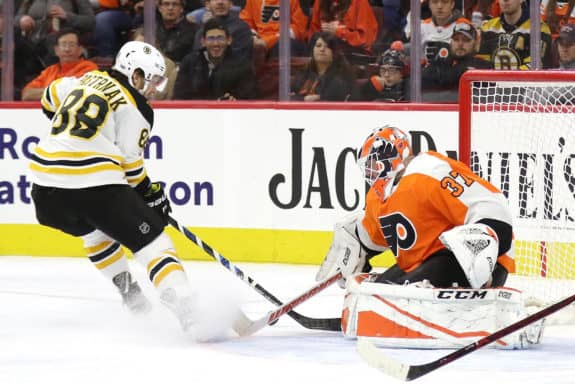 Saturday night is the big one, however. The Bruins will renew thier rivalry with the Montreal Canadiens at home. Many, myself included, expected the Habs to be a total and utter tire fire this season. So far, so good for Montreal, however. The Habs have shot out of the gate playing a fast and skilled brand of hockey, with their young talent taking center stage. With Carey Price tending goal at an elite level, you get a feeling the Habs can hang on just long enough to be a bubble team this season. You also know they will want to send a message against their rival in the first meeting of the season. What looked to be a dud when the schedule came out might just be the crown jewel of Saturday's NHL slate.
As of right now, the Bruins and Canadiens are two of three teams tied atop the Atlantic Division with 12 points. This is a big game and should have TD Garden buzzing on what will be a major night for Boston sports.
This is a big week for the B's. Another round of underwhelming performances will no doubt turn the heat up on GM Don Sweeney. After striking out on John Tavares in free agency, he elected to take a smart and conservative approach with his forward group. With every passing loss and game without secondary scoring, the masses will begin to question him more and more. A losing streak could put the heat on Sweeney to go out and make a move. More on that later this week….
A 2016 graduate of Springfield College, Alex graduated with a degree in Sports Journalism and Communications. Since September of 2016, Alex has served as the Director of Broadcasting and Play-By-Play announcer for the USPHL's Boston Junior Bruins. Alex has also called games for Northeastern University, Holy Cross and UMass Lowell. Alex is the founder and lead writer for The Oilers Rig, and Edmonton Oilers blog he created in June of 2013. He's also currently serving as a contributor to Murphy's Hockey Law in addition to his work at THW. Alex is a native of Woburn, Massachusetts.