Jim Neveau, NHL Correspondent
It feels like every week or two that an incident occurs that shows how out of touch with common sense the NHL is, but fines that the league has levied this week against Kings GM Dean Lombardi and Flames LW Curtis Glencross show that they have reached a new level of foolishness.
Glencross kicked off the fun on Wednesday when he was given a five minute boarding penalty for sending Minnesota's Clayton Stoner crashing into the boards while chasing a dump into the zone. On the play, Stoner slows up a bit as he nears the corner, and Glencross knocks him headfirst into the boards:
The play was similar to several incidents that have occurred in recent months, including a hit by Philadelphia's Jody Shelley on Boston's Adam McQuaid on an icing play. He was suspended for two games for the infraction. The only difference is that this play didn't occur on an icing, and thankfully Stoner walked away unscathed.
After reviewing the video, the NHL decided to fine Glencross $2500, even though he certainly has had his run-ins with the league before. He was suspended for three games in 2009 for a cross-check on the Rangers' Chris Drury, and earlier this season he evaded a suspension for his hit on Vancouver's Keith Ballard in December.
The other incident this week centers around Lombardi, who was vicious in his comments about officials after LA's 2-0 loss to Phoenix on Thursday. The play that sparked his outrage was a goal by Martin Hanzal that photographic evidence later showed to have been scored with a high stick, and Lombardi let his feelings be known after the game. He claimed that Mike Murphy, the league's VP of Hockey Operations, was still sore about not getting the GM position with the Kings, referring to another incident against the Ottawa Senators earlier this season as proof of his accusation.
As was seen when Alex Burrows accused referee Stephane Auger of targeting him during a game last January, the league closes ranks quickly around its employees, and that's exactly what they did in Murphy's case. They fined Lombardi $50,000 for his outburst, and tried to send a clear message that criticizing officials, especially in the aggressive tone that Lombardi did, will not be tolerated at any level.
While the league's intentions are honorable in this instance, the disparity between the two fines has got to be called into question. Criticism of officials is something that every sport deals with harshly, and the NHL is no exception. They may not issue penalties for every untoward word a player says like the NBA does, but they are extremely protective of the men in stripes, and also of their officials in the front office. No one is going to say that those folks deserve the kind of lambasting that Murphy got from Lombardi (no matter how blatantly his officials screwed up the Hanzal call), but when it comes to player safety, the issue becomes slightly less black and white.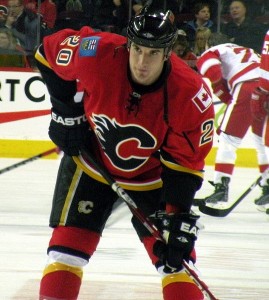 The NHL has been preaching for eons now about how player safety is important, and that they are going to crack down on the kinds of needless and stupid hits that cause injuries. While headshots and blindside hits have garnered most of the headlines this season, hitting someone in a prone position while they are facing the boards has been something the league has repeatedly sought to punish. Alex Ovechkin got suspended for three games for boarding Brian Campbell and breaking his collarbone in a game last March, and as mentioned previously Shelley got two games for his boarding infraction this season. These kinds of suspensions may seem harsh for something that can happen in a split second, but the reality is that players have got to be taught that knocking someone head first into the boards isn't just stupid: it's something that the league will not let slide.
Another aspect of the Glencross incident is that the league seemingly once again used the extent (0r lack thereof) of the affected player's injury to determine the punishment. Recently Tom Kostopoulos was suspended for six games for hitting Brad Stuart in the head, a play which broke Stuart's jaw. Colin Campbell even admitted that the severity of the injury played into his decision.
In this instance, Stoner wasn't seriously injured on the play, and he did not miss any time. That should not outweigh the fact that he was checked from behind in a vulnerable position, but the league apparently doesn't see it that way. The fine that they levied against Glencross was a paltry .02% of his salary for this season, and it's highly unlikely that he'll remember this punishment the next time he considers doing something against the rules.
This is not to say that Glencross should have had the book thrown at him in the same way that Kostopoulos did. It could be easily argued that Tom targeted Stuart's head on his hit, and the league was correct in suspending him for as many games as they did. The problem lies in the fact that Campbell let the gruesome broken jaw sustained by Brad on the play dictate how long Kostopoulos was banned. This should certainly not be the case.
To sum it up, it is patently ridiculous that someone who criticizes a league official with words gets fined 25 times more than a guy who could have easily seriously injured another player. Regardless of whether or not you believe that Glencross intended to hurt Stoner or not, the fact of the matter is that a violent play on the ice is a lot more deserving of punishment than someone expressing frustration in a less than ideal manner.
If the NHL wants anyone to take its rulings seriously (and who knows at this point if they do), then they need to start issuing punishments that make sense. Games missed is a burden not only on a player's team but also on that guy's pocketbook, and by looking like they care more about their image than about player safety, the league has once again displayed incredibly bad judgment. The real question, however, is this: does that surprise anyone?