In today's NHL rumors rundown, the New York Rangers are likely going to have to trade one of their pending RFAs if they want to keep their recent acquisitions. The Edmonton Oilers might be getting back a depth defenseman, but it's not clear if they'll choose to insert him into their lineup. Jonathan Toews will be returning to the lineup for the Chicago Blackhawks but isn't ready to make a decision on his long-term future. Finally, the Vancouver Canucks are choosing to shut down defenseman Filip Hronek for the rest of this season.
Which RFA Will The Rangers Move?
Arthur Staple of The Athletic writes that the Rangers may "have-to" trade one of their pending RFAs, especially if the plan is to re-sign one of Patrick Kane or Vladimir Tarasenko. Of the key free agents the team has to make a decision on, Staple notes that because Filip Chytil just re-signed and the team isn't moving K'Andre Miller, it makes the most sense to move Alexis Lafreniere.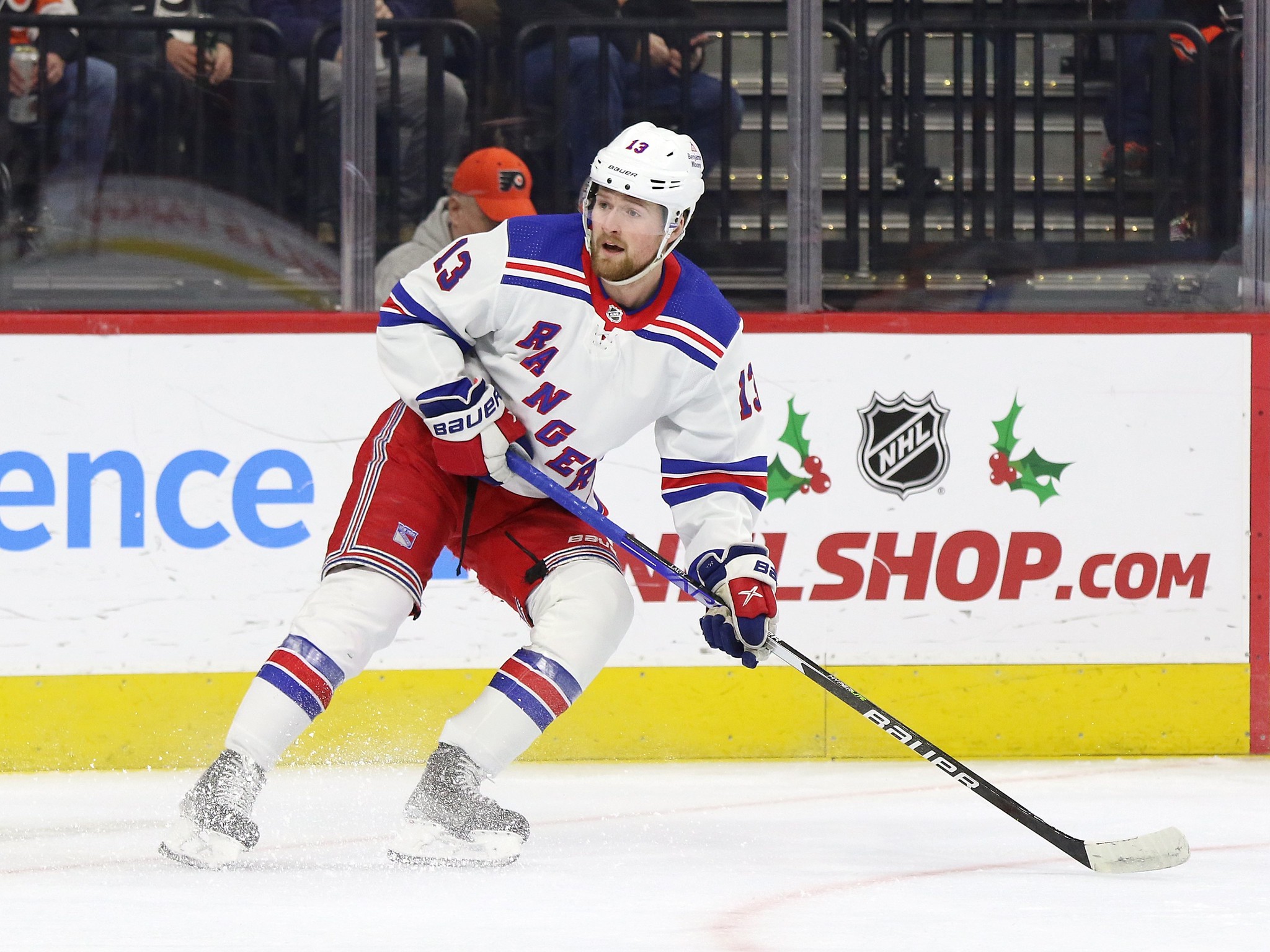 He explains:
If Chris Drury sees an area he feels the team needs a big upgrade in, maybe he moves one of them. The only one that could even remotely make sense is Lafrenière if you feel you can spend the money he'll likely get on his next contract beyond his upcoming one elsewhere. Trading Chytil leaves the Rangers poorer skill-wise at 3C and trading Miller seems like madness.

source – 'Could Rangers keep Tarasenko and Kane? What will RFA contracts look like?: Mailbag' – Arthur Staple – The Athletic – 03/28/2023
As for what each player would be worth on an extension, the scribe is guessing Miller would get a two-year bridge deal at around $4.5 million and Lafreniere two years at $3 million. The Rangers might opt to go for a longer-term deal with Miller and that could mean around $6 million per season.
---
---
He also adds that re-signing goaltender Jaroslav Halak is not a priority and he's not sure there will be room to sign Tyler Motte to an extension.
Could the Oilers Be Getting Ryan Murray Back?
Defenseman Ryan Murray was skating with the Edmonton Oilers on Friday. Signed to a one-year deal this past offseason, Murray has only played 13 games for the team and has been sidelined with a long-term injury. TSN's Ryan Rishaug tweeted, "Ryan Murray hitting the ice this morning. Interesting. Oilers could use some depth on the blue line come playoffs. Long road back but he's out there."
---
Latest News & Highlights
---
It's not a guarantee the Oilers ever put Murray back into the lineup. He's missed so much time and was signed as a depth piece, to begin with. The play of blueliners like Philip Broberg, Vincent Desharnais, and even Markus Niemelanien makes it so the Oilers have options.
Toews Back in the Lineup for the Blackhawks
Blackhawks head coach Luke Richardson confirmed that veteran forward Jonathan Toews will be back in the lineup for the team on Saturday when the club takes on the New Jersey Devils. Richardson said that Toews told him that he assumes his first game back is "not going to be perfect. It might be ugly." The coach responded, "'We're a little bit ugly right now, so you'll fit right now."
Related: Blackhawks Seth Jones Finding Motivation in Lost Season
When asked if this is his swan song and if the plan is to retire after this game or this season, Toews noted, "To be fully honest, I'm not near making that decision yet." He added, "I don't feel like with what I've been through this year and this past season that I have enough clarity on what that decision is going to be."
Canucks Shut Down Hronek
As per multiple reports, the Vancouver Canucks have shut down defenseman Filip Hronek for the rest of the 2022–23 regular season. The blueliner is recovering from a shoulder injury, head coach Rick Tocchet said Thursday and the mutual plan is for the player to take the next four months to get ready for next season.