Not too long ago, you would have been hard pressed to find star players in the NHL from the United States.  Players like Joey Mullen, Jeremy Roenick, Mike Modano, John LeClair and Keith Tkachuk showed that the U.S. could produce NHL players among the same caliber as their northern neighbors, however, most of them would hail from hockey hot beds such as Minnesota, Michigan or New England.  The NHL has come a long way in 2009 and two of the league's youngest, rising stars are from the great state of New Jersey, James Van Riemsdyk and the subject of this post, Bobby Ryan.
Ryan (born Robert Shane Stevenson) is from Cherry Hill, NJ, a hop, step and a jump away from Philadelphia, PA.   While living in NJ, Ryan was a Flyers season ticket holder and spent many years in the seats, dreaming of playing on the ice at the Wachovia Center.  By the time he was 11 years old and moved to Los Angeles (more on the move later), Ryan had made a name for himself around the youth ice and roller hockey leagues of New Jersey and was also known on a national level within roller hockey circuits.
While in LA, Ryan was noticed while playing for the national championship winning Los Angeles Junior Kings.  Depsite announcing his desire to play for the U.S. National Under 18 Program, Ryan was chosen 7th overall in in the 2003 Ontario Hockey League ("OHL") selection draft by the Owen Sound Attack and subsequently convinced to play for the team.   Ryan had a solid rookie season in the OHL, scoring 22 goals and 39 points in 65 games during the 2003-04 season and was named to the Annual Second All-Rookie Team.  He followed that up with a jump to 37 goals and 89 points in just his second season in the OHL, making the post-season Second All-Star Team. 
Ryan became eligible for the 2005 NHL Entry Draft.  The 2005 draft was an unusual one for multiple reasons.  First, the 2004-05 NHL season did not happen due to a lockout, causing the draft order to be determined randomly.  Second, this draft had a consensus generational superstar in Sidney Crosby who was guaranteed to be the first pick in the draft and was selected by the Pittsburgh Penguins, who were extremely lucky to win another high pick.  Next up in the draft was the Anaheim Ducks, who at the time had a veteran team and wasn't looking for a player to step right into the NHL.  They decided to choose Ryan, making him the answer to a future trivia question, "Who was the player drafted after Crosby?"
As expected, Ryan was sent back to the OHL for two more seasons, increasing his production in each year with 35 goals and 95 points in 59 games during the 2005-06 seasons, followed by 43 goals and 102 points in 63 games during the 2006-07 season.  He also had the chance to play for Team USA in the World Junior Championship in 2006.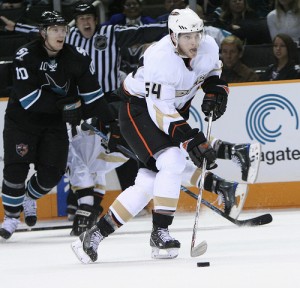 Ryan turned pro for the 2007-08 season, earning a spot with the Ducks for the first 4 games, scoring a goal in his debut against the Kings, a game held in the O2 Arena in London, England, before being sent down to the American Hockey League ("AHL") after 4 games.  He was recalled later in the season after RW Corey Perry went down with Injury.  The following season, Ryan again made the Ducks roster out of camp, but was sent down due to salary cap issues.  He was called up during the season, this time for good, and went on a tear in his 64 games scoring 31 and 57 points as a rookie.  Ryan was a finalist for the Calder Trophy for Rookie of the year, losing to Columbus goaltender Steve Mason. 
Ryan, now a full time NHL player has started off the 2009-10 season well with 9 goals and 14 points in the first 20 games.  His future certainly look bright, although his path to the NHL could have certainly taken a completely different turn.
The Name
If you were to research Bobby Ryan and youth hockey in NJ you would not find any results.  Bobby Ryan did not exist.  The young man who now calls himself Bobby Ryan was actually Bobby Shane Stevenson, his name given to him at birth, the son of Bob and Melody Stevenson.  Bob, who happened to be a good friend of Flyer's General Manager at the time, Bob Clarke, was known as a tough guy with a wicked temper.   The night of October 29, 1997 would change everything for Bobby Stevenson and his family. 
The night started off innocently enough with Bobby attending a Flyers game with his father against the St Louis Blues.  Bobby was there to not only cheer for his hometown Flyers, but also see his favorite player Brett Hull, who played for the Blues at the time.  The night seemed like it would end innocently enough as well.  The Stevenson men headed home after the game with Bob dropping off his son and heading to the bar to meet friends.  It was when Bob came home that the problems began.  Bob, who suspected his wife of being on drugs, attached a tape recorded to the phone and checked the tape upon arriving home from the bar.  Apparently, one message set him off.  Gare Joyce explains it best in an article entitled "Alias" for ESPN Magazine:
When he came back from the bar, Bob checked the tape. "There was one call–innocent," Melody says. Didn't matter. It set Bob off like the bell ringing. He went after Melody. Lefts and rights. Choking. What started in the bedroom spilled into the street, then to a neighbor's house, where Bob, burning like a four-alarm fire, ripped a door off its hinges. The cops were called, and Bob was arrested.
Today, Bobby still insists he didn't wake up during the incident that caused his mother to spend 4 days in the hospital with a fractured skull and other internal injuries.  As a result, Bob was charged with attempted murder, aggravated assault and criminal restraint and was released on $75,000 bail, which he skipped and fled to California.  Surprisingly, Melody and Bobby would join him later, not just for a new life but for a new identity.  Bob and Melody Stevenson became Shane and Melody Ryan and young Bobby Stevenson became Bobby Ryan.
Due to the hockey skill Bobby demonstrated in international roller hockey, many speculated that Bobby Ryan was in fact Bobby Stevenson, but no one questioned it cause they did not want to hurt Bobby.  Shane Ryan, claims he intended to turn himself in when the time was right, but wanted to be there for his son during his early teen years.  Using a credit card with an older different alias at a Blockbuster sometime in 2000, Bob Peterson was discovered and his home was raided by US Marshall's that evening. This time young Bobby woke up and the next few years would be the toughest of his life.
While Bob Peterson spent 4 years in prison in Camden, NJ, Melody worked multiple jobs to keep her son in hockey with assistance from parents of Bobby's teammates and Bob Clarke, who had kept in touch with the family through it all, and always invited Bobby to skate with the Flyers veterans in off season camps. When the time came that Bobby decided he was going to go for it all, the decision needed to be made whether to do it as Bobby Ryan or Bobby Peterson.  He chose Bobby Ryan.
Bobby attended an OHL prospects camp in Toronto in 2003 and was immediately noticed by the Attack, whose coach Mike Stothers had played and coached in Philly and received rave reviews about Bobby from his old friend Clarke.  The rest, they say, is history.
For Bobby Ryan's Career stats, refer to the Internet Hockey Database