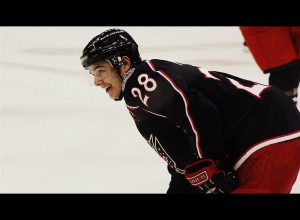 By Rick Gethin
"CSKA can give me more right now than Columbus, to whom I am thankful. And all I need is to get playing time."  ~ Blue Jacket Nikita Filatov to Dmitry Chesnokov (PuckDaddy)
    My colleagues' artcile (Jeff Little) Filatov and The System can be read here. 
     Not surprisingly for a 19 year old kid, this statement strikes me as rather arrogant and selfish. I could be wrong; I have been in the past. But this has "sense of entitlement" wrapped all around it. What we are all seeing here is the end result of a young athlete being told over and over how "great" they are and coming to expect that in every facet of their existence. Don't get wrong; Filatov has the potential to be an elite player in the future. But, in the "here and now", he's not there yet.
     Who is to blame in this torrid situation; the Blue Jackets organization or Filatov? Or should the blame be shared equally? Both sides are doing their diplomatic best to put a positive spin on it, leaving the fan base to wonder what exactly will happen next summer. One thing that is for certain is that both GM Scott Howson and Nikita Filatov are shrewd people. Howson has shown that he's patient enough to wait for the "right" deal to surface. Will his patience serve him well in this particular situation? And Filatov has shown that he knows exactly what he wants; to play in the NHL. The question remains of whether he'll ever again suit-up in Union Blue.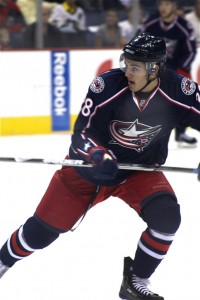 It seems like so long ago that the 1st round pick (6th overall) in the 2008 NHL Entry Draft was destined for great things in Columbus. Conventional wisdom saw him spending a year with Columbus' AHL affiliate Syracuse Crunch getting used to the pace of the North American game. At that point he would make the team out of training camp and be off to the races in 2009. It didn't quite turn out as well as everyone anticipated. 
     By all accounts, he was a gregarious personality in the Crunch locker room; joking with teammates and possessing many good qualities for a younger player. Arguably, he was one of the top prospects to ever don a Syracuse sweater. He went 16-16-32 in only 39 games with the Crunch; being called up to Columbus and also missing time to play for Russia in the WJC. He was called up again to the big club, ostensibly to "soak up the NHL playoff atmosphere", while Syracuse was in the midst of a playoff push themselves. Although Syracuse helps to develop players for their time in the NHL, they needed the skills and the "draw" of Filatov to help them advance through the playoffs. This was not the smartest move by Columbus. He could have honed his game even further by playing in the AHL playoffs, where the game intensity gets ratcheted up even higher, versus watching the NHL playoffs from the press box in Columbus. 
     While he had a smile on his face to start training camp this year, there was something that didn't seem quite right. Although nothing was obvious, as he seemed to get along very well with his teammates in Columbus, something was going on in his mind. It became evident that he would not be a top 6 guy, but rather a fourth liner. His stature lends itself to being a skilled forward, which he has shown glimpses of becoming, not a "grinder" relegated to the bottom line. But with the glut of forwards in Columbus, where else could he be put? This, obviously, was not how he saw his ice-time playing out in the NHL. As October turned into November, his frustration became more palpable. There were no more smiles as I passed him in the press level hallway at Nationwide Arena, especially in the last few weeks. The smiles also seemed more forced in the locker room after games. 
     It all came to a head on Monday evening as the story broke that he would be going back to Russia to play for CSKA Moscow of the KHL. Filatov had forced their hand; when the going got tough, he bolted. The Blue Jackets confirmed this on Tuesday by saying that he would be loaned to CSKA for the remainder of the season. Scott Howson addressed the media saying, "He wasn't developing here and was getting increasingly frustrated. I think it's an opportunity for him to go and play in familiar surroundings and hopefully develop there". The key word in that statement is the word hopefully. It almost seems as if they hope that he'll get better and come back into the fold. Sure, he'll get more ice-time playing in Russia and maybe his shooting will get more accurate and, of course, he'll make more money. But I really don't see how he'll develop into a player that fits into the Hitchcock "system". I don't think he ever had a chance of being a "Hitchcock-type" of player, and he knew it. With skill also comes leverage, which he used to get what he wanted; more ice-time. It just happens to be with another team in another country.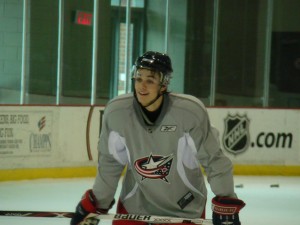 The best that Columbus can hope to do at this point is look to trade Filatov after the WJC ends in January and the trade deadline in March. As long as Filatov shines at the WJC, his trade value should not precipitously drop. Scott Howson could conceivably parlay this into a veteran player that helps Columbus in the short term and draft picks that help them in the long run. There are quite a few teams that have to be positively salivating at the prospect of landing a young player will his skill set. I put his chances of playing a Union Blue sweater any time in the future at around 10%. The trust would seem to be broken between player and coach and I don't see a realistic chance of that mending.
     At the end of the day, I think it's his maturity level that needs the most work. He needs to learn that if you want to be taken seriously, you can't just bolt at the first sign that things aren't going your way. As Hitchcock is very fond of saying, "Work over skill". Nikita Filatov has the skill. It just seems that he wasn't ready to put in the work for a coach like Ken Hitchcock.
Rick Gethin was an Associate Editor of TheHockeyWriters.com.