The NHL has made it through January after a delayed start to the 2020-21 season. Here's a look at some of the numerical highlights of the first month of a season unlike any in league history.
Connor McDavid and Leon Draisaitl put some distance between themselves and the rest of the pack in the NHL scoring race.
As the calendar turns to February, the Edmonton Oilers' dynamic duo is 1-2 in scoring after combining for 11 points in an 8-5 win against the Ottawa Senators on Sunday. McDavid, who led the NHL in points in 2016-17 and 2017-18, scored one goal and assisted on four others, giving him 22 points (eight goals, 14 assists) in 11 games. He's one ahead of Draisaitl, last season's Art Ross Trophy-winner, whose six assists against Ottawa were one shy of the NHL single-game record.
Draisaitl has scored six goals and leads the NHL with 15 assists. Those 15 assists alone are more than any other player's point total; Mitch Marner of the Toronto Maple Leafs and Nathan MacKinnon of the Colorado Avalanche are tied for third with 14 points, one more than James van Riemsdyk of the Philadelphia Flyers and Nicklas Backstrom of the Washington Capitals.
Oilers Still Struggling to Win
McDavid's eight goals are tied for the NHL lead with Brock Boeser of the Vancouver Canucks. Mikko Rantanen of the Avalanche is alone in third place with seven.
The biggest difference between Draisaitl and McDavid this season? Draisaitl is second in the NHL with a plus-10 rating (St. Louis Blues defenseman Justin Faulk is tops at plus-11). McDavid is at zero – a symbolic representation of why the Oilers are in fifth place in the North Division. Despite having the NHL's top two scorers, Edmonton is 5-6-0 and have been outscored 41-38.
It's largely because the defence is leaking and making life miserable for goalie Mikko Koskinen (4-6-0, 3.45 goals-against average, .895 save percentage), who faced an average of more than 32 shots while playing every minute of Edmonton's first 10 games. With backup Mike Smith on long-term injured reserve, coach Dave Tippett rolled the dice by playing Koskinen exclusively before starting rookie Stuart Skinner against Ottawa. Skinner, in his NHL debut, didn't help his case by surrendering five goals, though he was pelted with 38 shots and was often left to fend for himself while his teammates went goal-hunting.
Vitek Vanecek of the Washington Capitals has had no such problems. With starter Ilya Samsonov out due to COVID-19 protocol, the rookie goalie is a big reason the Capitals are still unbeaten in regulation (6-0-3).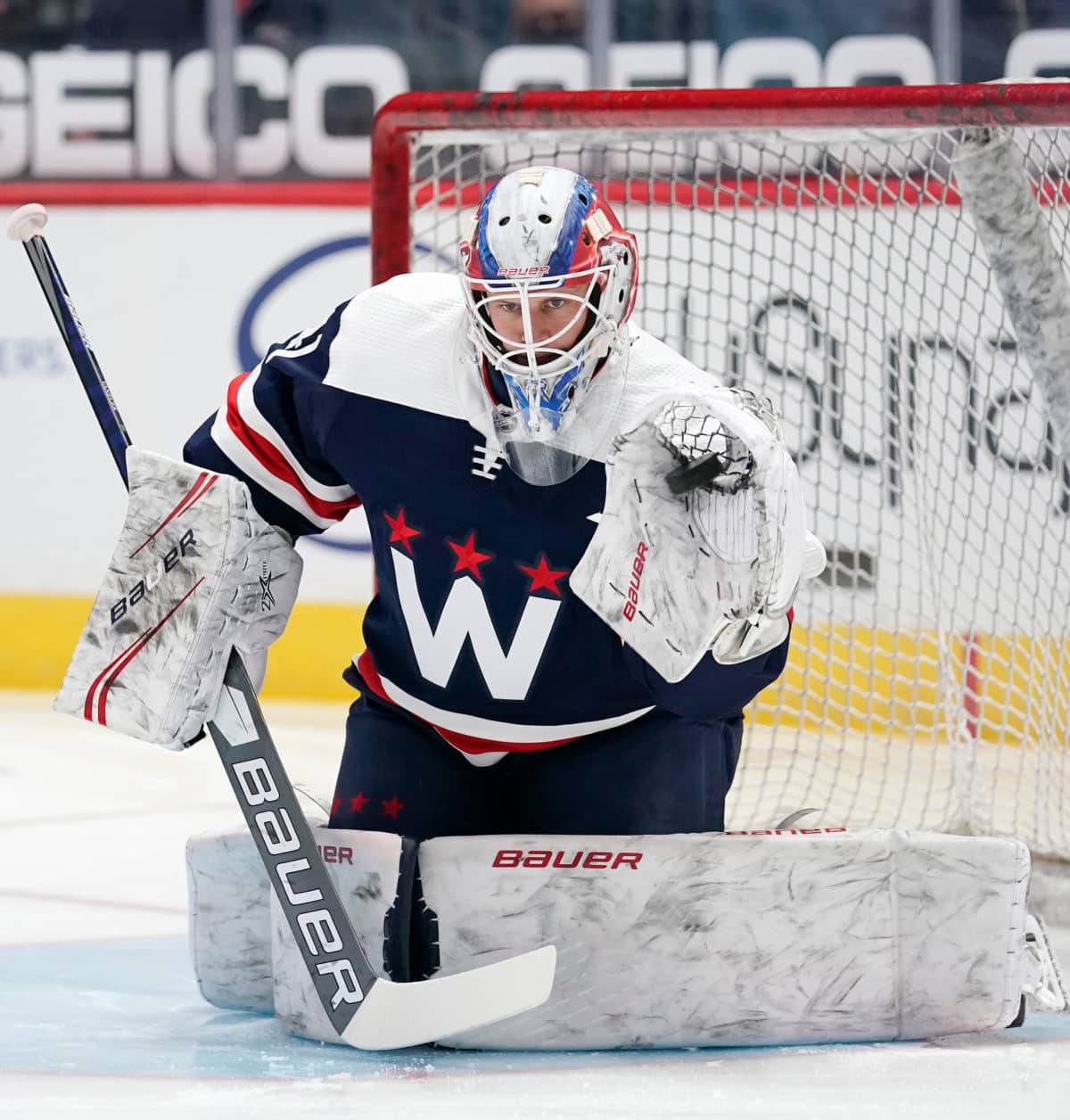 Vanecek, a 25-year-old native of the Czech Republic, was taken by the Capitals in the second round (No. 39) in the 2014 NHL Draft, came to North America in 2015 and spent five seasons in the minors, mostly with Washington's AHL affiliate, the Hershey Bears. He's made the most of his chance to play after Henrik Lundqvist's heart issue forced him to sit out the season, going 5-0-2 with a 2.78 goals-against average and .918 save percentage.
That's been more than good enough to put the Capitals atop the power-packed East Division and make them No. 1 in the NHL standings with an .833 points percentage. They've managed all that despite getting just two goals from Alex Ovechkin, who had to sit out four games because of the league's COVID-19 protocol before returning Saturday and scoring the game-winner in overtime to give Washington a 4-3 win against the Boston Bruins.
Power Plays Lighting Up Scoreboards

Another reason Washington has been so successful is their power play. Though they have had just 18 power-play chances in nine games, they've turned eight of them into goals for a league-leading 44.4 percent success rate. That's just barely ahead of the North Division-leading Toronto Maple Leafs, who are 13 for 30 (43.3 percent) in 10 games. For perspective, no team has scored on more than 30 percent of their power plays since 1978-79, when the New York Islanders finished with a 31.2 percent success rate. The Oilers led the NHL last season at 29.5 percent, making them the only team in the 21st century to finish in the top 10 since the NHL began officially compiling power-play stats in 1977-78.
On average, NHL teams are converting on 21.8 percent of their power-play chances through the end of January. Over a full season, that would be the highest percentage since 1985-86, when teams scored on 22.1 percent of their opportunities.
However, the early-season power-play success is not equally divided. The Capitals and Maple Leafs are among seven teams that are scoring on at least 30 percent of their chances; six other teams are scoring on less than 12 percent of their opportunities. That includes the Minnesota Wild, who are 6-4-0 through 10 games despite a league-worst 5.1 percent success rate (2 for 39) with the extra man.
Rangers Can't Hold Leads Against Penguins
NHL teams win about 85 percent of the time when they lead after two periods. However, someone must have forgotten to tell the New York Rangers, who've led after two periods in five of their nine games but won just two of them (2-1-2). All three losses have come against the Pittsburgh Penguins, who won once in regulation, once in overtime and once in a shootout.
The Penguins are 5-3-1 through nine games. What's remarkable is that they haven't led after two periods in any of those games. They are 3-3-1 when trailing after two periods and 2-0-0 when tied going into the third period. For perspective, in all of 2019-20, eight teams didn't win as many as three games when trailing after two periods.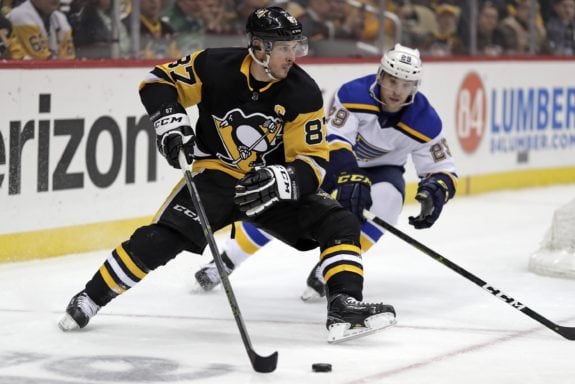 The Senators (1-7-1) are last in the overall standings and have a league-worst minus-22 goal differential (22 goals scored, 44 allowed). One reason for their poor start is that they're almost always playing from behind. The Senators have allowed opponents to score first in seven of their nine games, and they're 0-1-1 in the two games they did score first.
The Philadelphia Flyers are 7-2-1, even in points with the Capitals in the East, but they're playing with fire. The Flyers have outshot their opponents just once in 10 games, but they are 6-2-1 in nine games when they've been outshot, including back-to-back overtime victories against the Islanders this weekend. They're being outshot by an average of 10 per game (33.7 to 23.6), which doesn't figure to be sustainable over the long haul.
Odds and Ends …
Joonas Donskoi isn't one of the big guns on the Avalanche – he's a checking forward who's averaging 13:10 of ice time – but he's making the most of his time; he leads the NHL in shooting percentage at 45.5 percent, having scored five times on 11 shots on goal. Teammate Brandon Saad and Florida Panthers forward Carter Verhaeghe are next at 38.5 percent (5 for 13).
Much was made of Marc-Andre Fleury's status with the Vegas Golden Knights after they opted to sign Robin Lehner to a five-year, $25 million contract during the offseason. Fleury was the subject of trade rumors, but his high salary ($7 million cap hit through the end of the 2021-22 season) and modified no-trade clause helped keep him in Vegas. The Golden Knights have to be happy they kept him: Fleury is 3-0-0 with a 1.00 GAA in three starts, and his .951 save percentage is second in the NHL behind Petr Mrazek of the Carolina Hurricanes.
Nashville Predators defenseman Mark Borowiecki leads the NHL in a category no one wants to be No. 1 in. He has been in the penalty box for four power-play goals against, more than anyone else in the league and one more than Vancouver's Tyler Motte, Ottawa's Austin Watson and Edmonton's Darnell Nurse.
---
---
Longtime NHL writer and editor. Covered first NHL game in 1975 (and hundreds since). Have done several books, hundreds of magazine/newspaper/online stories. Big fan of hockey history.