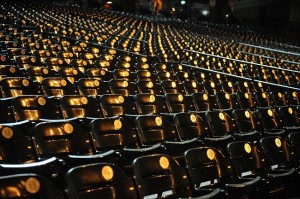 After the lockout ended, most teams were looking into ways to make it up to the fans. NHL ticket prices however didn't get too much attention, with costs remaining status quo and some teams even increasing costs for the shortened season.
While every Western Conference team except Colorado (Tickethorse) uses Ticketmaster as their official ticket supplier, secondary market ticket resellers such as StubHub (owned by Ebay) and Razorgator (based in California) are often a competitive if not cheaper alternative for fans.
Below is a chart showing every Western Conference team and the price of the cheapest ticket available for one person, both from Ticketmaster and also a secondary market reseller. While these prices change daily, if not hourly, consistency has been attempted by keeping the opponents to either Columbus, Phoenix or Anaheim for each team, depending on the remaining schedule.
This list does not include standing room or specialized VIP tickets. The lowest priced ticket available for the listed game using these websites is shown in bold and these were generally electronic or instant printable tickets, thus eliminating any delivery charges from companies such as FedEx.
 ($) (inc all fees, taxes, delivery charges)
Ticketmaster
StubHub
Razorgator
Anaheim Ducks
vs CBJ Feb 18
24.00 (402 row E)
19.95 (442 row P)
16.20 (421 row P)
Calgary Flames
vs CBJ Mar 29
68.75 (205 row 17)
na *
Chicago Blackhawks
vs CBJ Feb 24
69.34 (326 row 14)
96.25 (321 row 17)
Colorado Avalanche
vs CBJ Apr 15
27.00 (322 row 7) **
18.95 (320 row 7)
26.95 (362 row 11)
Columbus Blue Jackets
vs PHX Mar 16
37.00 (224 row N)
32.95 (207 row Q)
Dallas Stars
vs ANA Mar 14
32.23 (301 row CC)
34.95 (328 row O)
Detroit Red Wings
vs CBJ Feb 21
41.40 (218A row 22)
24.90 (225B row 23)
Edmonton Oilers
vs PHX Feb 23
70.00 (334 row 46)
59.77 (337 row 52)
Los Angeles Kings
vs CBJ Apr 18
44.00 (315 row 6)
43.85 (309 row 6)
40.70 (305 row 12)
Minnesota Wild
vs CBJ Apr 13
55.39 (226 row 2)
69.85 (208 row 1)
Nashville Predators
vs CBJ Apr 4
40.13 (333 row R)
31.95 (305 row L)
Phoenix Coyotes
vs ANA Mar 2
27.25 (221 row N)
18.95 (224 row Q)
26.20 (229 row F)
San Jose Sharks
vs CBJ Apr 21
49.25 (206 row 16)
45.25 (210 row 16)
St. Louis Blues
vs CBJ Apr 5
44.05 (332 row 7)
32.90 (327 row Q)
Vancouver Canucks
vs CBJ Mar 26
66.00 (327 row 14) ***
98.45 (317 row 13)
* Only Press Seats available
** Colorado uses Tickethorse
*** Last Seat in House ticket special
The cheapest tickets available were for the Anaheim vs Columbus game at just over $16, followed closely by Phoenix and Colorado at just under $19. The most expensive single tickets on this day belonged to the Chicago Blackhawks at close to $70, followed by the Calgary Flames at $68.75 and the Vancouver Canucks who managed to keep costs down slightly by adding "Last Seat In The House Single" tickets, reduced to $66.
__________________________________________________________________________________
While the Canadian teams and old-timers such as Chicago and Detroit generally have little trouble filling their respective rinks, an interesting comparison is the price differences between the cheapest and most expensive seats for each franchise.
The table below shows the lowest to highest prices for a game ticket, as shown via the cost range area of the Ticketmaster online website. These prices are all subject to change with the lowest often including standing room and the highest being row 1, glass seating.
| | | |
| --- | --- | --- |
| ($) | Ticketmaster Price Range- Lowest |  Highest |
| Anaheim Ducks | 24 | 290 |
| Calgary Flames | 40 | 280 |
| Chicago Blackhawks | 34 | 457 |
| Colorado Avalanche | 21* | 217 |
| Columbus Blue Jackets | 17 | 212 |
| Dallas Stars | 11 | 408 |
| Detroit Red Wings | 16 | 217 |
| Edmonton Oilers | 60 | 300 |
| Los Angeles Kings | 37 | 477 |
| Minnesota Wild | 43 | 262 |
| Nashville Predators | 35 | 345 |
| Phoenix Coyotes | 20 | 355 |
| San Jose Sharks | 44 | 241 |
| St. Louis Blues | 40 | 307 |
| Vancouver Canucks | 60** | 355 |
| | | |
| * Tickethorse | | |
| ** Last Seat In House Singles | | |
While the Dallas Stars have official tickets starting at just $11, surprisingly the Detroit Red Wings also have seats starting at just $16 with first row action costing just over $210, close to $150 cheaper then fellow original six team Chicago. The cheapest row 1 seating went to the Columbus Blue Jackets at $212 while the most expensive ice-level seating went to the LA Kings at $477, similar to the price of a first row ticket (not court-side) at an LA Lakers game.
__________________________________________________________________________________
The graphic below provided by Razorgator, shows the average home and away secondary market prices of all 30 NHL teams from the beginning of the current season.

As is to be expected, the two teams with the most expensive average secondary market ticket prices are the Toronto Maple Leafs and the Winnipeg Jets.
The Jets, having just re-entered the league last season, have a huge demand for tickets having been without hockey for many years. The fans have embraced the return of the Jets and whether or not this trend will continue in the future may depend on the on-ice performance of the team. The demand and price of tickets however shows that the NHL was successful in moving the team from Atlanta, which averaged just 13,538 fans in the teams final 2 years, quite low for a city of 5.3 million people in the metro area.
The Leafs with their huge fan-base will always be regarded as one of the biggest draw-cards, despite not reaching the NHL playoffs since 2004. The sheer number of hockey fans in the greater Toronto area will almost guarantee full attendance for a long time to come though it will be interesting to see how a second team in Southern Ontario may affect the Leafs' attendance, especially if they were to begin outperforming the original six team.
__________________________________________________________________________________
Ticket Price Comparisons
The cost of one front row seat on Ticketmaster, behind the goal at the United Center for the Chicago Blackhawks vs LA Kings game on March 25th – $457
=
Two Tampa Bay Lightning 2013 season tickets in the GTE Terrace level and two Reebok Steven Stamkos Accelerator Shirts – $452 (using the included $25 gift voucher in the $200 season ticket promotion)
The two cheapest available 1st row, lower bowl tickets for the Vancouver Canucks vs LA Kings game at Rogers Arena on March 2nd, bookable through Stubhub including fees and delivery charges (section 114)- $679.95
=
Two flights to Los Angeles, departing from Seattle $120pp (Boltbus Vancouver to Seattle $14pp) on March 22nd, 1 night in a private hostel room near Hollywood $30, 2 cheapest tickets available for the 1pm LA Kings vs Vancouver Canucks game at the Staples Center on March 23rd $90, return flight LAX to Vancouver after the game on March 23rd $150pp – $688
While the above scenarios may seem exaggerated, for a neutral hockey fan it certainly pays to be in a city such as Anaheim or Phoenix  It is fairly obvious that demand for tickets increases prices but in some hockey markets the casual fan is being priced out, often expecting to pay over $100 a ticket.
As getting season tickets for some NHL teams are near impossible with huge waiting lists, the only real solution to get casual fans involved again, besides building bigger limited view arenas, may be through NHL relocation, as has already proven successful with the Winnipeg move from Atlanta. If three struggling NHL teams were to move to Seattle, Southern Ontario and Quebec, this would allow more fans in Vancouver, Toronto and Quebec to attend games, raising the revenue of the NHL and growing the business of hockey.
As well turning away some fans, the high ticket prices of some teams may add extra pressure to perform, as when a fan pays a high price for a ticket, they will expect a good quality game with a win for their team, with the pitchforks likely drawn at an expensive, boring 1-0 loss.