In the last three NHL seasons, Alexander Ovechkin of the Washington Capitals has been the only player to break the 50-goal mark. It appears that this personal streak for Ovie won't continue this year. With a little more than 20 games left, Ovechkin needs a hair over a goal a game to hit half a hundred.
It would appear that the lack of a 50-goal scorer sends signals that scoring is down in the NHL. The numbers say otherwise. The league pace of goals per game this season is 2.78. If the NHL holds this mark, it will be the highest per game average since 2010-11 when it averaged 2.79 per game.
Since it can't be that scoring is down, perhaps the absence of any player scoring 50 goals is that the bottom six are producing more. If third and fourth line guys step up offensively, it alleviates time and opportunity for the top six making scoring more evenly distributed.
Reviewing recent seasons, reaching the 50-goal mark has been accomplished by five players in the last eight seasons. Ovechkin is on a level alone as an NHL scorer. He has hit 50 five times over these eight years.
After Ovie, Steven Stamkos has done it twice, including a 60-goal season in 2011-12. The others are Sidney Crosby with 51 goals in 2009-10, Corey Perry and Evgeni Malkin. Both of whom hit exactly 50 a season apart. Perry did it in 2010-11 and Malkin the year Stamkos hit 60.
Even if nobody hits 50 this season, there will be players who will soon hit this milestone. Breaking up these candidates into three categories by age, here are the best locks for being the NHL's next 50 goal scorers.
Golden Oldies (Over 30 years old)
There are a handful of players over 30 that have the skills and determination to hit the 50 mark. For three of them, it would be an encore of previous accomplishments. Obviously, Ovechkin at 31-years old is at the top of the list. The most prolific scorer in the NHL since his rookie season, Ovie has eclipsed 50 six times in his 12-year career.
In addition, Ovechkin scored 32 goals in 48 games during the shortened 2012-13 season. Assuming he kept that pace and played 80 games, he would have finished with 53 goals. Clearly, he still is extremely capable of hitting or surpassing 50 again maybe even more than once.
The second in this trio, Evgeni Malkin, 30 years-old certainly can hit the coveted mark again. The third guy who can do it again in this group is 31-year-old Corey Perry. Beyond the age issue, the style of play a team plays and ice time are critical factors in hitting 50. Since 2000, only one player has hit the 50 goal season milestone who was older than 30 and that was Jaromir Jagr with 54 goals in 2005-06 at the age of 34.
The player in this group that is almost a lock to score 50 goals is Ovechkin. Truth be told, it shouldn't surprise many if he were to accomplish this feat a couple times or more. Washington's power play, who he lines up with and the Capitals overall play will dictate if Ovechkin will hit or pass 50. Smart money says he does.
Prime Choice (25 – 29)
This age group is in the prime of their goal scoring careers. There may be a few players in this group that should be competing to achieve this goal scoring number.
The cream of this particular crop is Stamkos and Crosby. Both have done it before and both are more than capable of doing it again. The rest of this group are three players that hit career highs last season.
Patrick Kane with 46 goals, Jamie Benn with 41 and Vladimir Tarasenko with 40 are closing in on the exclusive 50 goals neighborhood. Anyone of these five could quite conceivably surpass 50 soon.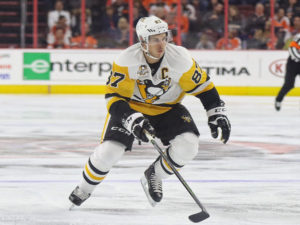 Stamkos and Crosby have had to battle different injuries over the last few years. Crosby is leading the league in goals but is on a pace to finish with 48. He could get to 50 but it'll come down to the wire. If both players stay healthy, like Ovie they are both more than capable of getting to the 50 goal level.
Kane, Benn and Tarasenko will be competing to put up 50. They have the ability to take over a game at any given time. If there is a guy in this group of five that has the most upside it would be Tarasenko. At 25, he is the youngest of these prime time players.
Tarasenko is the player to watch from this group. Last year at 24 he hit the 40 mark after hitting 37 the year before. This season he is on a pace to score 38. He is definitely becoming a force in the league. Trending the right way, it is not hard to imagine where he will be in another season or two. Bet he will blow past 50 at some point soon.
Still Wet Behind the Ears (18 – 24)
The final group here are those NHL players that are 24 or under. At the top of this list is a player that is only 23 years-old, Nikita Kucherov. He hit the 30 mark last season and is on a pace to score 35 this season. The biggest impediment to Kucherov being able to hit 50 is Stamkos.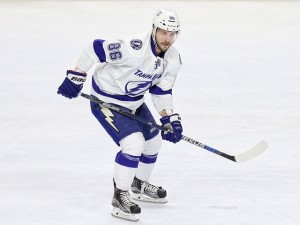 Hard to believe that any team can provide sufficient opportunity for two 50 goal scorers. This doesn't change the belief that Kucherov is a potential 50 goal scorer. His fellow countryman, Ovechkin said this about Kucherov, "He's got great shot, great vision. He's going to be one of the greatest players in the history of Russia."
Filip Forsberg (22) and Mark Scheifele (23) are players to watch. Both lead their respective teams in goals scored. Both possess the ability to blow past 50. A breakthrough to the promised land of 50 could be in the near future.
The last four guys in this group are the youngest four under consideration. Auston Matthews (19), Patrik Laine (18), David Pastrnak (20) and Connor McDavid (20) are displaying what it takes to reach 50 goals in a season. Matthews in Toronto is helping restore his Original 6 franchise to some prominence. In this process, it is more than conceivable that he can eclipse the 50 mark.
Kucherov, Matthews and Laine seem to be the best bets in this group to put their names on such a historical NHL list – 50 goal scorer. It will take hard work, relentless drive and even a bit of puck luck but if the goals per game continue to rise in the next few years, it will be a result of a lot of names mentioned above.