The time has come, as it has for all great hockey players.  The time is now for Nicklas Lidstrom, captain of the Detroit Red Wings.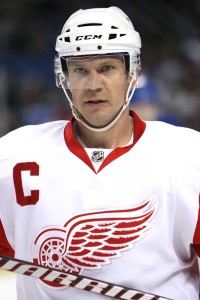 After 20 seasons in the National Hockey League, Lidstrom has announced his retirement from the game of hockey.  It is a decision that was born from his realization that his body could no longer recover as well as he wanted from the grind of an 82-game regular season plus playoffs.
I have had the privilege of watching Lidstrom through his entire career.  I watched as he finished as a runner-up to Pavel Bure for the 1992 Calder Trophy for the NHL's Rookie of the Year.  Although not a Red Wings fan, I couldn't help but be impressed at his poise, his hockey intelligence, and his humility.
It's often been said of a defenseman, if you don't hear their name throughout the game, they must be doing something right.  This statement must have been tailor-made for Nicklas Lidstrom.  It was very rare anyone even noticed him on the ice, yet the Red Wings never had any problems with clearing their own zone.  He was rarely caught out of position, rarely made a bad decision, and rarely caught the crowd's attention with a big hit.  He was physical, but always in control.  One or two passes and the puck was always out of the Detroit zone.
Nicklas Lidstrom has seven Norris trophies, four Stanley Cups, an Olympic gold medal, and a Conn Smythe trophy on his list of accolades.  He finishes with a career +/- of +450.  He finished with a +36 in his very first season, unheard of numbers for a rookie, let alone a rookie defenseman.
So now comes the debate…where does Lidstrom rank among defensemen all time?  None will dispute the reign of Bobby Orr as the greatest defender the game has ever seen.  But I would dare to rank Lidstrom number two on the all time list.  Lidstrom didn't dazzle offensively like Orr, but Lidstrom was without the doubt the most consistent defenseman in the NHL over the last twenty years.  Agree or disagree, I know I have been privileged to have had the chance to watch this once in a generation player for his entire career.  There's no doubt the Hall of Fame awaits this talented player.
Lidstrom was always the epitome of class and humility.  How the Red Wings will fare after his retirement remains to be seen; they haven't had to play without him for twenty years.  He is irreplaceable.  No free agent or trade will ever fill the spot he leaves behind.
Again, in the past, I have compared the sports world to a universe, with each league being a galaxy in that universe.  The players are the stars of their respective galaxies, shining brightly, some brighter than others.  The superstars are the shooting stars of their galaxies, lighting up the skies with their talents.  But like shooting stars, their careers are brief and fleeting compared to the passage of time.  Here today, gone tomorrow.
Nicklas Lidstrom was one of those shooting stars.  His talents natural and God-given; his attitude beyond reproach.  His talents brought joy to all who watched him, players and fans alike.  Now it is time to say farewell to another player who thrilled us all…and in the galaxy of the National Hockey League, another shooting star goes by.
Born in the Annapolis Valley of Nova Scotia, and living in Port Williams, Nova Scotia, Justin has been involved with hockey for over 15 years. He has written for local newspapers from 1994-2009. He brings a combination of passion and humor to his articles that frame his love of hockey. His style includes opinion pieces and historical fact. He finds game reviews "boring on their own" and aims to bring each piece to life in its own way. He currently owns www.openingfaceoff.net, and is looking forward to contributing regularly to thehockeywriters.com.