It hurts to watch Niklas Hjalmarsson play hockey.  If you've seen a Chicago Blackhawks game in the last five years, you've witnessed the above scenario many times.  Nobody sacrifices his body for his team more than the Hammer.  His shot blocking prowess is representative of a way of life for many modern NHLers.  Players like Hjalmarsson serve as secondary goalies by clogging up shooting lanes and standing in front of 90+mph slapshots.  Goalies used to consider a teammate's shot block somewhat of a favor.  Watch an old game from the high-flying 80s or early 90s, and you won't see nearly as many defensemen getting in the way of pucks.   These days if you're a d-man and don't block shots, you probably aren't long for the league.  Of course, Hjalmarsson does much more than serve as target practice for the league's most fearsome snipers.  He is the consummate team player.  Spend a Hawks game focused on #4, and you will see a buffet of defensive instincts that help win hockey games.  Whether it's his shot blocking, stick checking, cleaning up loose pucks in front of the net, boardplay, etc, the Hammer does it all defensively.  
Watching and appreciating Hjalmarsson got me thinking about the fact that the things he does on the ice cannot be truly measured, and consequently cannot be truly valued.  Unfortunately, there are no stats for "penalty kill clears" or "responsible defensive positioning."  If there were, I suppose that Hjalmarsson would've made an all-star team by now, or earned some Norris Trophy consideration.  In a statistics-obsessed sports universe the Nik Hjalmarssons of the world are always overlooked.  His highest career point total is this year's 26, which is just not enough offense to be noticed much outside of Chicago.  Playing beside Duncan Keith and Brent Seabrook, great defensemen in their own right (and more offensively proficient d-men), keeps him under the radar as well.  The Hammer doesn't get much love in the newer-age analytical and sabermetric stats either (except maybe this one), which to me, says more about the shortcomings of those stats than it does about players like Nik Hjalmarsson.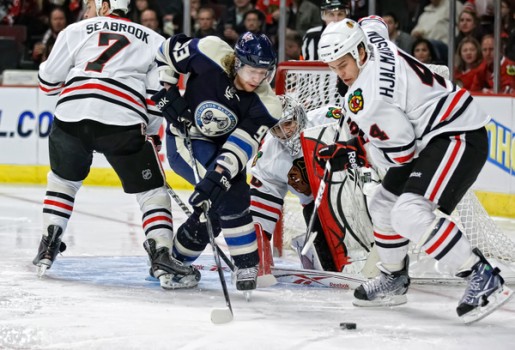 A Player's Player
Every winning hockey team needs players who do the little things and the dirty work, players who accept their roles in order to achieve the higher team-oriented goals, i.e. the only goals that should matter.  In his landmark book, "The Game," author and former Montreal Canadiens goaltender Ken Dryden describes his teammate Bob Gainey this way:
"If there is such a thing as a 'player's player,' it would be Gainey.  A phrase often heard and rarely explained, it is seldom applied to the best player of a sport, as Gainey is not, for performance is only a part of it.  Instead, the phrase is for someone who has the personal and playing qualities that others wish they had, basic, unalterable qualities—dependability, discipline, hard work, courage—the roots of every team."
I imagine his Blackhawks teammates feel similarly about Hjalmarsson.  Those values Dryden extolls in Gainey (a defense-first winger) are all abundant in Hjalmarsson.  Dependability, discipline, and hard work all go hand-in-hand for #4.  He is almost always in the right spot at the right time in his own zone.  This allows his more adventurous teammates to take further chances defensively (Jonathan Toews and Marian Hossa, always amongst the league leaders in takeaways).  To best serve the team, he stays within himself, rarely getting caught in unnecessary pinch-ins or doubleteams, and nobody is going to outwork him in those do or die moments when a momentary lapse in effort could result in the red light going off for the opposition.  Nik Hjalmarsson plays with what I would call a controlled desperation.  It's as if every shift could be his last.  Courage is his greatest quality.
Here's a perfect example of the courage of Nik Hjalmarsson from a game against the Sabres earlier this year.  Hobbled after absorbing a Christian Ehrhoff blast from the point, he could've easily just skated to the bench for a replacement.  What does Hammer do?  He limps to the crease to erase the lurking threat of Sabres forward Marcus Foligno.  And yes, he probably committed several penalties on Foligno, but he wasn't called.  No harm, no foul.  He then blocks another shot from the point before dragging himself back to the bench.  That, my friends, is hockey.  And while these sorts of plays do not show up in box scores, they are a big part of the reason that two additional championship banners hang in the rafters of the United Center.
Revisionist History
In an ideal world, the goal you see in the following video would have been allowed.  If it had, Niklas Hjalmarsson would always have one of the most famous goals in Blackhawks history.  I remember in the two seconds between when the puck went in and the refs (incorrectly and unforgivably) disallowed it, the thought that ran through my head was, "I'm so glad it was Hjalmarsson.  He does so much for the team that is unrecognized.  Where are his moments of glory?"
The Hammer scoring the winning goal against the Red Wings would have been a poetic end to that grueling seven-game series, but it was not meant to be.  In retrospect, I think his (non) goal is the more fitting result.  Hjalmarsson will continue to do the little things to help his team win, allowing his higher skilled teammates to bask in the limelight.  He gives everything, and asks for nothing in return.  I  ask that you recognize Nik Hjlalmarsson for those basic and unalterable qualities that he possesses.  The qualities of a winner.