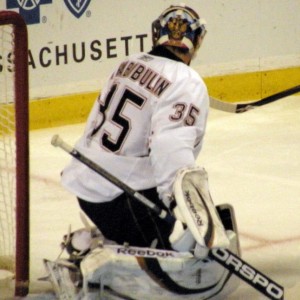 Just when it seemed like things were looking up in the city of Edmonton regarding hockey, the Oilers got news that their expensive starting goaltender was found guilty of impaired driving charges and could face jail time. The sentencing will be handed out Tuesday, and the veteran goaltender could get up to six months in jail. Last February in Scottsdale Arizona, Nikolai Khabibulin was pulled over by police because of excess speeding and his blood alcohol level was found to be at .164, which was more than twice the legal limit in Scottsdale. He was also charged with speeding, going 110 miles per hour in a 70 zone. The minimum jail time for such charges could be just 30 days, but what does this mean for the Oilers organization, and what is the precedent in the NHL for this sort of situation?
In 2007, Toronto Maple Leafs forward Mark Bell was found guilty for a hit and run, and driving under the influence for an incident that happened in 2006. He was sentenced to six months jail time, which he later served through jail work. The NHL handed down a 15 game suspension without pay to Bell, and he was placed in the NHL's substance abuse program. Though now sober, Bell no longer plays in the NHL and the incident had a negative effect on his hockey career. Does Khabibulin get the same kind of punishment from the NHL, or worse? Or will he get off without any action from the league? Oilers General manager Steve Tambellini released this statement yesterday regarding the situation:
"Both Nikolai and the Oilers organization recognize the severity of what has transpired," said Tambellini. "We plan on meeting with Nikolai, his agent and the National Hockey League in the near future."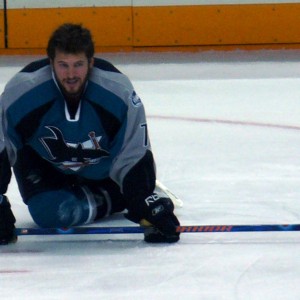 With the start of the NHL season just over a month away, the Oilers face a choice regarding their goaltending. The recent signing of veteran Martin Gerber looks like a genius move now, as he could easily be the starter for the Oilers AHL affiliate, while Devan Dubnyk and Jeff Deslauriers can battle it out for the starting job on the big club. There was talk about the Oilers being able to negate Khabibulin's contract should he face jail time, but the NHLPA would no doubt be all over that in a second. This story is just another dark cloud over the Oilers organization, as is the status of disgruntled defenseman Sheldon Souray. Souray has requested a trade out of Edmonton, but there has yet to be a deal. On top of that, the Oil still haven't re-signed group 2 free agents Sam Gagner and Andrew Cogliano. The latter has been included in numerous trade rumors, but none have come to fruition.
Marcy, a former hockey player, is a hockey correspondent on CTV News and TSN radio. She began her career as a Sports Journalist in 2009 and has been part of The Hockey Writers since 2010, where she is currently a senior writer and editor.