A seventh-round pick for the Toronto Maple Leafs in 2016, forward Nikolai Chebykin had a strong 2016-17 campaign, scoring his first goal in the KHL and showing a lot of progress. The young forward is going to skate at the Leafs rookie camp starting on July 5.
The Hockey Writers reached Chebykin while practicing ahead of the Toronto Maple Leafs development camp and talked with him in his native Russian language. "Currently, I'm practicing with the conditioning coach of my team in the MHL, HC MVD," Chebykin said when asked about his current programs.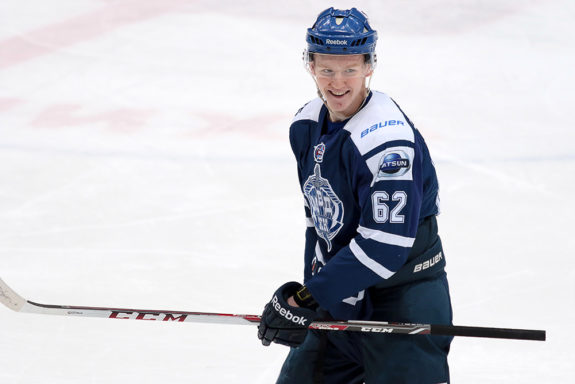 HC MVD is an affiliate for Dynamo Moscow. The well-known Russian team is in financial turmoil right now, with a debt estimated at 2 billion Rubles, some $35 million. It's not a surprise to notice that many players, especially the younger ones, are trying other ventures to move on with their career. Just last week, Chebykin's teammate Alexei Lipanov was drafted by the Barrie Colts in the annual CHL Import Draft and will report there for next season.
Clouds Over Next Season
"I don't want to comment on the situation around Dynamo right now. I don't know where I'll spend next season," Chebykin replied when asked about his future. "The only thing I can say is that I'm flying to Toronto for the summer camp next July 5."
He confirmed he is "ready to stay [in North America], depending on the offer, especially if I will get one," and also that he didn't consider moving earlier to North America to play in one of the Canadian Major Junior leagues. "I asked my agent not to consider offers from there. I didn't really want to consider any offer from there. I just wanted to play at home, for my mother team, and my parents were of the same opinion."
In spite of being listed as born in Moscow by most of the online profiles, like NHL.com, he was actually born in a city some 3000 miles to the east. "Yes, it's true. I was born in Chita. My family hails from there. Actually, not from the city itself, but from one of the nearby towns in the city's province." He moved to Moscow when he was 9 to pursue better career options.
Nikolai Chebykin scored a soft backhand goal in today's VHL Playoff action pic.twitter.com/yqebfn860Z

— Future Of The Six (@FutureOfTheSix) March 6, 2017
"My parents brought me to Moscow when I was 9. Once there, I started playing for Dynamo." The Leafs prospect doesn't forget his roots and visits Chita every year. "Yes, there is a huge difference between Chita and Moscow, but so there is a huge difference with Toronto most likely, therefore I'm not worried about that." As for many Russians, though, one challenge remains: "The only thing that worries me a bit is the language barrier. I can say that I don't talk a perfect English," he added with a big smile.
Jaromir Jagr as an Idol
When Chebykin was growing up, he did not have any idols back then, but when he started practicing seriously with his father, a player appeared: "Jaromir Jagr. He is a legend. Frankly speaking, I don't remember the first time I have seen him play. It was simply my father. He would always show me his game as an example. And thus he became my idol." He also learned from Alexander Radulov and Evgeny Malkin.
Chebykin had a very good 2016-17 season. He played first in the KHL and scored his first goal. He also played a lot with Dynamo's farm team in the VHL, scoring eight points in twenty-four games. He was also very good in the playoffs, as he scored three goals and nine points as his team won the title. Moreover, he scored seventeen goals in seventeen games in the Russian junior league, the MHL.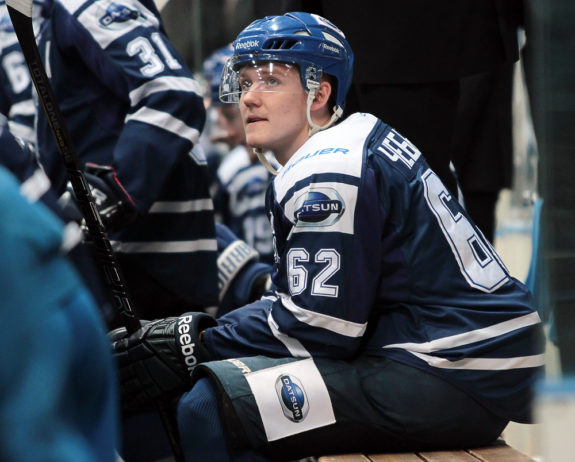 "I would really like to play full-time in men's hockey next year. Yes, I scored a lot in the MHL, but that's just junior hockey. I would have loved to score like that in the KHL." Chebykin had a strong first part of the season, but didn't make the WJC squad for Russia. "After my last tournament for the national team, I knew that I wouldn't go to the WJC. It's too bad because I really wanted to play there."
Chebykin as a Future Maple Leafs Forward
The forward has admitted that the Maple Leafs were in touch with him during the season. "I talked with [Maple Leafs representatives] a couple of times during the season, they came to see me. I've been told what I need to work on, and that they want to see me with the team. I don't know if they were satisfied with what they saw, but I think that they weren't too disappointed either."
Chebykin has admitted to not personally know anyone on the Leafs' roster so far. "Just the younger guys, [Vladimir] Bobylev and [Nikita] Korostelev." He also admitted "not knowing" that Korostelev is now a free agent and currently skating with the Anaheim Ducks at their rookie camp.
There's one another thing that Chebykin has crystal-clear in his mind: the Maple Leafs aren't a team like all other teams. "I know that the Toronto Maple Leafs are a great team. I know that the team has a lot of talented players, a lot of great players. I understand that there's going to be a lot of pressure. Difficulties don't scare me."