On the opening day of free agency, the New York Rangers made an enormous splash, signing Kevin Shattenkirk to a four-year, $6.65 million AAV deal. Shattenkirk was driven to play for the Blueshirts and even approached the Rangers with this deal, which they did not turn down.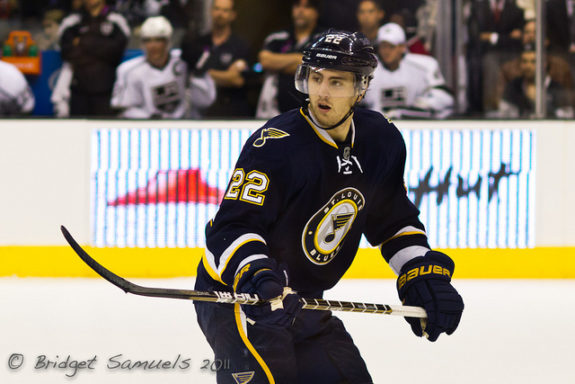 This all but completes the defensive overhaul that was necessary for General Manager Jeff Gorton and company. The Shattenkirk signing not only overhauls the top pair, but it sends a ripple effect down the defense that strengthens it immensely.
A Dominant Top Pair
Shattenkirk is clearly the Rangers' top right-handed defenseman, and will take over the role left in the wake of Dan Girardi's buyout. And, when you compare their HERO Charts, it is an enormous upgrade for the Rangers: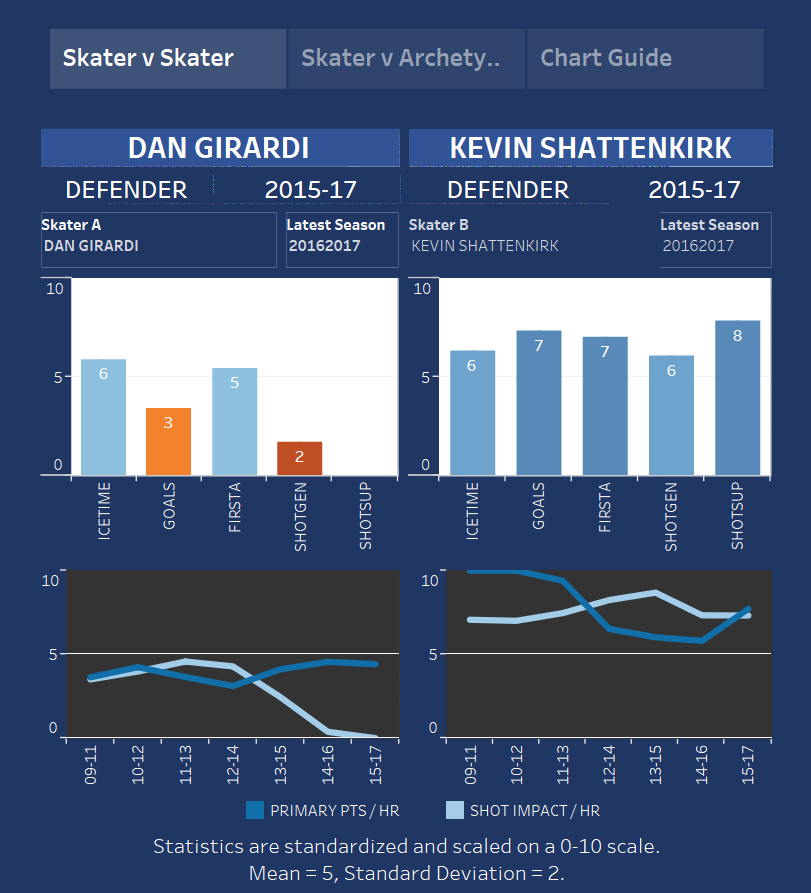 As you can see, Shattenkirk is immensely better than Girardi, while logging identical icetime. Girardi was abysmal in terms of shot suppression, not even able to register on this chart. Shattenkirk, on the other hand, does so at an elite level. The other thing Shattenkirk does at a high level is provide offense.
Over the course of his career, he has had at least 40 points in every full season — the only season with less than 40 points was the lockout shortened 2012-2013 season in which he scored 23 points in 48 games. Last season, he had 56 points in 80 games. Those 56 points would have been fifth on the Rangers last season.
He averaged 2.1 P/60 (points per 60 minutes) last season, fourth among defensemen. He also had the fourth highest A/60 (assists per 60 minutes) among defensmen with 1.6. He had a whopping 58.5% score-adjusted Corsi For last season. He is a true two-way defenseman, and is a consistent threat on the power play. For his career, he has 32 goals and 97 assists on the power play.
One look at his shots for and shots against last season highlight his two-way abilities (note: these charts are from his Blues games last season, since the sample is much larger than in the nation's capital):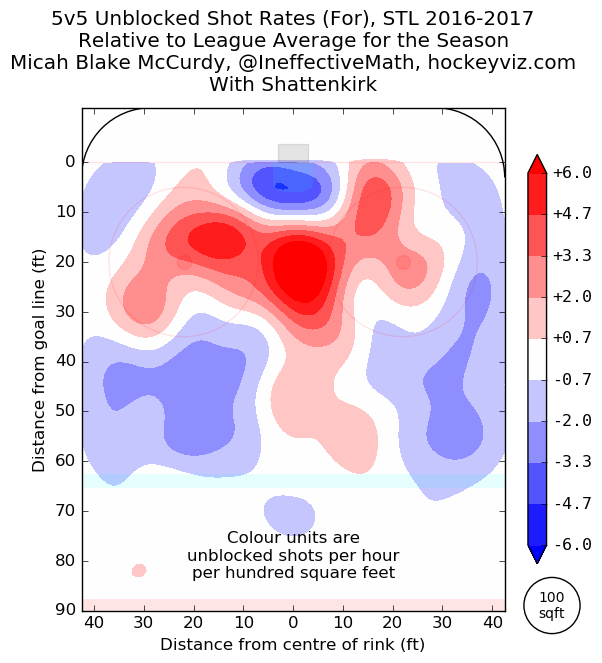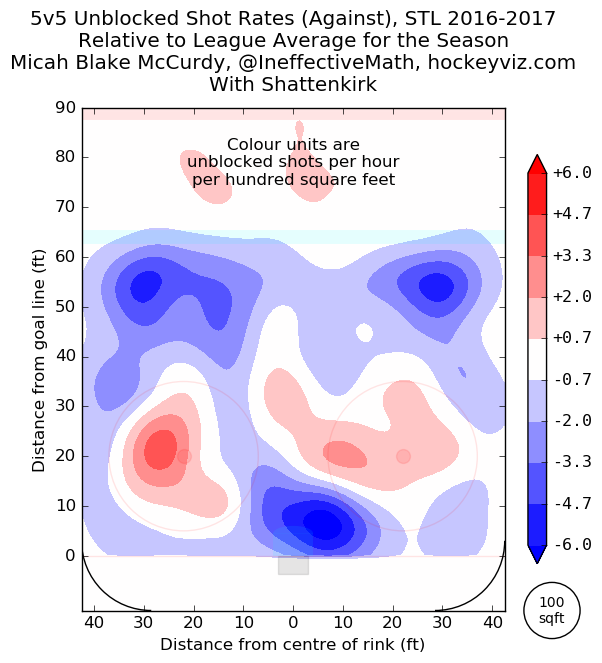 As you can see, Shattenkirk does an excellent job of getting high-danger shots for the offense, and preventing high-danger shots when on defense. He is a massive upgrade over Girardi in every conceivable way.
The Ripple Effect
With Shattenkirk signed, the Rangers suddenly have unbelievable depth on the blue line, even more than when Brendan Smith re-signed on Broadway. Prior to Shattenkirk, the top-four still had a gaping hole, and no one to really fill it. Smith or Brady Skjei certainly could have stepped up and taken those minutes, but then that would have created a hole on the second pairing, as Marc Staal or Nick Holden are unlikely to provide second-pairing production.
However, all of that speculation is moot, since the top-four look like this: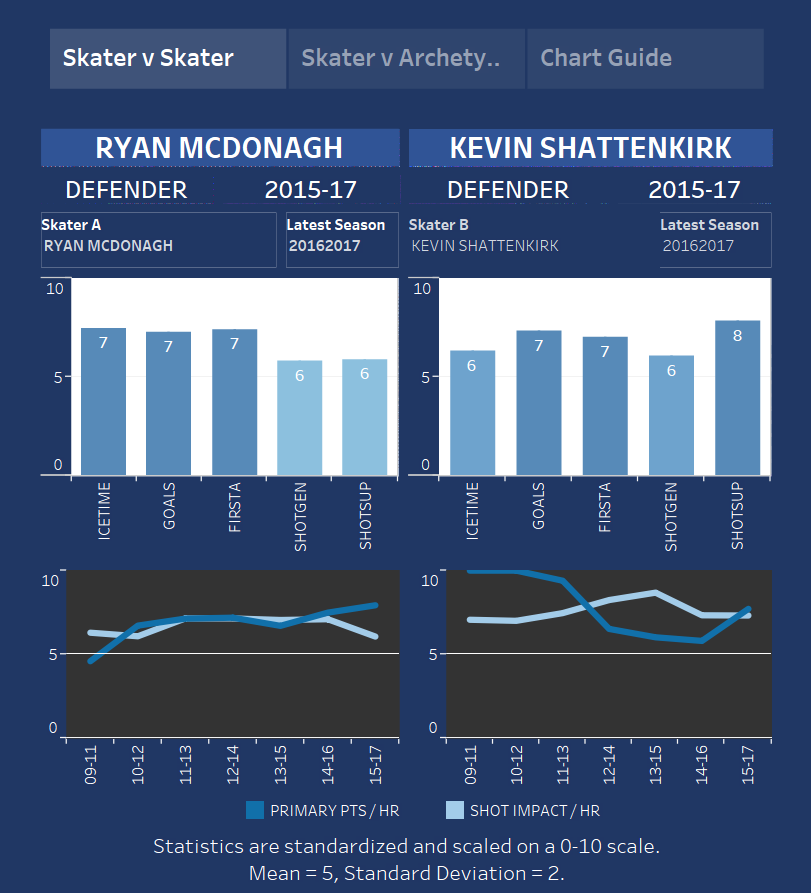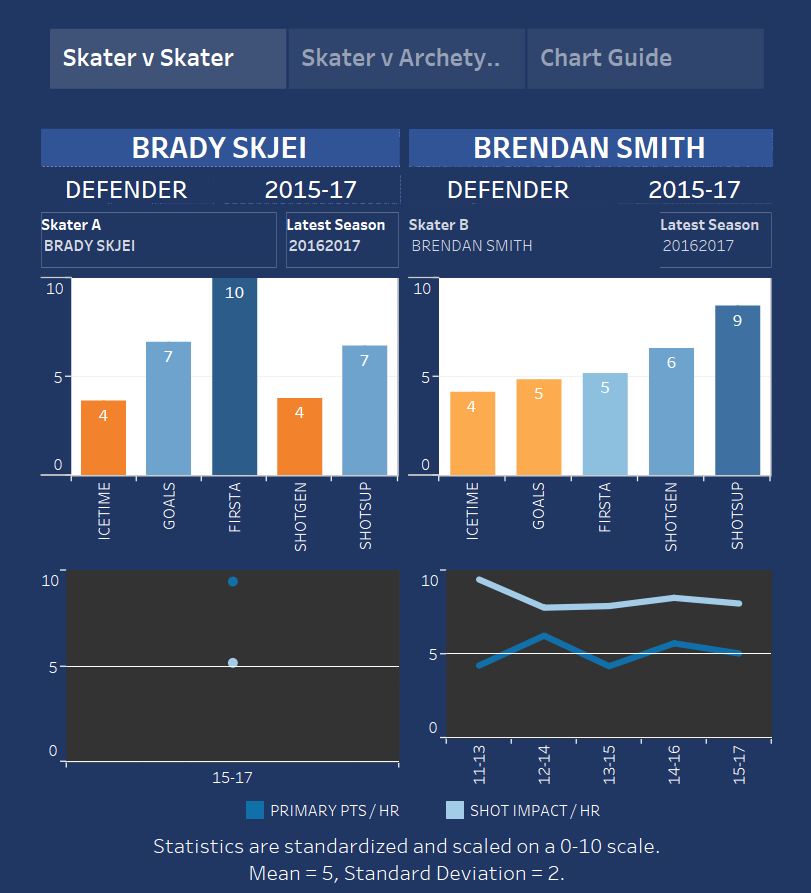 This is an incredibly impressive top-four, especially if Skjei continues developing. This is a Cup contending top-four, and will help franchise goalie Henrik Lundqvist as he ages. Without Shattenkirk, this depth does not exist, and they still would have had a hole to fill on the blue line, despite upgrading by subtracting Girardi.
There is definitely a logjam on defense, now, with Staal and Holden under contract, and rookies Neal Pionk, Alexei Bereglazov and Sean Day impressing the Rangers at development camp.
There may be some more movement on the defense, especially since there are still holes to fill at center after trading Derek Stepan. Be that as it may, the defense is better than it has ever been during the Rangers' recent history of long Stanley Cup Playoff runs.