With fan's hopes hanging by a thread and the entire season in doubt, the Florida Panthers came back from the dead on Thursday night as they defeated a talented Winnipeg Jets team 6-3 and in convincing fashion.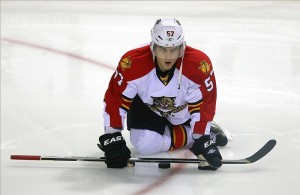 The Florida Panthers started off the night wonderfully as they outshot the Jets 16-8 and killed off two early penalties, something they had not been able to do during their recent losing streak. Where had this team been since opening night? I had to take a long stroll around the BB&T Center during the first intermission just to make sure I was in the right place and these were the Florida Panthers.
The whole night the team played with a sense of urgency and passion that had been missing in recent games, for the first time in a while they actually resembled a respectable NHL franchise.
The impact of forward Marcel Goc's return from injury was evident throughout the evening as he anchored the team's top line and brought back and intense two-way style of hockey to the ice. Speaking of the team's first line – WOW! Both Tomas Fleischmann and Kris Versteeg looked like the players that we remembered from last season as they combined for 6 points (2G 4A), including Tomas Fleischmann's assist on Alex Kovalev's game winning goal.
"I was so open. I don't know why everyone stopped. Maybe they got caught out of play or they heard a whistle. I was wide open. Flash just gave me the pass and all I had to do was rip it as hard as I could." Kovalev told Panthers.nhl.com when asked about his game winning goal.
However, the team's turnaround was not only about scoring goals and racking up statistics. Throughout the evening, the Panthers played a much more physical game on both sides of the ice, delivering a combined 29 hits including a monstrous check by Scottie Upshall on Jets' defenseman Zach Redmond. Although the hit looked to be clean, the intense nature of the blast invoked the rage of former Panthers' forward James Wright who immediately came to the aid of his teammate. Both Wright and Upshall were slapped with a heavy amount of penalty minutes, but to see that kind of intensity coming from the Panthers was very refreshing.
The most impressive thing about the Panthers' win on Thursday was their ability to overcome two deficits before finally pulling away from the Jets. Players like Jonathan Huberdeau, Alex Kovalev and Brian Campbell all tallied at least one point and looked more like the players that we saw shine so bright not too long ago.
The Panthers now face the tough challenge of putting together a string of victories in what I am told is called a "winning streak," though I have not seen or heard of such a thing in quite some time. The Panthers next opportunity to continue their success will be on Sunday at 3 p.m. from Buffalo against Thomas Vanek and talented Sabres squad.
Notes:
Drew Shore stood out once again for his impressive play on Thursday night and looks as if he has been in the NHL for years. The talented rookie not only continued his faceoff dominance (63.6%), but was also constantly in the right position to make good plays and just nearly missed out on several scoring chances. I wouldn't be surprised if Shore nets his first goal of this season on the upcoming Panthers' road trip. 
After several nights of limited minutes, forward George Parros was finally a healthy scratch for the Panthers on Thursday night and it looks as if it was the right decision. As more Panthers return from injury, I expect that this will most likely be Parrros' role from now as he will most likely be used a limited amount for the rest of the season.
Forward Scottie Upshall (ankle), Stephen Weiss (groin) and Ed Jovanovski (knee) are all currently nursing injuries and will most likely be out of the Panthers lineup this Saturday against Buffalo. According to updates on Friday, Upshall's ankle injury is more serious than previously thought and he is expected to be out for multiple weeks.
Speaking of Jovanovski, it seems as if the team did just fine without their "Captain" on Thursday night and were much better off having alternate Captains Brian Campbell and Tomas Kopecky on the ice and leading by example. I continue to harp on Jovanovski's on ice leadership, but until I am proven otherwise I still believe that the Panthers may have made a mistake. 
Follow Jameson on Twitter @JamesonCoop
An English major with a passion for pucks, Jameson has been a credentialed media member covering the Florida Panthers for Panther Parkway since the 2012-2013 season. Although his focus rests mainly with Panther Parkway, Jameson still contributes occasionally to the Sunbelt Hockey Journal. Through player interviews and discussions it's his goal to help bring players closer to their fans through interesting stories and personal pieces. With a unique brand of humor and insight, Jameson looks to provide hockey fans with articles that not only entertain, but also educate.