I know it's nothing special and the preseason doesn't mean much, but it's still hockey and I'm excited about it. I hope most of you Minnesota Wild fans are excited about it, as well. The team may have lost tonight to the Winnipeg Jets, but the young club has some serious promise. That's very evident after watching the game tonight.
Young Guns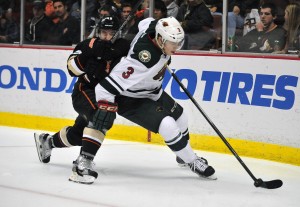 While the Winnipeg Jets chose to play most of their "regular" guys, Minnesota went the opposite route, going with a lineup of almost all prospects, minor leaguers, and new recruits. Surprisingly, the young team put up a pretty good fight against Winnipeg's veteran roster. The match-up might've seemed a little unfair, but it gave these young guys a chance to stand out and show that they can play with the big boys. Among the unfamiliar faces, three players really stood out tonight:
Stu Bickel
At 6'4″, 207 pounds, Stu Bickel knows he has some weight to throw around. He also probably knows he needs to find a role to play if he's to make the team this fall. Tonight, Stu Bickel took on the role of enforcer. The former New York Ranger dropped the gloves twice in 23 minutes, fighting Chris Thorburn 10 minutes and 24 seconds into the first period and Anthony Peluso a couple minutes later. Neither scrap was all that spectacular – a few punches from both sides – but it proved that Bickel is willing to drop the gloves in order to stand up for his teammates.
I think it's great that Bickel seems to be trying to find a spot where he can fit on the roster and he's definitely getting himself noticed, I just don't know if a couple scraps in the preseason are enough to earn a place on the team. If Bickel can add a few more elements to his game, I'd be surprised if he stays in Iowa all year. There's a lot of competition right now, but as the season progresses, the team might realize they need an enforcer or big defenseman and Bickel will be at the top of the list.
Christian Folin
The twenty-three year old Swede played only one game for Minnesota last year, but he really stood out tonight. Folin was the leader in ice time for the Wild in the first period, playing eight shifts and picking up 11:11 minutes. He ended the game with 26:41 TOI, which was the most on the team. On top of killing time, the defenseman's game looked solid all-around. Folin looked like he knew what he was doing and wasn't afraid to make plays. As of now, I'm guessing he'll start the season with Minnesota. Tonight was a good indicator that Folin can compete at an NHL level and if he ends up with the team, he'll add some size to Minnesota's blue line as well as skill.
Jason Zucker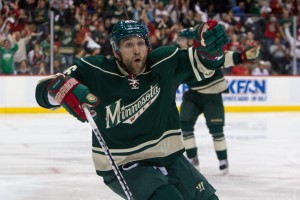 After a disappointing season last year, Jason Zucker has been working hard this offseason in hopes of making the team this year. Zucker made is very clear tonight that he wants to start the season in a Minnesota Wild jersey and he's been doing everything possible to prepare for this.
The California native looked fast, alert and ready to play. Zucker also had an assist, along with Christian Folin, on the Wild's only goal of the game by Tyler Groavac. I'd really expect him to see him on the roster Opening Night against the Avalanche. The kid is determined and it showed tonight. If he doesn't start the season here, I can guarantee he'll make it up at some point this year.
No Chaos In Goal
That's right Minnesota Wild fans; your team actually played a full sixty minutes and still has three healthy goaltenders. It is truly a miracle.
Niklas Backstrom started the game in goal and stopped all 12 shots he faced in 31 minutes. For not playing in an NHL game in months, Backstrom looked impressive. The Finn didn't show any signs of rust and even made a few highlight-reel-worthy saves, which should take a huge weight off of Chuck Fletcher's shoulders. If he can continue to play the way he did tonight, the team is not going to have to worry about having a goalie dilemma at all. Now fingers crossed he can just stay healthy.
Halfway through the second period, Backstrom was replaced by Ilya Brzygalov, who was welcomed into the game by chants of "IL-YA, IL-YA," by the crowd at MTS Centre. Brygalov looked a bit rustier than Backstrom, but give the guy a break – he hasn't played all summer and he probably had no idea he'd be back in a Wild jersey for the preseason. He still managed to stop 4 of 6 shots, though, so it's not like it was a disastrous outing for the Russian net minder. Plus he just makes the games more interesting to watch, so he has that going for him.
One Down, Five to Go
The Minnesota Wild play their second preseason game Thursday night in Pittsburgh against the Penguins, which should provide another good challenge for the young team.