By Mike Miccoli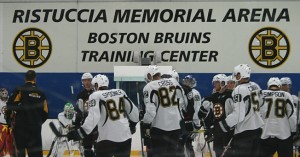 At the annual "State of the Bruins" event for Boston's season ticket holders, Peter Chiarelli commented that there are four forward spots open. Of course, that was taking into consideration what will eventually (maybe?) be Reilly Smith's place on the second line. With that said, the Bruins are in one of the more unique situations that they've been in recently. Needing to cut salary to sign two key players in Torey Krug and Smith, the Bruins will also need to finally dip into their prospect pool and fill the holes in the lineup.
Naturally, the same, perennial candidates to crack the Bruins lineup come up such as Ryan Spooner and Alex Khokhlachev. (Jared Knight, unfortunately, is beginning to fall further away from the conversation.) But it's different this time around.
The Bruins have very specific needs in each of the available roster spots that they're looking to fill. Less likely is it that a playmaking center, such as Spooner or Khokhlachev, cracks the lineup but rather a right-handed shot or a versatile forward. That's not to say that Spooner or Khokhlachev won't make the team or play in Boston at some point this season, but out of the gate, when there are finally open spots on the roster, it doesn't seem like as much of a sure thing as it once was unless some roster moves are made first.
So who has the best shot at cracking the Bruins lineup? Let's get these few out of the way before we dive into the five most likely.
Unlikely in the Bruins Lineup: Simon Gagne & Ville Leino
There are plenty who will be sent down to play in Providence, but it'd be a surprise if Simon Gagne and Ville Leino are signed by the Bruins. The two were brought into Boston on a PTO deal and were likely added to camp in order to provide competition amongst prospects. While Gagne and Leino probably could still place elsewhere around the NHL, Boston doesn't seem like the right fit. In the slim chance that either are signed, it could be directly related to a trade. For example, if either Chris Kelly and/or Gregory Campbell are traded and Smith is re-signed, Gagne or Leino could have a shot at a contract in Boston to provide that veteran presence that the Bruins would lose. Otherwise? No, it's unlikely.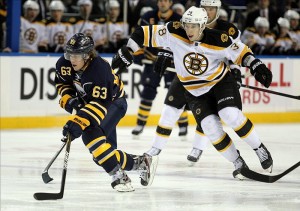 The 13th Forward: (TIE) Justin Florek/Jordan Caron
Not including the five players most likely to crack the Bruins lineup listed below, the 13th forward is going to be a player who could slide up and down the lineup, play either wing, and provide depth in case of injuries in a pinch. It's a role that, surprisingly, Jordan Caron has fulfilled pretty decently over the last several seasons. Therefore, sure, it's easy to give Caron the edge here, but how many more chances does the 2009 1st rounder get to crack the lineup and have a regular role on the Bruins?  His contract status requires Caron to clear waivers if sent down to Providence, so it could be difficult for the Bruins to have a choice here. Justin Florek, however, gives the Bruins a great backup plan.
Florek started the season in Providence last year, before getting called up to Boston in January. Where he really shined was in the postseason, providing solid insurance as a depth player. Florek's eventual next step looked to be a roster spot, but with many options ahead of him, he'd be best suited as the team's 13th forward if the Bruins can figure out what they can do with Caron.
The 13th forward should be a player who understandably, won't play every game consistently and has been tested in Boston but doesn't need to be developing skills in the AHL. While they may make the Bruins opening night roster, they won't be on the ice. The following five have the best chance to be in the Bruins lineup and on the ice on October 8 against the Philadelphia Flyers.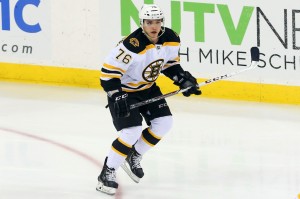 5: Alex Khokhlachev
Let's start with this: Alex Khokhlachev will play on the Boston Bruins this season, just not right away. His skill-set and playmaking ability could make him a number two or three center on any NHL team. However, with David Krejci, Patrice Bergeron, and Carl Soderberg all staggered down the middle (plus Ryan Spooner likely ahead of him on the depth chart) and a slew of left-handed shots, there might not be a spot for Khokhlachev in the Bruins lineup to start the season. The problem is, Khokhlachev may not be long for Providence, either. Khokhlachev put up strong numbers in the second half of the season last year with Providence, finishing with 21 goals and 36 assists in 65 games, .88 points-per-game.
He probably won't make the team just to get fourth line minutes, as the Bruins would likely use those spots on more role players than playmakers. You also don't want Khokhlachev to make the roster as a 13th forward, since playing in Providence will do him a lot better than sitting in the press box watching Boston's games. However, if there was a trade involving a center and he has a better camp than Spooner, he may get the chance. For now though, it'd be wise for the Bruins to continue to develop Koko in Providence, at least for the time being. There will certainly be a spot in the Bruins lineup for him this season.
4: Seth Griffith
Lining up in place of Smith alongside Brad Marchand and Patrice Bergeron in the first few days of camp certainly bodes well for Seth Griffith. After a 20 goal, 30 assist campaign in Providence last season, his first as a pro, Griffith has this opportunity to play right into the Bruins lineup because of Smith's absence. While he's still young, the 2012 5th rounder contributed greatly in Providence last season, scoring nine goals on the power play, tied for most on the roster. He's a smart hockey player who is aware of where everyone else is around him on the ice and when he gets the puck, he's going to shoot it. Another aspect that bodes well for Griffith? He has that elusive right-handed shot that the Bruins are needing…badly.
While Griffith is still a bit of a darkhorse to make the Bruins lineup on opening night, he's definitely getting a quality look at camp. And since Smith is likely to be signed before the regular season begins, he's definitely not going to be playing on a line with Marchand and Bergeron. But what about that open spot on the right side of the Bruins' fourth line? Seems like a good fit for Griffith if he impresses Bruins brass at camp.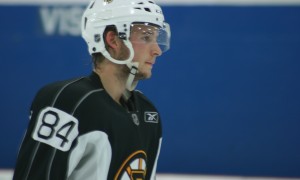 3: Ryan Spooner
This is finally the season that Ryan Spooner makes the Bruins lineup. Sorta. Spooner is a natural center, but struggled in the faceoff dot at times, even though he finished with a 40.7% win rate in 23 games. Logic could place Spooner as the new fourth line center, moving Gregory Campbell over to wing, if he's still even with the team. But will the Bruins get the most out of Spooner in that role? Boston finally has openings available for Spooner to claim in the lineup, but there are other needs they'd need to fill before they can insert a rookie center.
For one, Spooner shouldn't be playing wing. The faceoffs will get better but if the Bruins learned anything with Carl Soderberg, whose natural position was center but was moved to wing to start last season, Spooner should stick with what he knows in his first season. Boston doesn't need a center as much as they need a wing and while Spooner will still likely find a place in the Bruins lineup for opening night, it will come only after others are filled first. As is the theme here, a simple trade that impacts the Bruins regular roster could change everything, but there are a few players more likely than Spooner to make the opening night roster.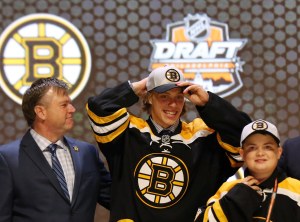 2: David Pastrnak
Should David Pastrnak crack the Bruins lineup in his first season? Probably not. Will he? He just might. Pastrnak is another player whose attributes make him an intriguing add, aside from being a highly-touted prospect. For one, he's a right-handed shot. Second off, he plays the right wing. Third and most importantly, he could slide up and down the lineup, playing on any of the top three lines, almost interchangeable with Smith and Eriksson. Think about that–those three players could easily fit on any of the top lines but mainly, Pastrnak and Eriksson could swap lines without too much of a noticeable difference.
There are a lot of reasons why Pastrnak shouldn't make the team either. Along with needing to build strength and having no professional experience, the Bruins haven't had too much luck with rushing first round draft picks in the NHL. The last two to do it, Tyler Seguin in 2010-11 and Phil Kessel in 2006-07, only scored 11 goals and weren't too much of a factor. Expectations should probably be tempered, but there's no doubt that Pastrnak is one of the most exciting prospects that the Bruins have had in some time. He's going to be a really good NHLer and an option that Chiarelli will be unable to resist trying.
At least for the first 10 games.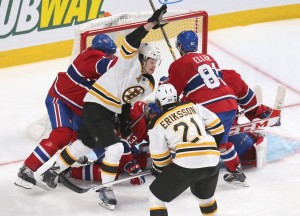 1: Matt Fraser
Matt Fraser is probably not the best player on this list, but he's the most versatile. Think of Fraser as a Rich Peverley 2.0. He's a player who can slot in on either wing and move up and down the lineup when needed. He's got an incredibly accurate shot, smart hockey IQ, and the ability to be a two-way player with a pretty good offensive upside. It would be a shock if Fraser doesn't make the team out of camp because of his strengths and what he could bring to the Bruins.
Though his NHL stats do mirror Caron's a bit, he's much more reliable. He'll see third-line minutes but be the guy that gets bumped up in the Bruins lineup once the injury bug hits. He's not afraid to shoot the puck and averages 1.14 shots per game in his 31 career NHL contests. He can score, when given the puck. If paired with Soderberg, and he does seem like a good fit for the third line, expect the same type of chemistry that the Swede and Reilly Smith had on the power play. Soderberg can find players in tough coverage with accurate passes and Fraser can bury them once he has the puck on his stick. We could very well see a dangerous offensive combination going forward.
Follow Mike on Twitter for more Bruins news, updates, and commentary.