The Boston media has often been criticized for being too extreme. In a city as passionate about its sports franchises as Boston, it makes sense that everything is hyper-analyzed, for better or for worse.
The Boston Bruins are no exception.
After getting out to a hot start under Bruce Cassidy, the Bruins have since cooled, and are now battling for a wild card playoff spot. They endured a particularly tough stretch last week when they dropped three games in four days to divisional rivals.
Rask Being Made a Scapegoat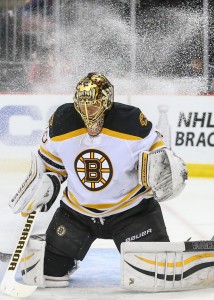 Now that Claude Julien has been sacked, and can no longer be blamed for the Bruins failing to show up to big games, the blame has to find a new host. It turns out that the new scapegoat is Tuukka Rask.
After missing Saturday's game with a lower body injury, Rask was torn apart by several members of the Boston media for his inability to play. Bruins beat writer Joe Haggerty, like several other critics, questioned the legitimacy of Rask's injury, pointing back to last season, when he missed a do-or-die game against the Ottawa Senators due to illness.
Other have furthered the claims, pointing back to the 2014 Winter Olympics, when Rask missed a game due to the flu.
Let's just get something straight. The idea that an NHL goaltender is choosing not to participate in important games is outrageous.
Rask is a Vezina-trophy winning netminder that has backstopped the Bruins for the better part of seven seasons. He's led the Bruins to a Stanley Cup Final and has posted a .930 career playoff save percentage in 47 postseason games. That kind of career doesn't happen to a guy who can't handle playing big games.
He had just played three games in four days. Goalies don't play 82. They don't even play 70 anymore. He "bailed" on being the backup. https://t.co/tJsgbajmy5

— Michael Hurley (@michaelFhurley) March 27, 2017
Has Rask missed a few big games over the course of his career? Sure. But to chalk that up as anything other than poor timing is absurd.
Sitting (and Trading) Rask Is Outrageous
Haggerty, a CSNNE writer, proposed on Monday that the Bruins sit Rask in favor of Anton Khudobin for the remainder of the season.
Once again, this is an extremely narrow-minded proposal. Khudobin had one good game when the Bruins needed it. One. Rask has proven to be a reliable starting goaltender for years.
Remember that Khudobin was sent down to Providence several times this season due to his lackluster performance. Khudobin lost five of his first six games this year and gave up four goals in four of those games. He has since improved, but to act like Khudobin is a smarter choice in net than Rask — especially on a nightly basis —  is tough to back up.
To go a step further, Haggerty compared Khudobun's start on Saturday to the heroics of 2011 Conn Smythe and Vezina-winning Tim Thomas. Khudobin has won six games this season as a backup. See the issue?
Call me crazy, but I wouldn't really trust Khudobin, who has never been a full-season starter in the NHL, and who has a .867 save percentage against teams currently in a playoff spot, to take over the reigns as Boston's number one goaltender.
As if that weren't enough, Haggerty also suggested that the Bruins should explore trading Rask this summer. His justification, of course, was centered around the idea of Rask flaking in big games.
It's easy to cherry-pick the few untimely injuries and illnesses that have kept Rask out of games while ignoring his .930 career playoff save percentage. It's easy to blame Rask for giving up a bad goal or two in last week's loss to Tampa Bay while ignoring Rask's tremendous start to the season that kept the Bruins relevant despite a broken defensive core. But that doesn't mean that the argument is sound.
The fact that Rask has become the focal point, as if he's the reason they've been a fringe playoff team for three years, is an embarrassment

— Michael Hurley (@michaelFhurley) March 27, 2017
The Bruins are not a perfect team. They may not even be a playoff team. And Rask isn't a perfect netminder. But the narrative that Boston's trouble is a result of Rask being unable to handle the spotlight needs to stop.