This season, it has become clear that the Pittsburgh Penguins are a part of the best division in the NHL. The top three teams in the Metropolitan Division (the Washington Capitals, Columbus Blue Jackets and Penguins) are also currently the top three teams in the league. The New York Rangers, sitting five points behind the Penguins at fourth in the division, are holding steady at fifth place overall. Four out of the best five teams in the league are part of the Metropolitan Division, and it's almost certain that the Penguins are going to have to face one of these teams in the first round.
This was already shaping up to be a tough enough first round, but bad luck with respect to the health of the Penguins is shaping up to make this playoff run even tougher than anticipated.
Comparing Injuries
Despite common complaints to the contrary, the Penguins are not technically the most injured team in the NHL. That dubious honor goes to the Vancouver Canucks, who have a whopping 11 injured players. The Penguins are not far behind, however, with nine players currently injured, seven of these being parts of the core lineup. And there's a fairly crucial difference between the Penguins and the Canucks – the Canucks sit at 69 points on the season, four spots out of a wild-card ticket to the playoffs. The Penguins have already clinched. They are by far the most injured playoff-bound team.
| | |
| --- | --- |
| Penguins Player | |
| Conor Sheary | Lower Body |
| Jake Guentzel | Concussion |
| Ron Hainsey | Upper Body |
| Kris Letang | Upper Body (IR) |
| Evgeni Malkin | Upper Body |
| Tom Sestito | Upper Body |
| Carl Hagelin | Lower Body |
| Trevor Daley | Knee (IR) |
| Olli Maatta | Hand |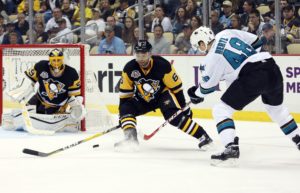 So how does that compare to the other teams in the Metropolitan Division? The Capitals, who once again sit on top of the division and the league with 106 points, don't have a single player on the injured list. The Rangers are similarly healthy. The Blue Jackets do have three players injured, but several of them (Oliver Bjorkstrand and David Clarkson) average less than 15 minutes per game. In addition, none of their players are on injured reserve.
In contrast, the Penguins are missing players (Kris Letang, Trevor Daley and Evgeni Malkin) who took up huge chunks of playing time that have been very difficult for the Penguins to replace. As an example, before his injury, Letang was averaging a half hour of ice time per game. He now sits on IR, and no estimate for his return has been announced.
More Than Just Resting Players
There are two ways to look at this situation. One is that this might be a blessing in disguise for the Penguins. After all, they've already clinched a playoff spot. They've probably already lost their chance to seize first place in the division and will have to resign themselves to a difficult first-round matchup. Giving players a chance to rest up could mean that they come into the playoffs refreshed and ready to play.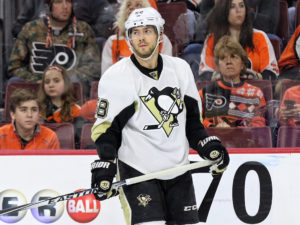 But there are nagging worries. Some of these are players like Letang. Very little is known about his injury; he's still listed as week-to-week, and his return has certainly not been billed as imminent. He and fellow defender Daley remain on the injured reserve for the Penguins.
Another problem is that players aren't just resting up – they're still sustaining injuries. Jake Guentzel was diagnosed with a concussion last week. Conor Sheary had to leave halfway through the first period of the Penguins' last game against the Flyers with a lower-body injury. With only seven games left in the season, there's simply not enough time for players to recover if they continue getting injured at this point in the season. This combination of players already dealing with long-term injuries and new players continuing to accumulate hurts is a worrying one for the Penguins.
What Does This Mean for the Penguins?
What this boils down to is, in large part, that the Penguins need to stop blocking shots. Having Sheary lean down to block a shot with his hand, or Brian Dumoulin throw his body down to the ice to get in the way of a shooter, probably isn't what coach Mike Sullivan wants to be seeing right now.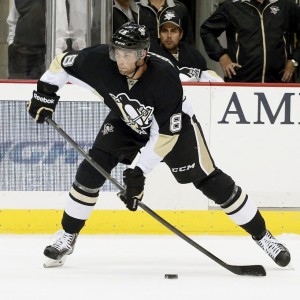 Of the Penguins' nine injuries, seven are from their core lineup. They're missing key components of their offense with the loss of Malkin, Sheary, Guentzel and Carl Hagelin. And they're struggling to fill defensive ice time without Letang, Daley and Olli Maatta. They can't really afford to create any more injuries right now, and they need to start getting some players returning to practice or their first round against a likely very healthy and top-ranked Metropolitan team will be an ugly one.