The Jack Adams Award is a prestigious trophy granted on an annual basis which recognizes the National Hockey League head coach adjudged to have contributed the most to his team's success.
In the past, historic greats such as Jacques Demers, Pat Quinn, Scotty Bowman, and Pat Burns have hoisted the award on multiple occasions, and, in doing so, cemented their place amongst the NHL's best. In more recent times, the award has changed hands more rapidly, with deserving bench bosses such as Barry Trotz, Bob Hartley, Patrick Roy, Paul MacLean, and Ken Hitchcock receiving the reward.
First a Presidents' Trophy, now a Jack Adams Award for Barry Trotz. https://t.co/0IsLdBXNyj #NHLAwards pic.twitter.com/AwNXMkk5so

— NHL (@NHL) June 23, 2016
However, while those to win the trophy in years prior have certainly been excellent choices, identifying the 2016-17 NHL coach of the year could be a much more difficult task.
With the campaign winding to a close, there remain three very distinct yet deserving candidates to take home the hardware, although, winning an individual decoration is certainly the least of their concerns.
In Ottawa, Guy Boucher has returned from Switzerland with his patented passion for the game and has driven the Senators into a highly contested race for the Atlantic Division crown. Meanwhile, in Columbus, John Tortorella has proven all of his critics wrong, and, after calming his approach behind the bench to an extent, has led the Blue Jackets to one of the NHL's best regular season records.
Then, finally, there is super-coach Mike Babcock.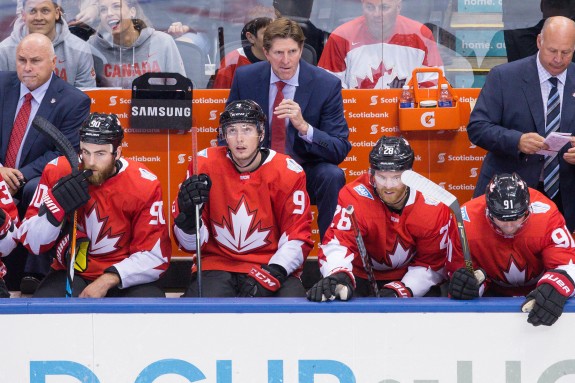 The highest paid Coach in the league and in the second-year of a whopping eight-year contract with the Leafs, Babcock has quickly molded a young Toronto team into a highly surprising contender.
Yet, given the track records of his fellow colleagues, has Babcock done enough to capture the Jack Adams Award?
Let's take a closer look.
Three Horse Race
As the 2016-17 regular season draws to its end, there is truly no clear-cut favorite to win the award for coach of the year, as all three candidates have been equally impressive in their own right.
Guy Boucher
After entering the NHL scene with a bang in 2010-11 and leading the Tampa Bay Lightning to a berth in the Eastern Conference Finals, Boucher's effectiveness behind the bench quickly ran out. Following a disappointing year in 2011-12 in which the 'Bolts missed the postseason, Boucher was axed in 2012-13 and immediately headed overseas.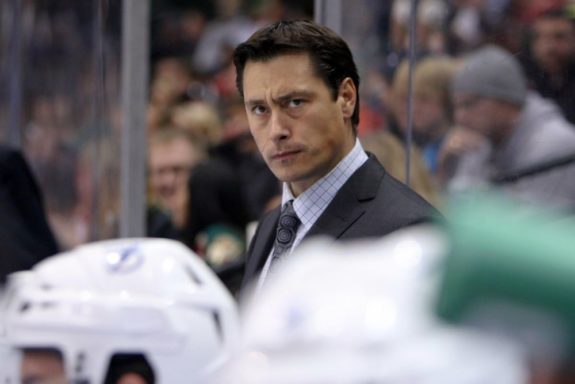 The next three years of Boucher's coaching career was met with mixed results, as he stepped behind the bench for Bern SC of the Swiss National League A. Taking over late in the 2013-14 season, Boucher led Bern to a second-round playoff appearance the following year, yet, after stumbling to begin 2015-16, was again let go.
So, when the Senators fired Dave Cameron on the heels of a poor 2015-16 campaign, the door was opened for Boucher to return to the NHL.
Inking a three-year contract with Ottawa on May. 8, 2016, Boucher immediately set to work, determined to instill his passion for the game and drive to succeed into an inconsistent Senators squad.
It has paid off.
Boucher has Senators charging and could be a sleeper for coach of the year, writes @THNJaredClinton https://t.co/oT563Jxo1j pic.twitter.com/reSg4RqgVN

— The Hockey News (@TheHockeyNews) March 14, 2017
With the 2016-17 season winding down, Boucher has willed the 'Sens into contention for the Atlantic Division crown and has extracted contributions from throughout Ottawa's roster. However, Boucher's approach has changed greatly in comparison to his time in Tampa Bay, as he has learned to better conserve and direct his energy in more meaningful ways.
He now understands not only the right time to push his players, but also when to instead take a step back, consult with his coaching staff, and allow a skater, or the team as a whole, to attempt to play themselves out of a given rut or slump. It is this approach which has resulted in not only great success, but also praise from his players.
The most consistent and best season that I've ever been [apart of] here playing for the Ottawa Senators. – Erik Karlsson
Will Boucher's leadership behind the bench and slightly altered coaching style be enough to warrant a Jack Adams Award? Well, that quite obviously remains to be seen. However, Boucher has played himself into consideration through not only his determination to succeed but also his willingness to adapt to given situations.
John Tortorella
Long known as one of the NHL's most fiery and competitive coaches who isn't afraid to say exactly what is on his mind, Tortorella is by far the most experienced coach in contention for the Jack Adams Award this season.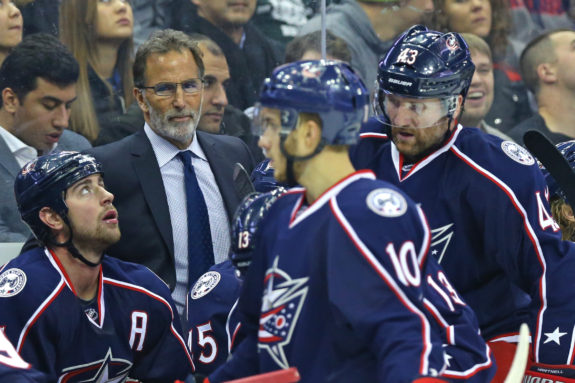 Since breaking into the NHL in 1989-90 as an Assistant Coach with the Buffalo Sabres, Tortorella has enjoyed an incredible amount of success and has coached a total of seven league franchises over a nearly 30-year career. Further, he has captured an AHL Championship, which came with the Rochester Americans in 1995-96, as well as a Stanley Cup Championship with the Lightning in 2003-04 in the process.
So, when the Columbus Blue Jackets fired Todd Richards after a 0-7 start to the 2015-16 season, the team made, at the time, a surprising turn to a coach whose fire and passion for the game have long remained unmatched.
When Tortorella took the reigns in Columbus, many were expecting the Blue Jackets to receive the 'Torts of old – a highly energetic teacher whose drive to succeed often led to damaged player relationships and overly strict decision-making. However, in his one-plus season with the team, Tortorella has displayed not only the ability, but the willingness to alter his approach behind the bench.
#Headlines: Blue Jackets ask coach John Tortorella to be "a little easier" https://t.co/GRblkqSq1S pic.twitter.com/Z3ENgaNt7O

— Sportsnet (@Sportsnet) February 12, 2017
In years passed, Tortorella attempted to coach various teams in the same manner despite their drastically different playing styles and skill-sets. Through attempting to assimilate his teams to a specific format, Tortorella generated a considerable amount of friction between his players, and, at times, his management team.
However, in Columbus, Tortorella has taken a step back from his aggressive tone, and, instead, has attempted to assume a much calmer approach. Understanding both the strengths and weaknesses specific to his club, Tortorella has coached areas of need while allowing his team greater freedom to develop and progress at its own pace. In doing so, the Blue Jackets have become a highly crafty and lethal offensive team who remain structured on a strong defensive foundation – a trademark of Tortorella's coaching style.
Power Rankings: Tortorella and No. 1 Blue Jackets the season's biggest surprise, @THNKenCampbell writes: https://t.co/OB03y90MTW pic.twitter.com/XAyNm472dW

— The Hockey News (@TheHockeyNews) March 22, 2017
On the road to their third playoff berth as a franchise, Columbus has flourished since Tortorella's arrival. Now healthy, the Blue Jackets are a legitimate threat in the Eastern Conference, and will undoubtedly enjoy their most successful postseason run in team history a mere year after finishing 27th overall in the NHL standings.
Mike Babcock
When Babcock's contract with Detroit came to an end on June 30, 2015, he was arguably more highly sought after by prospective teams than a number of free agent players on the market. One of the winningest coaches in NHL history, Babcock was, at the time, fresh off of 10 consecutive playoff appearances with the Red Wings which included a Stanley Cup Championship in 2007-08.
A highly competitive coach who drives his players to play to their fullest, Babcock expects consistency from his team and rewards those whose effort level fails to dwindle over the course of a season.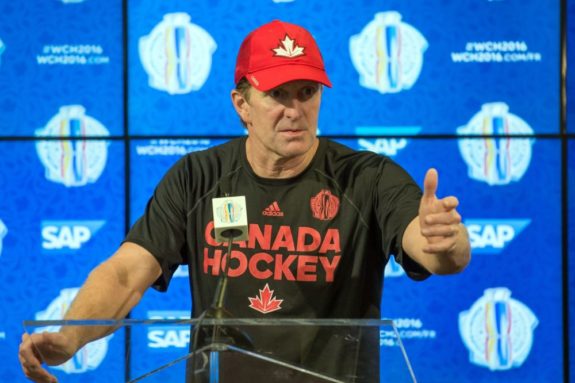 So, when Babcock ultimately selected the Leafs as his new home, hockey fans in Toronto rejoiced, especially so considering his long-term contract. Committed to enduring the ups and downs of a rebuild, Babcock entered the hockey-crazed market with the goal of returning the team to its former championship status.
A mere two years into his contract with the Leafs, Babcock has amazingly molded his young team into a playoff contender – success none could have seen coming. Despite finishing in last place in 2015-16, Babcock has coached and willed his young Leafs guns into one of the most lethal offensive teams in the league, and one with the capability of surprising the NHL's best – albeit on an inconsistent basis.
"I just want to get in the playoffs to give ourselves a chance." – Mike Babcock #TMLtalk https://t.co/Q5C4SHV6qT

— Toronto Maple Leafs (@MapleLeafs) March 24, 2017
Sure, Auston Matthews, Mitch Marner, and William Nylander have been essential to the Leafs' success, but Babcock's ability to draw contributions from throughout his entire lineup despite their individual skill-sets is an achievement which cannot be overlooked. Further, understanding both the strengths and weaknesses of individual players, Babcock has worked tirelessly to improve the abilities, and shortfalls, of his skaters in order to develop a quality all-around team.
In the midst of a heated playoff race, and one which will likely not be settled until the season reaches its conclusion, Babcock's potential ability to reach the playoffs in just his second year at the helm speaks to his true capabilities as an NHL coach. Although none could have predicted the Leafs would clinch a postseason berth in 2016-17, doing so could turn voting for the Jack Adams Award in Babcock's favor.
By the Numbers
As we have seen, all of Boucher, Tortorella, and Babcock are seemingly equally highly deserving of the coach of the year nod. Now, in order to separate the three and possibly determine the leading contender, let's take a closer look at just how great of an impact each bench boss has had on their respective teams in 2016-17, and especially so when compared to the 2015-16 campaign.
| | | | |
| --- | --- | --- | --- |
| Coach | Team Points in 2015-16 | Team Projected Points in 2016-17 | Team Projected Point Improvement |
| John Tortorella | 76 | 114 | +38 |
| Mike Babcock | 69 | 94 | +25 |
| Guy Boucher | Did Not Coach   (OTT – 85) | 99 | +14 |
Boucher's Big Break?
In Ottawa, Boucher has led his Senators to a highly successful season, and one which has his squad on pace for their most regular season points since the 2014-15 campaign. Expected to conclude the season with a whopping 99 points, the Senators are also expected to notch 45 wins – a total which would be the team's greatest amount since 2006-07 when they captured 48.
The surprising season of the #Ottawa #Senators: how did we get here? https://t.co/m0vVcfqyDX #ottnews #ottsports

— CBC Ottawa (@CBCOttawa) March 25, 2017
As a result, Boucher and his 'Sens are on track for a considerable 15-point improvement in comparison to the team's 2015-16 output, and one which has put them in a surprisingly strong position to contend within the Stanley Cup Playoffs. Not considered to be a legitimate contender prior to the beginning of the season, Boucher's Senators are suddenly a force to be reckoned with in the Eastern Conference.
Tortorella's Buzzing Blue Jackets
Meanwhile, in Columbus, Tortorella has led his Blue Jackets to their most successful season in franchise history. Having broken the 90-point plateau on just two prior occasions, Columbus has shattered their previous highs in 2016-17, and are on pace to record a sensational 114 points and 53 wins. Projected for an incomprehensible 38-point improvement in comparison to 2015-16 and 19 more victories, the Blue Jackets have, by far, enjoyed the greatest turn around in their play of any NHL team.
This is already the Blue Jackets' best regular season in franchise history https://t.co/2d7dGUKaX5

— NHL on NBC (@NHLonNBCSports) March 14, 2017
Finally healthy, Columbus' surge up the Eastern Conference is one which would simply not have been possible without the presence of 'Torts behind the bench. A tireless motivator whose ultimate goal is winning, Tortorella has inspired his Blue Jackets to do exactly that, and, unfortunately for the rest of the NHL, winning games is seemingly all the team can do.
Babcock's Sensational Saplings
Last but not least, there is Babcock in Toronto.
Given the storied history of the franchise, breaking any previously set team record for points or wins is, unfortunately, simply out of the question. Having set a franchise-best point total of 103 in the 2003-04 season when led by Mats Sundin, the Leafs of 2016-17 are on pace to record 94, a total which is by no means minuscule. Projected to record a 25-point improvement over their 2015-16 campaign, Toronto's respective rise up the standings alongside Babcock will amount to the third greatest increase this season, trailing only the Blue Jackets and Edmonton Oilers.
Leafs improve to 6-1-1 in their last eight games. On pace for 95 points. Can likely make playoffs with losing record now.

— James Mirtle (@mirtle) March 23, 2017
Prior to the start of the 2016-17 season, expectations surrounding the Leafs were virtually non-existent. If the team and its young players could enjoy some success while developing as individual players in the process, the campaign would be widely viewed as a successful one. However, months later, the team has rocketed up the standings and into contention for a playoff spot. Of course, it goes without saying that Toronto's youth have been instrumental in doing so, but Babcock's contributions to the team must not be diminished.
Providing structure, confidence, and understanding to a growing team, Babcock's efforts with the Leafs in 2016-17 have jump-started the construction of a long-term NHL contender. Will Babcock's contributions see him claim the Jack Adams Award? Well, that quite obviously remains to be seen, however, he does remain one of the leading candidates for the distinction.