George McPhee is the inaugural general manager for the Vegas Golden Knights. McPhee was hired last July by owner Bill Foley. Prior to joining the Golden Knights, McPhee played in the NHL for six seasons with the New York Rangers and New Jersey Devils. In 1992, he became the vice president, director of hockey operations and alternate governor of the Vancouver Canucks.
Next, McPhee served as the general manager of the Washington Capitals for 17 seasons. After the Capitals did not renew his contract in 2014, relieving him of his duties, McPhee joined the New York Islanders' front office for a season as the vice president, special advisor to the general manager and alternate governor.
Building the Golden Knights
McPhee, along with hockey operations, is tasked with building the Golden Knights from scratch this offseason. Thus far, the Golden Knights have signed one player–Reid Duke of the WHL's Brandon Wheat Kings.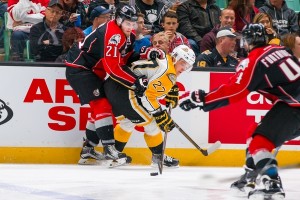 Golden Knights Director of Player Development Will Nichol, who served as a scout for the Capitals since 2011, noticed Duke at the Traverse City prospect tournament. Before signing Duke, Nichol consulted Vegas assistant general manager Kelly McCrimmon, who served as the majority owner, general manager, and coach of Brandon. In explaining his excitement for signing with the Golden Knights, Duke cited how "instrumental" McCrimmon has been in his career so far.
McCrimmon's influence on Duke's signing exemplifies how players and managers can be connected. With McPhee's extensive history as a member of NHL front offices, it can be expected that he too looks to players with whom he has previously worked.
Expansion Draft Selections
While building the Golden Knights, McPhee may be inclined to acquire a player based on their history. A number of players that can be selected in the 2017 Expansion Draft and free agency have been on a team that McPhee has managed–some he drafted, others he added through trades and free agency.
Karl Alzner
McPhee and the Capitals drafted Alzner fifth overall in the 2007 NHL Entry Draft. Alzner's four-year, $2.8 million AAV (annual average value) contract is expiring at the end of this season, making him available to the Golden Knights during their exclusive free agency period.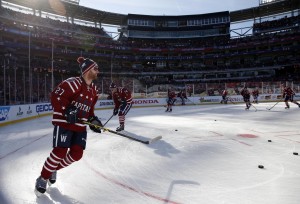 For the 48 hours prior to the expansion draft, the Golden Knights may negotiate with pending restricted free agents (RFAs) and unrestricted free agents (UFAs). If a player signs with Vegas during that period, they will count as the expansion draft selection for their former team. Once the 48 hour period expires, the Golden Knights cannot sign free agents (whose expiring rights do not belong to them) until July 1.
The Capitals have a number of contracts expiring this offseason and will not be able to retain all of their free agents due to the restraints of the salary cap. On defense, it can be expected that they protect Niskanen, Carlson, and Orlov­­–making Chorney, Orpik, RFA Schmidt, and UFAs Shattenkirk and Alzner available to the Golden Knights.
Alzner has played top-pair minutes for the Capitals, often paired with Niskanen and Carlson. This season though, it appears that his play has diminished. In fact, his teammates have higher possession numbers without him on the ice and are more often struggling with him on the ice.
Of the Capitals' defensemen, Alzner has the second highest time on ice, but his numbers have dwindled compared to previous seasons. In analyzing the Capitals' defense, Alzner has the highest Corsi-against, lowest relative Corsi-for, and both his Corsi-for and expected goals for per 60 minutes are the second-lowest (with only Chorney below him).
Alzner's substandard season could be attributed to his offseason sports hernia surgery, which is known to be difficult to recover from. Therefore, Alzner's regression this season may not be indicative of how he will play next season. However, for the cap-crunched Capitals, his lesser play paired with his expiring contract makes him a plausible candidate for exposure–from which McPhee could be the beneficiary.
Along with McPhee's existing relationship with Alzner, the Golden Knights have more salary cap flexibility (Nevada does not collect state income tax), which could create a favorable contract with Alzner.
Philipp Grubauer
Philipp Grubauer was drafted in the fourth round by the Capitals in 2010. Like Alzner, Grubauer has remained a Capital since drafted. The Capitals' backup goaltender will be exposed in the expansion draft in favor of starting goaltender Braden Holtby.
Grubauer's two-year, $650,000 AAV contract is expiring at the conclusion of this season. The Golden Knights can only select a total of 10 RFA and UFA contracts during the expansion draft, so the goaltending depth of the expansion draft must be thoroughly considered in case they prefer to dedicate those free agent draft picks to other players.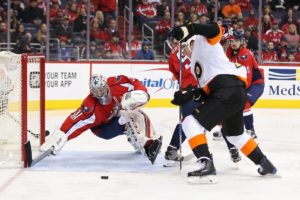 The Golden Knights have to select at least three goaltenders in the expansion draft, and pending RFA Grubauer is an option. The Capitals may prefer to keep Grubauer since he is such a reliable backup that gives them the flexibility to rest Holtby, which would most likely result in the Capitals offering the Golden Knights a draft pick or prospect to ensure he is not drafted. On the other hand, by losing Grubauer, the Capitals can retain their forward and defensive depth.
This season, Grubauer has appeared in 19 games, going 10-6-2 in that span with a goals-against average (GAA) of 2.10 and a save percentage of .925. Even if he was not drafted by the Golden Knights, Grubauer would likely not remain with the Capitals much further than next season in the hopes of becoming a starting goaltender. With Holtby in net, his options are limited to being the backup of their goaltending tandem in Washington. So if the Capitals retain Grubauer, they could still lose him when his next contract expires. Grubauer leaving the Capitals is inevitable, so they have to consider if it is worth spending extra to protect him if the Golden Knights try to acquire him.
Thus far in his career, Grubauer has shown that he is a capable netminder. Since he has not had the opportunity to prove himself as a starter yet, there is still uncertainty if he can handle the full-time position. The 25 year-old goaltender has flourished in his role with the Capitals. McPhee saw potential in Grubauer when he drafted him in 2010, and this expansion draft gives him the opportunity to re-entertain Grubauer as his starting goaltender.
Troy Brouwer
In June 2011, McPhee and the Capitals acquired Troy Brouwer from the Chicago Blackhawks in exchange for a 2011 first-round pick. Brouwer was effective with the Capitals, so McPhee could be interested in reacquiring him–this time through the draft.
The Calgary Flames may not protect Brouwer in the expansion draft, even though they signed Brouwer to a four-year, $4.5 million AAV contract last offseason. On track to have one of the most disappointing seasons of his career, Brouwer only has 12 goals and 11 assists through 67 games. Brouwer's intangibles, like his playoff experience and locker-room presence, contributed to the steep costs of his contract.
Here are Troy Brouwer's WOWY results this year. More at https://t.co/OwcFoH48Ad pic.twitter.com/h4kCK1V9Lu

— Kent Wilson (@Kent_Wilson) December 29, 2016
The Flames are likely to protect seven forwards, three defensemen, and one goalie for the expansion draft. With Brian Elliott likely protected as their goaltender, Mark Giordano, Dougie Hamilton, and T.J. Brodie on defense, the only questions are how they will proceed with their forwards. Johnny Gaudreau, Sean Monahan, Michael Frolik, Mikael Backlund, and Sam Bennett are expected to be protected. Deadline acquisition Curtis Lazar also will likely be protected, leaving the last protected spot open to Brouwer or Micheal Ferland.
Not only is Brouwer's cap hit $4.5 million throughout the life of the contract, but that is the actual salary that Vegas will owe him each season. For a player whose best season included him reaching 43 points (which was in 2013-14 with the Capitals), $4.5 million seems too substantial to commit to a player of his caliber.
To entice the Golden Knights to take on Brouwer's contract, the Flames could offer a draft pick or prospect. For a team being built from scratch, Brouwer's locker-room presence could be viewed as a positive. And, his $4.5-million contract would contribute to the necessary cumulative cap hit of $43.8 million (60 percent of the 2016-17 salary cap) that the Golden Knights must acquire through the draft.
In order to be willing to take on Brouwer's considerable contract, the Golden Knights may prefer it be with a player they can trust–which Brouwer could be based on his history with McPhee.
Jaroslav Halak
Another player the Capitals acquired during McPhee's time as Washington's general manager was Jaroslav Halak. Halak was acquired from the Buffalo Sabres in March 2014, along with a 2015 third-round pick, in exchange for Michal Neuvirth and Rostislav Klesla.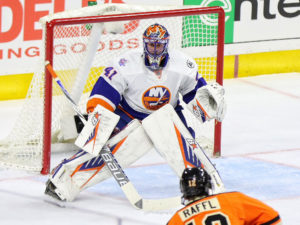 McPhee acknowledged how Holtby was the long-term goaltender for the Capitals after making the trade, but felt Halak would improve their goaltending tandem for the remainder of the 2014 season.
Halak appeared in 12 Capitals games in the regular season, going 5-4-3 with a GAA of 2.31 and a save percentage of .930. That season, the Capitals missed the playoffs for the first time since the 2006-07 season, due to issues up and down the lineup­­–including constant goaltending changes and coaching issues.
After the season concluded, the Capitals traded the rights to pending UFA Halak to the Islanders, with whom he signed a four-year, $4.5 million AAV contract. This season though, Halak was injured and Thomas Greiss took over the starting role. Halak struggled in the three-goaltender system the Islanders assembled this season, which led to his demotion to the Islanders' AHL affiliate, the Bridgeport Sound Tigers. After thriving with the Sound Tigers, Halak was recalled to the Islanders.
Although Halak has regained his form, he is going to be exposed in the expansion draft, making him a higher-risk option to the Golden Knights. While his play was inconsistent this season, it may be an outlier based on his career statistics.
https://twitter.com/GarretHohl/status/821441541189156864
Halak has suffered through a number of injuries throughout his career. While his cap hit of $4.5 million will help contribute to the Golden Knights' minimum needed through the expansion draft, he is owed his highest salary of the contract ($5 million) next season. Lowering the risk of acquiring Halak is the fact that his contract expires at the conclusion of next season.
McPhee could look to draft Halak to have an experienced goaltender, that he is familiar with, in the organization­­–unless he is traded by the Islanders prior to the expansion draft to ensure a return.
History Not Only Consideration
Not all available players that have history with McPhee will necessarily be considered. Players like Alzner, Grubauer, Brouwer, and Halak are just some of the more reasonable options for Vegas.
Goaltender Michal Neuvirth, for example, was extended by the Philadelphia Flyers to fulfill the exposure requirements so they could instead protect Anthony Stolarz. The Flyers could have hoped that by exposing Neuvirth, he would be drafted rather than one of their forwards or defensemen, since was drafted by McPhee and played on his Capitals team. While his latest contract is low-risk (two years, $1.625 AAV), McPhee did trade Neuvirth away once and he has not particularly impressed since.
https://twitter.com/DTMAboutHeart/status/826871004664315904
Colorado Avalanche goaltender Semyon Varlamov may also be exposed if the Avalanche choose to protect Calvin Pickard. Like Neuvirth, Varlamov was drafted by McPhee and the Capitals and started his career there. Unfortunately, Varlamov was unhappy with his treatment in Washington and considered leaving for the KHL. Varlamov initially succeeded with the Avalanche, but eventually struggled and battled a number of injuries. While he did have season-ending groin surgery that should resolve his injury issues, it is doubtful that McPhee will look to reunite with his former player.
Between his experiences with the Capitals and Islanders in particular, there are a number of players with whom McPhee has interacted. His connection to players will presumably be a consideration, but not necessarily a deciding factor. McPhee has been influential on many players' careers, like McCrimmon being instrumental with Duke's career, so there will likely be players eager to return to a team led by McPhee.