This season the trade deadline carried more implications due to the incoming Vegas Golden Knights and the 2017 Expansion Draft. The expansion draft added more depth to the trade deadline this season and expanded the significance, since acquiring and trading players may change the dynamic of management's intentions of who to protect and expose.
2017 Expansion Draft Requirements
Teams can protect either "seven forwards, three defensemen and one goaltender", or eight skaters (a combination of forwards and defenseman) and one goaltender. All players with effective no movement clauses (NMC) must be protected, unless those players waive their clauses. Unsigned draft choices, along with first and second-year professionals will be exempt from the draft.
Vegas will be more competitive out of gate than any previous NHL expansion team, Bettman said.

— Bob McKenzie (@TSNBobMcKenzie) June 22, 2016
As well as protection parameters, there are exposure requirements for every team. Clubs have to expose at least one defenseman, two forwards, and one goaltender that meet the NHL's rules. Exposed forwards and defensemen must be under contract for 2017-18, meaning that pending unrestricted free agents (UFA) cannot be protected nor exposed. Additionally, forwards and defenseman must have "played in 40 or more NHL games the prior season OR played in 70 or more NHL games in the prior two seasons."
Like forwards and defensemen, goaltenders must also be under contract for 2017-18. Goaltenders though, are eligible to exposure if they will be restricted free agents (RFA) "at the expiration of his current contract immediately prior to 2017-18." The Golden Knights have to select one player from each of the 30 teams (at least 14 forwards, nine defensemen, and three goaltenders). The 30 acquired players from the expansion draft must have a minimum total cap hit value of $43.8 million (60 percent of the 2016-2017 salary cap). Of the 30 player acquisitions, only 10 draft picks can be impending RFAs and UFAs.
Free Agency for the Golden Knights
The Golden Knights will have a 48-hour window prior to the expansion draft to sign pending UFAs. If a player is signed during that period, they will count as an expansion draft pick for that particular team.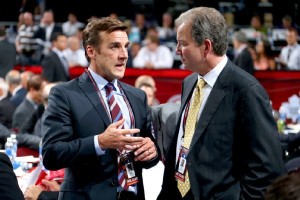 There is concern from other general managers that Vegas General Manager George McPhee will try to set up an agreement with a pending UFA, but not sign them during the window to maintain a draft pick from that team. Deputy Commissioner Bill Daly noted that "George has the same concerns about existing teams doing those types of deals with players they don't have to protect."
If the league sees any violations of the expansion draft rules, there will be penalties including that team foregoing their first-round draft pick.
The Golden Knights officially became an operational member of the NHL on March 1st. As such, they may enter into transactions­­––including trades, waiver transactions, and sign players to standard player contracts.
George McPhee explained how the @GoldenKnights are still able to make trades at the #NHLTrade Deadline. https://t.co/tgTpjH3Af6

— Sportsnet (@Sportsnet) February 28, 2017
2017 Trade Deadline
The expansion draft was taken into consideration by many teams when conducting their deadline transactions. Trades may have altered the exposure intentions of a team, maybe changing which players will be protected. Also, players were re-signed at the deadline to ensure that teams meet the exposure requirements for the expansion draft. Many impending UFAs are not being re-signed yet so they will not be counted as protected players.
Valtteri Filppula
The Tampa Bay Lightning signed Valtteri Filppula to a five-year contract in 2013. Along with a $5-million cap hit and a NMC, as of 2015-16 the contract included a modified no trade clause (NTC). The Lightning have to re-sign players for next season like Tyler Johnson, Ondrej Palat and Jonathan Drouin with limited cap space. Additionally, Filppula's NMC meant the Lightning would have to protect him at the expansion draft – forcing the Lightning to expose one of their younger players.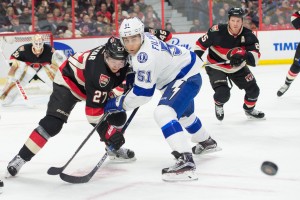 General Manager Steve Yzerman had to either try to trade Filppula at the deadline while complying his modified NTC, or risk losing a young player with high upside at the expansion draft.
The Lightning traded Filppula, a fourth-round pick and a conditional seventh-round pick to the Philadelphia Flyers in exchange for Flyers defenseman Mark Streit. Yzerman then traded Streit to the Pittsburgh Penguins for a fourth-round pick, retaining 50 percent of his salary (the Flyers originally retained 4.7 percent and the Penguins will owe 45.3 percent). Streit's cap hit is $5.25 million this season. Not only did the Lightning maximize the cap space (in losing Filppula's contract and obtaining 50 percent of Streit's which is in its final year), but the Lightning now have more flexibility for the expansion draft.
Michael Neuvirth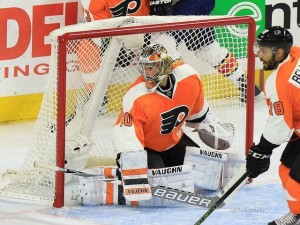 The Flyers extended goaltender Michael Neuvirth for two years, with a cap hit of $2.5 million. Through 24 appearances this season, Neuvirth is 10-9-1 with a GAA of 2.90 and save percentage of .887. Both Flyers goaltenders, Neuvirth and Steve Mason, were set to become UFAs this offseason. Without re-signing one of the two or acquiring another goaltender, the Flyers would not meet the exposure requirement of having at least one available goaltender that is either under contract or an RFA.
With Neuvirth under contract for next season, the Flyers will now have both Neuvirth and Anthony Stolarz (who will be an RFA this offseason), meeting the requirement for the expansion draft regardless of what the Flyers choose to do with Mason.
Although the Flyers just extended Neuvirth, the intention of the Flyers is to protect Stolarz and make Neuvirth available at the expansion draft since it is unlikely that he is selected by the Golden Knights.
It's expected that the Flyers will make Neuvirth available for the expansion draft and protect Anthony Stolarz, as their only goaltender.

— John Shannon (@JShannonhl) March 1, 2017
Brandon Davidson
Defenseman Brandon Davidson was traded from the Edmonton Oilers to the Montreal Canadiens in exchange for center David Desharnais. Desharnais (a $3.5-million cap hit) is slated to become a UFA at the end of this season, while Davidson has one more season left on his deal (a $1.425-million cap hit) before becoming an RFA.
Desharnais for Davidson is a really interesting trade. Davidson is probably the better player, but Oilers have a lot of bodies back there. pic.twitter.com/0tdadljyi1

— dom luszczyszyn (@domluszczyszyn) March 1, 2017
Davidson likely would be exposed for the Oilers at the expansion draft, instead protecting Sekera (NMC), Klefbom and Larsson. With the offensive talent on the Oilers, it is more than likely that they protect seven forwards and three defensemen, rather than a combination of eight forwards and defensemen. Rather than risking losing Davidson for nothing at the expansion draft, the Oilers looked to guarantee a return for their defenseman. Although the Oilers will still have to lose a player without Davidson there, management saw the potential for receiving an asset in return (that does fill a need for the Oilers, even if Davidson has more long-term upside) as more of a worthwhile option.
Jordin Tootoo & Michal Rozsival
The Chicago Blackhawks extended both defenseman Michal Rozsival and forward Jordin Tootoo to one-year contracts. Tootoo's extension is worth a cap hit of $700,000 and $650,000 for Rozsival.
By extending both Tootoo and Rozsival, the Blackhawks have two players eligible for exposure. Four forwards (Toews, Kane, Hossa, and Anisimov), three defensemen (Seabrook, Keith, and Hjalmarsson), and one goaltender (Crawford) have NMCs; giving the Blackhawks less flexibility for the expansion draft.
#Hawks announce one-year contract extensions for Jordin Tootoo and Michal Rozsival. TvR filled expansion req on D, but Tootoo can be 1/2 fwd

— Frank Seravalli (@frank_seravalli) February 28, 2017
Other than Tootoo and Rozsival, the only players eligible to be exposed on the Blackhawks are Marcus Kruger, Ryan Hartman, and Trevor van Riemsdyk. The Blackhawks will definitely look to protect Hartman––but without Tootoo, would not have enough forwards that meet the exposure requirements. By re-signing these players, the Blackhawks can ensure as many valuable assets as possible can be protected.
Eric Fehr
The Toronto Maple Leafs traded defenseman Frank Corrado to the Pittsburgh Penguins for forward Eric Fehr, defenseman Steve Olesky, and a 2017 fourth-round pick. Fehr, who is signed through next season with a cap hit of $2 million, provides the Maple Leafs with injury depth.
Since Fehr is eligible for exposure, Fehr gives the Maple Leafs the opportunity to protect more valuable players that could have faced being exposed for meeting the requirements. General Manager Lou Lamoriello said knowing that Fehr satisfies the exposure requirements "certainly enters in the thought process of what decisions you're going to make." Lamoriello did say that the Maple Leafs "have no expansion problems whatsoever," but having Fehr ultimately does allow management to protect their more valuable players.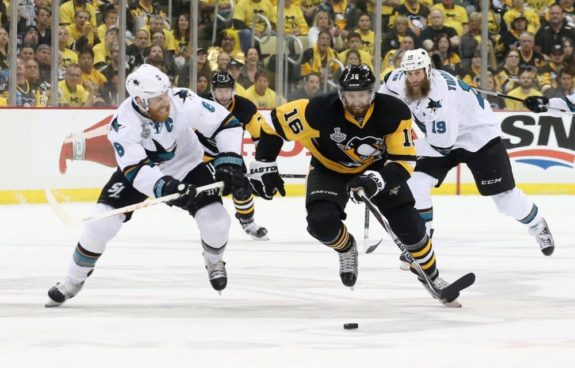 The expansion draft has forced general managers around the NHL to be as conscientious as possible during this trade deadline. In fact, expansion may have stifled the trade deadline this season. Many teams focused on younger players that are exempt and playoff rentals that would become unrestricted free agents, which would not require protection.
Now that the deadline has passed, McPhee and the Golden Knights can more accurately speculate what players will be protected and which will be exposed. Teams can negotiate with the Golden Knights to try to maintain their players, but for the time being most teams acted as cautiously as possible – keeping their core players intact and extending supplemental players for the Golden Knights to choose from.