A 21 year-old former sixth-round draft pick from Calgary has etched his name into the National Hockey League record books. Reid Duke is the first player in the history of the Vegas Golden Knights.
McPhee Didn't Wait Long
The Vegas Golden Knights officially became the NHL's 31st franchise just minutes before the trade deadline on March 1. While the team would have liked to have earned that distinction earlier, Golden Knights owner Bill Foley credited the delay to the voluminous paperwork associated with owning a professional sports franchise. Knocking out that paperwork on March 1 meant that the Golden Knights were permitted to participate in the GM meetings in Boca Raton that began on March 6, and that general manager George McPhee could officially conduct player transactions.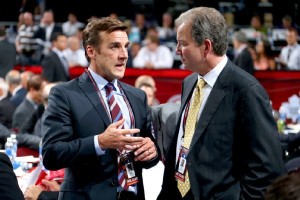 Last weekend Vegas McPhee spoke to ESPN.com about his expectations in Florida.
"It's nice to be official; it was interesting the other day just at the trade deadline, talking to clubs in a real capacity again," he said. "This isn't a fantasy league anymore. And I'm looking forward to the GM meetings. I've always taken those meetings seriously because the decisions we're making there affect the game not only at the NHL level, but all around the world. So, it will be interesting to see what people want to talk about and where people are going with things. I've been a bit out of the loop on some of that. Some GMs, like Doug Armstrong, would call and fill me in after recent meetings. But always better to be in them and have Vegas with a seat at the table."
Vegas has a seat at the table, and they are doing business. Shortly after the GM meetings commenced, the Golden Knights announced they had struck a deal.
Vegas Signs Duke to Three-Year Contract
Duke's deal is a three-year, entry-level contract. He'll finish out the season with the Brandon Wheat Kings in the Western Hockey League before joining the Golden Knights Development Camp this summer.
The 6-foot, 192-pound winger was selected in the sixth-round of the 2014 NHL Entry Draft by the Minnesota Wild. At that time our own Ryan Pike said Duke "may be one of the most under-the-radar players from the WHL in this year's NHL Draft class."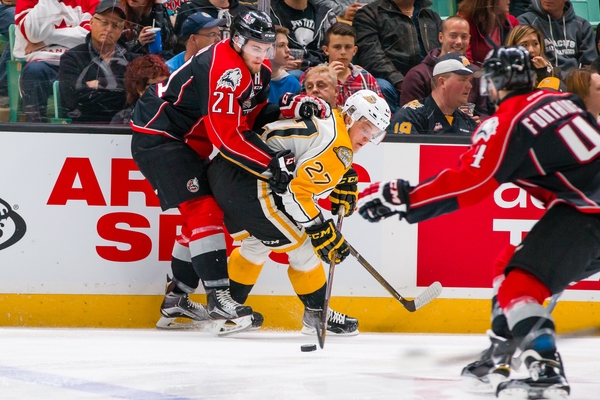 Duke skated with the Wild at training camp in 2014 but was never signed to an entry-level deal. That season, he played a single game with the Lethbridge Hurricanes before he was traded to the Brandon Wheat Kings. His productivity has continued to spike in Brandon. In 2014-15 he scored 20 goals in 52 games, followed by 33 goals in 68 games a season ago. This year he's on a blistering pace, scoring 35 goals and racking up 67 points in 54 contests.
The Golden Knights are presumed to have their eye on several players with ties to the Wheat Kings. Vegas assistant GM Kelly McCrimmon has at various times been the majority owner, general manager and coach of the Brandon club. Last season, McCrimmon led the team to a WHL championship and a Memorial Cup invite. In 21 playoff games, Duke scored eight goals and 16 assists.
After the signing, McCrimmon spoke about Duke and the team's plans for the first player in franchise history.
"I think what's impressive with Reid is a real high skill level and yet a guy that's able to play a big, strong, heavy game," McCrimmon said, according to Mike G. Morreale with NHL.com. "When we project Reid, we think his game will evolve as he becomes a pro. We believe he's going to be an NHL player. It's real exciting for us to be bringing Reid into the Golden Knights organization."
Unsurprisingly, Duke was excited to do business with a friendly face.
"I'm so thrilled," he told NHL.com. "I'm pretty speechless right now. I signed the contract with [Knights assistant general manager] Kelly McCrimmon. [McCrimmon] has been so instrumental in my career beginning with bringing me over here to Brandon in 2014. I owe him so much. He's been a big part of my life and I'm happy to share this moment with him."
The Vegas front office is keeping busy. Fans should be on the lookout. McPhee has stated before there's plenty of work to do before June's expansion draft, and he'd like to get as much done as possible this spring. The GM meetings in Boca Raton conclude on March 8.