During the just completed NHL Draft, the Washington Capitals traded their 62nd and 113th picks for the 57th overall selection and chose defenseman Jonas Siegenthaler of the Swiss NLA's Zurich Lions. Siegenthaler is a bulky, 6-foot-2, 220-pounder – just the kind of blue-liner the Caps need in the coming seasons – along with a new top-six forward, but I'll get to that later.
#Caps also believe that Siegenthaler will benefit from spending some time in the orbit of similarly built and styled Brooks Orpik.

— Mike Vogel (@VogsCaps) June 27, 2015
Siegenthaler, 18, is one of only a few players drafted this past weekend that has spent a full season on a top-tier professional team, ending up with three assists in 41 games in Switzerland last term under Stanley Cup-winning coach Marc Crawford. Crawford took home the big prize with the Colorado Avalanche in 1995-96. Not afraid to utilize his big frame, Siegenthaler led the Zurich Lions with 39 PIMs last season.
Siegenthaler's Surprise
"I was really surprised, but it's a nice feeling, I enjoyed it," Siegenthaler told reporters during the NHL Draft weekend. "I was waiting for so long to be picked. I felt I had a good interview with the Caps and I think it's a good organization and I'm just happy."
About his current coach Crawford, the massive defender had this to say:
"He gave me a lot of guidance … he had really good experience in the NHL. He knows what I need and always helps me." That sounds a lot like the Capitals' current coach Barry Trotz. It looks like he'll fit in well in Washington's current set up – assuming Trotz is still in charge when Siegenthaler is NHL-ready.
Siegenthaler has a year left on his Zurich deal and it's likely he'll start his North American career during the 2016-17 season. He, along with goaltender Ilya Samsonov, and two other defensemen (Connor Hobbs and Colby Williams) were the only four players acquired by the Capitals during the draft weekend.
Where is the Capitals' New Top-6 Forward?
So, what about the Capitals' GM Brian MacLellan's recent assertion that he's in the market for a top-six forward? It seems that the man in charge is biding his time. He vigorously worked the telephones in Florida, but clearly those talks (with whichever teams were on the other end of the line) will continue into this week and beyond.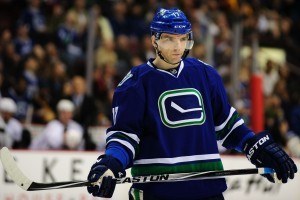 "We'll go back to Washington, we'll do some free agent meetings, and then try to get a good handle," MacLellan told reporters once the Draft concluded. "We already do, but we're trying to get a better handle on what the cost is, what players are going to be available for free agency."
Getting a good 'handle' is one thing, but it seems that MacLellan is more likely to deal for a forward rather than quickly jumping for a free-agent. Let's face it; the crop of talent entering free agency on July 1 is not exactly stellar.
"I anticipate not being active right off the hop," Stated MacLellan about free agency. "I don't know if we have the money to be able to do that … If you're evaluating both markets the trade [market] is the way to go for improving your club."
MacLellan has plenty of trade targets to choose from; he'd better get a good handle on which team to deal with soon, because his team's roster is about to be depleted in the coming days.
T.J. Oshie or Radim Vrbata?
He can free up some salary-cap space by trading a veteran or two (or three) and adding some cash or a prospect to a deal involving maybe T.J. Oshie or Radim Vrbata.
Vancouver's Vrbata, 34, had a 31-goal season and has one year and $5 million left on his current Canuck contract; the Blues' 28-year-old Oshie, carries two more years in St. Louis at $4.175 million per year.
First and foremost though for MacLellan is the not-so-tiny matter of re-signing goaltender Braden Holtby. In fact – that is priority one.
[catlist name=washington-capitals numberposts=5 excludeposts=this]
Glynn Cosker is based in the Washington D.C. area. A professional writer and blogger, Glynn brings insightful news and information on all things related to the Washington Capitals for THW. Follow Glynn @DCPuckDrop