The Minnesota Wild have yet again lost another forward. After suffering the loss of Tyler Graovac in the season opener and Justin Fontaine on Oct. 30, Minnesota most recently lost its hometown boy Zach Parise to a right-knee injury.
In Thursday night's game against the Nashville Predators, Parise took a nasty hit from Predators left-wing James Neal early in the first period. Parise initially tried to play through the injury, but left the game after the first period and did not return. As expected, this caused immediate panic throughout the state of Minnesota.
The Wild eventually fell 3-2 to the Predators – a loss many blamed on the Wild's inability to score without Parise on the ice. However, there are many more reasons for Minnesota's loss than just Parise's injury. Don't get me wrong, Parise is a crucial member of this team, and he's a big reason the Wild have been so successful, but the Minnesota Wild have plenty of other talented players that should have no problem stepping up in Parise's absence. Parise is not always going to be able to put this team on his back and carry them to victory. Hockey is a team sport, and that means when one player suffers an injury or a rough patch of games, the rest of the team is expected to step up.
While Parise is not expected to miss more than "a few games," according to Chad Graff of the Pioneer Press, his absence will present the Wild with the challenge of finding goals from sources other than the alternate captain.
Producing without Parise
There's nothing positive about Parise's injury, but if anything good can come of it, it's that the Wild will have a chance to see who can step up and drive this team to victory.
Jason Zucker
Zucker was a goal-scoring machine last season, ending the year with 21 goals behind only Parise and Niederreiter, despite suffering a regular-season-ending injury. So far this season Zucker has tallied three goals and seven assists throughout 12 games. Zucker has clearly already earned his spot on this team, but now he has the opportunity to show he truly can be the superstar Minnesota needs.
Thomas Vanek
After a disappointing season in 2014-15, Vanek looks to have turned things around and may just have rediscovered his old goal-scoring ways. Every aspect of Vanek's play looks to have improved from last season; The 31-year-old already has four goals and six assists as proof. Vanek doesn't seem to be slowing down any time soon, and in Parise's absence, he may just be the one to step up and propel this team through the next couple of games.
Jason Pominville
Pominville has had a slow start to his season, to say the least. In 12 games so far this season, he has taken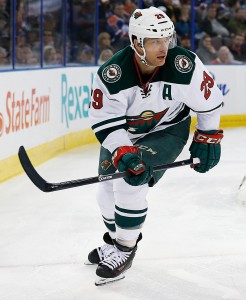 29 shots, but has no goals to show for it. Additionally, he's averaging only 2.4 shots per game this year compared to 3.1 last season. In Thursday night's loss to the Predators, Pominville managed only one shot on goal.
Although Parise's injury is going to shake up Pominville's line combination, this might be just what the right-wing needs. Pominville hasn't seemed to be able to get anything going, but with Parise out of the lineup, the Wild are going to be counting on him to turn things around. A new line combination may (hopefully) just do the trick.
Mikko Koivu
Minnesota's captain has had an impressive start to the 2015-16 season. Koivu leads the team in points and has been a huge part of his linemates' success throughout October. Together, Koivu, Zucker and Niederreiter have the best 5-on-5 Corsi percentage in the league, while Parise's line sits near the league average. According to Travis Yost of TSN, Koivu's line has controlled "61 percent of play and an absolutely ridiculous 70 per cent of scoring chances through the opening leg of the season."
Without Parise on the ice, Koivu and his top line will be expected to keep up this stellar play if the Wild are going to continue to win.
It's never good to see a player suffer an injury, whether he's the star of the team or not. Parise's injury is not a good thing for the Minnesota Wild, but they will be just fine without him for a couple of games. Zucker, Pominville, Vanek and Koivu, along with the rest of the Wild team, are talented and extremely capable of continuing to win while Parise recovers. A few games without Parise may not seem like the longest time, but it's enough for Minnesota to prove that this team has talent all around.
Who do you think will step up in Parise's absence?
Alli covers the Minnesota Wild and has been a contributing writer with THW since August 2014. She is currently a journalism and sports management student at the University of Minnesota. For all of your Minnesota Wild news and updates, follow her on twitter: @allibaker23