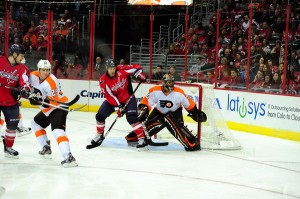 As sure it has been spread across the hockey world by now, Alex Ovechkin was "benched" for the second time this season during the Washington Capitals and Philadelphia Flyers game Sunday night in a game where the Caps ended up barely losing, 1-0. While it seems clear that head coach Dale Hunter was punishing Ovechkin for a lax play in the Caps' own end that led to a turnover and the eventual game-winning goal, Hunter contests that he was rather "line matching," since he did not want Ovechkin up against Jaromir Jagr's line. Interesting that a supposed world-class player cannot match up well against another world-class player, but that's been the kind of season it has been.
Based on face value, many would condemn any displeasure from Ovechkin. Fortunately for him after the game, he did the PR-savvy move, also mentioning it was a matter of "line matching." But in the eyes of others, Ovechkin needs to eventually get with the program. Of course, it's the popular thing to do to criticize a player that doesn't agree with a coach's decision and deem that player "selfish." Admittedly, it is difficult for a player like Ovechkin to get with such a system that relies on an almost communist style of hockey, despite how long it's been.
Ilya Kovalchuk, whose Devils destroyed the Capitals Friday night by a 5-0 score, spoke after the game to Slava Malamud of Sports-Express. Kovalchuk said that Hunter stresses a defense-first style of hockey with the Capitals, much like his predecessor Bruce Boudreau ended up doing last season and the early part of this year. As audiences have seen, it hasn't been too successful in getting goals, getting players to their average point totals and most importantly, getting wins. Kovalchuk cited the fact that Hunter does not have the players to play that style and that, rather, the Caps have players that when they play themselves, they are at their best, playing an attacking style. People talk about the Caps having "too much talent" to miss the playoffs, but what does it speak to when that talent isn't even being used to win the game?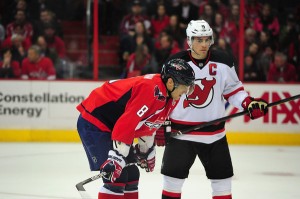 Going back to the Caps' previous opponent, the Devils, people were critical of Kovalchuk's inability to help New Jersey score goals and contribute. In fact, the Devils ended up having their worst season since 1990-91, where they had only 79 points, and many came down harder on the decision to sign Kovalchuk. After firing Jacques Lemaire, a notably defensive coach, and bringing in Peter DeBoer to man their squad, Kovalchuk has had a much calmer season, scoring 25 goals and recording 62 points, along with helping his teammates also have a more productive season. Pretty much, the Devils decided to commit to their star player, and it's now working in their favor (signing Kovalchuk to a 17-year, 102 million deal is certainly a commitment). Now, New Jersey is in sixth place in the Eastern Conference this year.
Even in looking at Sunday's opponent, the Flyers, head coach Peter Laviolette is coaching a much different team than he did last year with two core players gone and a significant amount of rookies. Claude Giroux was coming off of a hot year, but they weren't sure how much re-tooling they'd have to do. With the added offensively–minded forwards, the Flyers have continued to rack up goals and points, and even though their goaltending has been shaky and a few injuries on the blueline, they have been able to remain strong in the East thanks to their best work being on offense, as they sit at the fifth seed.
Back to the issue at hand, the Caps have not been able to get those kinds of results, in the standings and from their players. Troy Brouwer dubbed Friday's result as a consequence of players being "too individual". However, in the last Caps win last Tuesday against the Islanders, Ovechkin's game winner was created knowing he can be the guy to get the puck past the goalie when it counts.There's a difference between "playing cute" which Washington has often been accused of doing and utilizing one another's best talents in a concerted effort.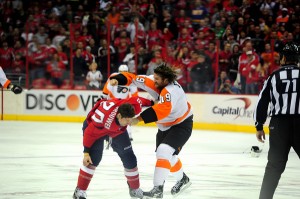 With all due respect to all NHL players, some players do things better than others. To place the same value and responsibility on all players up and down a team's four lines is a very difficult thing to do. While the Caps' fourth line did a good job creating energy and providing grit the best way they could for the game's first 40 minutes, they can't score much — not even against a Flyers team that hasn't been able to score first lately, has hot and cold goaltending and is missing two top defensemen (Kimmo Timonen and Andrej Meszaros).
Playing as a team doesn't mean that players have to give up an aspect of their game for the betterment of the squad. That's something that everyone, from Ovechkin to the coaching staff can keep in mind. This is not to condone players for not playing to the best of their abilities, and it's not to provide an excuse for one player. But that there are other underlying factors to a team's struggle that could be described through even just one player's own struggles. Joel Ward said with an apologetic look on his face, "He [Ovechkin] is an offensive threat at all times." Ward mentioned, "He's only human," and mistakes will be made and that's when the rest of the team has to step up, further showing that Ovechkin and his talents need to be the focus of the Capitals. Something has to give on this front, however, and if it doesn't, it will become the downfall of the Capitals 2011-12 season.