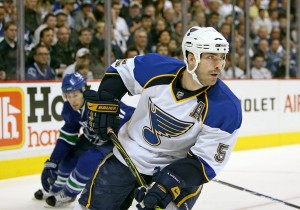 The St. Louis Blues finished up their longest road trip of the season to this point with a 3-1 victory over the San Jose Sharks Saturday night.   On the six-game road trip, the Blues killed all 12 power-plays that they gave the opposing teams.
This performance did not seem like it could be a reality earlier in the season.
On the Blues' first road trip of 2011-12, including stops in Dallas, San Jose, Anaheim and Los Angeles, the penalty-kill was a much different story.  The Blues gave up a power-play goal in all four games on that trip, killing just 11 power-plays on 15 opportunities (73.3%).
In fact, at the time of the Ken Hitchcock hiring, the Blues were in 27th in the league in penalty-kill percentage (73.8%).  They had even given up at least one power-play goal in 9 of their first 13 games.
Hitchcock inherited a poor penalty-kill along with the league's worst power-play.  At his first press conference, Hitchcock was asked when his power-play would start clicking.  He gave a very Hitchcock-esque response.
"One practice," he said. "We'll get it fixed."
It seems that Hitchcock used the same mentality for the penalty-kill.
In the new coach's first 12 games behind the bench, the Blues killed 41 of 46 power-play opportunities successfully (89.1%).  Overall, the Blues have killed 146 penalties out of 171 opportunities (85.4%).  They have not given up a power-play goal since James Wisniewski's first period buzzer-beater on February 14 in Columbus.  They have killed 27 straight penalties in that time.
Hitchcock and the Blues' penalty-kill are grabbing some praise from TSN, as they maintained their spot in the top-five in last week's Power Rankings.  The Blues check-in as the 3rd strongest team and the blurb in this installment was all about the penalty-kill's amazing play:
They say that a team's best penalty killer needs to be its goaltender and the Blues have killed 25-of-26 (96.2%) power plays against in the last nine games, which is really something considering Jaroslav Halak's .838 shorthanded save percentage ranks in the bottom 10 among goaltender to start at least 10 games this season.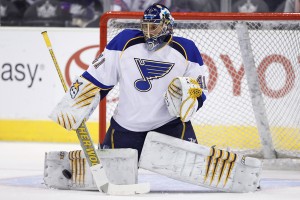 While the team's numbers are obviously standing out, the mention of goaltender Jaroslav Halak's shorthanded save percentage is a bit concerning.
Looking at the numbers, Halak ranks 31st in the league in shots-against (143), while Brian Elliott ranks 36th (125).  That means that most starting goalies in the NHL are facing more shots while shorthanded than both Blues goaltenders.
The Blues are the 12th least shorthanded team in the league (213).  They have become very disciplined and have given opposing teams a lot less opportunities to score with the extra man.  This is a style that Halak should be used to; his last season in Montreal, the Canadiens faced just 311 power-plays, good for 16th in the NHL.  In that season, Halak faced 223 shots while shorthanded.  Obviously, he was facing a lot more rubber than he is in St. Louis.
This may be the source of the problem; a lot of goalies thrive off facing a lot of shots in a night.  It keeps them focused and keeps them involved in every play.
In no way am I suggesting that the Blues need to allow more shots on the penalty-kill.  Halak just needs to find a way to keep the same focus and plan when facing a lower amount of shots.
Keep in mind that this team is still getting it done with a man down even though Halak's numbers are not what you may expect.  The penalty-kill has come a long way since the atrocities of October and November.
Strong special team units can drive a team in the latter part of the regular season.  In the tough Western Conference, the Blues will need to keep their penalty-kill at a high level to stay in the hunt for a division championship.
I am a former NHL media member and reporter for the St. Louis Blues, working for various media outlets. Currently, I am an NHL News Writer and Editor for The Hockey Writers. I live in St. Louis and work as a freelance copywriter in numerous industries.