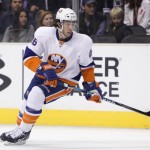 Just when you think the Islanders season is over and you start eyeing potential draft picks, they go out and pick up two big wins this weekend.  As it stands today, the Islanders are just 5 points out of the 8th playoff spot that nobody seems to really want.  Today's victory was the beginning of an unusual stretch for the Islanders in which they would play the Devils in three straight games.  The remaining two games of this "trilogy" will be in New Jersey on Thursday and back in Long Island on Saturday night.
This recent stretch for the Islanders began after last Tuesday's trade deadline in which the Islanders successfully shed some dead weight by trading aging vets Mike Mottau and Brian Rolston to the Boston Bruins.  Fielding a younger lineup these past few games, the Islanders have shown an ability to play solid team defense while picking up timely goals.  The recent stretch should have produced better results than they have.  In Thursday's game against the Capitals, the Islanders blew a 2-0 lead with less than 4 minutes to go in the game only to end up losing in overtime on an Alex Ovechkin wrister.  In the jam-packed Eastern Conference, that extra point would have the Isles only 4 points out of the playoffs.  At this stage of the season, every point is critical and hopefully that does not come back to bite them when it's all said and done.
Secondary scoring is something the Islanders have lacked all season and it finally appears to be improving of late.  Most notably has been the increased production of Josh Bailey who has 4 goals in his last 4 games playing on the wing with Frans Nielsen and Davild Ullstrom.  Rookie center Casey Cizikas has also provided a nice jolt to the third line with 3 assists in his six games with the big club.  Regardless of what happens the rest of the season, at least Islanders fans will have the opportunity to see some of the youth that looks to be the future of this team.  Guys like Cizikas, Ullstrom and Nino Niederreiter should get plenty of ice time down the stretch and hopefully will show plenty of promise for next year.  For the first time in several seasons however, the Islanders are still within striking distance with just 16 games remaining.