I didn't quite know what to expect when I first saw comedian Russell Peters telling us about his new bollywood hockey movie called Breakaway.  I knew only that I wanted to see what it was all about, be it a raving success or a massive train wreck.
'Breakaway'is a story of a young Canadian Indian named Rajvinder Singh, played by Canadian born Vinay Virmani, who like most other Canadian kids has aspirations of playing hockey and making the NHL.  But Singh is faced with many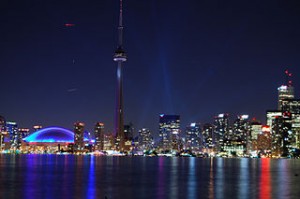 challenges en route to accomplishing his dreams, such as the thought of stepping out on his traditional family values & Sikh culture to play the game he loves.   Singh's father is a strict man of firm Sikh beliefs and is stringent that his child should not play hockey.  His team, the 'Speedy Singhs' also faces discrimination from other players in the league who keep pushing them down.
Although this is no slapshot or even Youngblood, I was very impressed with the hockey aspects of this movie.   Not that a lot of time and attention was spent on the game itself, but it was clear that this was a regular pass time for these young men.  I particularly like the first scene which features Toronto born Virmani on a breakaway as a member of the NHL's Toronto Maple Leafs at a jam packed Air Canada Center.  Virmani playing Rajveer Singh pulls out the famous Peter Forsberg deke and scores the game winning goal against the Detroit Red Wings and the crowd goes wild.  Then he wakes up.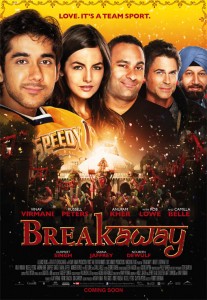 The picture features big names like Rob Lowe who plays a former 1st round pick in the NHL, now resorted to being the Zamboni driver at the local rink and then becomes the Singh's head coach.  Brampton, Ontario native Russell Peters injects humor as an outsider who is marrying into the Singh family and wants a piece of the family fortune.  As usual he is a hilarious.  Singh's love interest is played by Camilla Belle who is best known for her part in 10,000 BC.  Last but not least  Anupam Kher who plays Singh's dad is a veteran of 45 films, but maybe best known for playing Mr Bhamra in  'Bend it like Bekham'.  The rest of the cast though not well known, at least not in North America, does a great job of capturing the audience and keeping it light and interesting.
While this film certainly does cover some key topics, such as discrimination, family difficulties and a tinge of interracial relationships, this film's main job is to entertain.   Admittedly, I'm not a connoisseur of Bollywood movies.  Not that I mind a little singing and dancing, but I don't typically go for the movies in which the storyline drops for a moment only to be replaced by an all-out musical interlude.  But in this case I quite enjoyed the dream sequences and the outright Bollywood scenes, I'm not going to lie.  Cameos are made by Akshay Kumar, Ludacris and even rap superstar and Toronto's own Drake made an appearance and sings his big hit 'Over'.  See this scene below.
There are moments that do go a little overboard such as when the team decides to wear a 'Sikh' warrior helmet into hockey action.  The 'Speedy Singh's' makes the final of the 'Hyundai' cup tournament, but due to their competition filing a complaint are not allowed to play without helmets.  This is a major point of contention as many of the players are of Sikh descent and aren't willing to remove their turbans in order to put on a hockey helmet, a problem that as a Canadian born hockey player and fan, I would never have imagined.  While it is a decent solution to the problem at hand, as a fan of hockey, I thought it was a little hokey.
In the end, 'Breakaway' breaks away from the traditional hockey movie.  The 'Speedy Singhs' win the Hyundai Cup, Rajveer gets the 'white' girl and the family and community are so proud of their young star, their team and Canada and it's frozen game.