When the 2015-16 season begins, the University of North Dakota hockey team is going to have a different look.  During the summer, former head coach Dave Hakstol resigned his head coaching position and is now the Philadelphia Flyers head coach. Associate head coach Brad Berry takes over at the head coaching position.
The changing of the guard at the top should be a seamless transition. However, UND starts the 2015-16 season with a few question marks.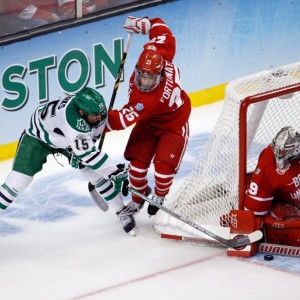 Goaltending
Who's going to be UND's starting goalie? All-American goalie Zane McIntyre (29-10-3, 2.05 GAA, .929 SV%) signed an entry-level deal with the Boston Bruins. McIntyre played all but 43 minutes last season. McIntyre's departure leaves UND with two inexperienced goalies that have played a grand total of one collegiate hockey game.
Goal Scoring
Who's going to score goals for UND? Counting graduation and early departures, UND lost 45 percent of their scoring from last season's team that went 29-10-3. If UND is going to make a return to the Frozen Four, someone on UND's roster is going to have to step up and fill the void.
Big Incoming Freshman Class
With the losses due to graduation and early departures, UND brings in a large, talented freshmen class. Freshman forwards Brock Boeser (35g-33a—68pts) and Chris Wilkie (35g-20a—55pts) led the United States Hockey League in goals last season with 35. Fellow freshman Shane Gersich (27g-23a—50pts) finished 20th overall in the USHL for scoring.
With McIntyre's departure, one goalie that's expected to the pick up the slack for UND in 2015-16 is freshman goalie Matej Tomek. The Bratislava, Slovakia native comes to UND from the Topeka Roadrunners of the North American Hockey League.
Tomek was the second ranked goalie in the NAHL last season posting some impressive numbers (24-7-2, .928, 1.83 GAA).   Tomek also had six shutouts for the Roadrunners.
Tomek was the NAHL's 2014-15 goalie of the year and drafted by the Philadelphia Flyers in the third round (90th overall) of the 2015 NHL Entry Draft.
Record: 29-10-3 (.726) – NCHC: 16-6-2 (.708)
2014-2015 National Colligate Hockey Conference Regular Season Champs
2015 Frozen Four (Third Nationally)
GF: 138
GA: 94
PP: 12 (34/167)
PK: 24 (142/169)
ADDITIONS 
F Brock Boeser
F Rhett Gardner
F Shane Gersich
F Mike Gornall
F Joel Janatuinen
F Chris Wilkie
D Hayden Shaw
D Danys Chartrand
D Christian Wolanin
G Matej Tomek
(s/t UND Hockey)
GRADUATION/EARLY DEPARTURES
F Mike Parks (12g-20a—33pts)
D Jordan Schmaltz (4g-24a—28pts)
F Mark MacMillan (16g-9a—25pts)
D Nick Mattson (4g-17a—21pts)
F Brendan O'Donnell (13g-8a—21pts)
F Connor Gaarder (10g-10a—20pts)
F Stephane Pattyn (6g-8a—14pts)
D Andrew Panzarella (1g-3a—4pts)
G Zane McIntyre (29-10-3, 2.05 GAA, .929 SV%)
RETURNING FORWARDS
Drake Caggiula (18g-18a—36pts)
Nick Schmaltz (5g-21a—26pts)
Luke Johnson (11g-13a—24pts)
Austin Poganski (4g-10a—14pts)
Bryn Chyzyk (7g-6a—13pts)
Colten St. Clair (3g-4a—7pts)
Johnny Simonson (0g-5a—5pts)
Trevor Olson (3g-0a—3pts)
Coltyn Sanderson (0g-1a—1pts)
(Link to UND Stats)
RETURNING DEFENSE
Paul LaDue (5g-17a—22pts)
Tucker Poolman (8g-10a—18pts)
Troy Stecher (3g-10a—13pts)
Keaton Thompson (3g-8a—11pts)
Gage Ausmus (2g-4a—6pts)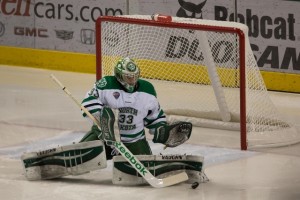 RETURNING GOALTENDER
Cam Johnson (0-0-0, 5.54 GAA, 765 SV%)
BREAKOUT PLAYERS
Last season, UND All-American goalie McIntyre played in every single game. For the most part, freshman goalie Cam Johnson was a spectator.
Johnson played in a grand total of two games, playing 43 minutes. While Johnson is an inexperienced goaltender, the UND coaching staff was impressed with Johnson's development.
This season, Johnson will have a shot at being UND's starting goaltender. Johnson will compete with incoming freshman Tomek.
During the 2014-15 season, UND forward Austin Poganski (4g-10a—14pts) played in all but four games. Poganski played a majority of his time on the third and fourth lines. Due to his fast skating and intense forecheck, Poganski's play added a lot of energy to the UND lineup. Look for Poganski to add to last season's scoring numbers.
Last season, UND defenseman Paul LaDue had a career year in point scoring (5g-17a—22pts); that was good for seventh on the team in scoring, sixth among NCHC defensemen. Look for LaDue to add to those numbers, and if the stars align, this "could" be a breakout season for the junior defenseman.
During the 2014-15 campaign, UND defenseman Stecher scored three goals and 13 points. That total would've been higher if he hadn't missed eight games due to a lower-body injury. Look for Stecher to breakout season if he can stay healthy.
SEASON OUTLOOK
The first two seasons in the NCHC were a meat grinder. I know it sounds cliché, but there are no off nights in the NCHC. Let a few games slip away and your team is on the road for the first round of the NCHC playoffs. Every team in this league is a top-flight college team. Last season, the NCHC sent six teams to the NCAA playoffs and two teams to the Frozen Four. The University of Nebraska-Omaha and the University of Minnesota-Duluth return a majority of their teams from last season, so getting off to a fast start will be paramount.
Look for UND to again challenge for an NCHC title and to make the NCAA tourney. Anything less will be seen as an unsuccessful season.
Eric is a 1996, 1999 graduate of the University of North Dakota. Eric covers the University of North Dakota Hockey and Division I college hockey. Eric is the Contributing Editor for Inside Hockey.