This weekend, second ranked University of North Dakota entertains the 11th ranked Nebraska-Omaha Mavericks in a two-game conference series. This begins a two-week home stretch for UND.
Series History
All-time, UND is 7-5-0 (.583) against Nebraska-Omaha. In Grand Forks, ND, the series tied 3-3-0 (.500). In Omaha, ND, UND is 4-2-0 (.667) against the Mavericks. At neutral sites the two teams have never met. Under head coach Dave Hakstol, UND has a 7-5-0 (.583) record against the Mavericks. Last 10 games against the Mavericks, UND leads the series 6-4-0 (.600).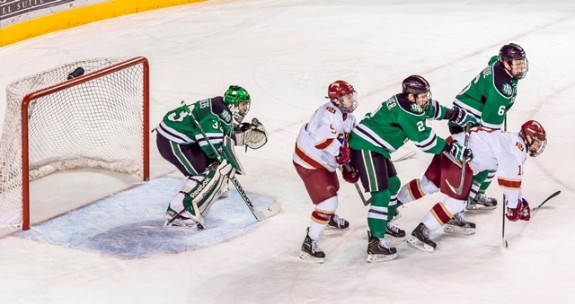 Tale of the tape
#2 North Dakota (9-3-1, 4-2-0 NCHC) vs. #11Nebraska-Omaha Mavericks (7-2-1, 3-1-0 NCHC)
Date: November 28-29, 2014
Game Time: Friday 7:37, Saturday 7:07 p.m. CT
Location: Ralph Engelstad Arena, Grand Forks, ND
Last time out: UNO split with Minnesota-Duluth (2-3 L, 4-1 W).
Last time out: UND split with SCSU (1-3 L, 3-2 W).
UNO Offense: 15th Nationally
UNO Defense: 10th Nationally
UND Offense: 11th Nationally
UND Defense: 16th Nationally
TV: Friday – Midco Sports Network
TV: Saturday – Midco Sports Network, FOX College Sports Pacific, DirecTV 608-2, DISH Network 453
Live Streaming: NCHC.TV
UND series notes
Key players to watch
North Dakota – Forwards: Drake Caggiula (7g-10a—17pts), Michael Parks (5g-9a—14pts), Mark MacMillan (6g-5a—11pts), Luke Johnson (3g-3a—6pts). Defense: Paul LaDue (3g-5a—8pts), Troy Stecher (1g-8a—9pts) Jordan Schmaltz (1g-7a—8pts), Tucker Poolman (3g-1a—4pts), Gage Ausmus (1g-1a—2pts). Goalies: Zane McIntyre (9-3-1, 2.04 GAA, .927 SV%), Cam Johnson (0-0-0, 2.68 GAA, .800 SV%).
UND Injuries: Nick Schmaltz (1g-7a—8pts), Bryn Chzyk (2g-3a—5pts), Brendan O'Donnell (3g-1a—4pts) are out indefinitely.
Nebraska-Omaha – Forwards: Austin Ortega (5g-8a—13pts), Jake Guentzel (5g-6a—11pts), Jake Randolph (1g-8a—9pts), Tyler Vesel (2g-5a—7pts), Tanner Lane (1g-5a—6pts). Defense: Brian Cooper (2g-4a—6pts), Ian Brady (2g-3a—5pts), Jono Davis (0g-4a—4pts). Goalies: Ryan Massa (6-1-1, 1.49 GAA, .951 SV%), Kirk Thompson (1-1-0, 3.57 GAA, .891 SV%).
Special teams
Nebraska-Omaha – The Mavericks penalty kill is ranked 7th in the nation (40/44, 90.0%). The Mavericks  power play is ranked 29th in the nation (7/41, 17.1%).
North Dakota – UND's penalty kill is ranked 28th in the nation (50/59, 86.5%). UND's power play is ranked 19th in the nation (12/63, 19.0%).
UND players on the Mavericks
"Fourth year here, and every weekend against Omaha is just as tough as the last one," senior forward Mark MacMillan said. "Obviously with coach Dean Blais there, they play a similar kind of game that we play. It's always a battle against Omaha, and it's going to be no different this year. We're expecting a big, fast, hard team to come in and play the way they play. We're going to have to play the way we play to beat them."
"Coming from last year, and knowing a few guys on their team, they will be fast – they're small – they're a skilled team," sophomore defenseman Paul LaDue said. "Our defense has to watch out, they like to fly guys. They're quick, we have to keep them in front of us and play hard against them."
Against a skilled team like Omaha, you have to simplify your game plan and play smart hockey.
LaDue broke it down, "You have to be smart. You have to play simple. You can't try to beat them at their own game. You have to move the puck past them, make that first past. Hopefully that will beat a few guys. You have to bury your opportunities."
Series prediction
Looking at the historical records, UND has only played 12 games against the Mavericks. Six of the 12 games have been played at the Ralph and the series is tied at 3-3. UND has had better luck playing the Mavericks in Omaha where they have a 4-2-0 record.
Over the last 10 games, UND and UNO have each scored 29 goals for and given up 29 goals against. UND leads the series during those 10 games 6-4-0 (.600). Seven of the 10 games have been decided by two goals or less.  The series has been that close.
There's been one sweep in this series and UND has never swept the Mavericks at home. This weekend will be no different, I am going to go with a series split.
UND put on notice by UNO
"Tonight we were able to get up on the scoreboard; we really showed that we're a scoring team," UNO sophomore forward Austin Ortega said. "Kind of sending a message to North Dakota that we can score on any goalie out there" (19:14 of the video).
Eric is a 1996, 1999 graduate of the University of North Dakota. Eric covers the University of North Dakota Hockey and Division I college hockey. Eric is the Contributing Editor for Inside Hockey.