Over the last couple of weeks, there have been a number of line changes and tweaks that have impacted many fantasy managers. Whether replacing someone because of inconsistency or injury, line shuffling usually means that a manager has to adapt to NHL lineup changes on the fly.
With little warning, one's top-six forward could become a bottom-six forward overnight. While there certainly are trends to follow when trying to predict a forward's viability in a top-six rotation, one definitely cannot predict the frequency or likelihood of injury. However, managers need not despair as the trusty waiver wire and free agent pool can usually work wonders. Finding a top-six forward buried in your league's free agent pool can be a tough task sometimes – as it is hard to gauge a forward's longevity on a first or second line – but there are certainly some players that are currently playing, and producing, in their respective teams' top-six rotation that are still available at this stage of the season.
Top-Six In The Bottom Fourth
Leo Komarov (W – Toronto Maple Leafs)
Only 12% owned in Yahoo! leagues, Leo Komarov has been firing on all cylinders over the last ten games for the Toronto Maple Leafs. Two years ago, Komarov played in 42 games with the Leafs and only managed to score four goals and add five assists , but the winger has come back with a vengeance this year, and Toronto has been the direct beneficiary.
Playing on Toronto's second line alongside Nazem Kadri and Mike Santorelli – and averaging 15:53 worth of playing time – Komarov has scored as many points (4G, 5A) in his last ten games played as he did in his initial campaign with the Leafs during the '12-'13 NHL season. Fantasy managers should definitely look into adding Komarov as he has scored three goals in his last two games and seems to be in quite a groove lately. Seeing as how Komarov could also tack on a good amount of hits, he could help out in other categories besides points, so fantasy managers should at the very least keep a close eye on the winger.
Blake Comeau (W – Pittsburgh Penguins)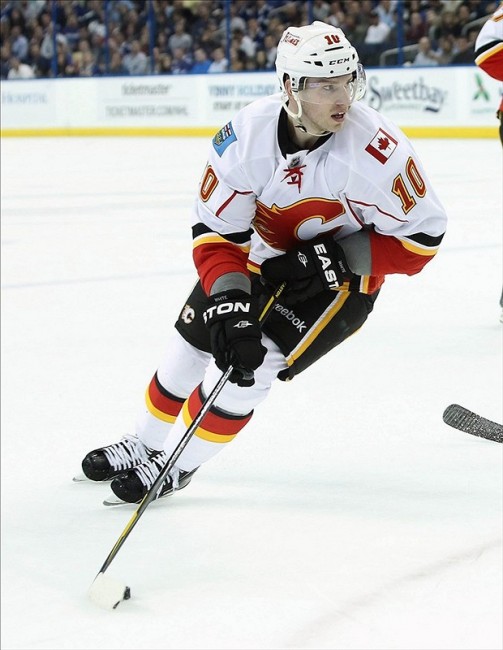 After having a 2010-2011 NHL season that saw Comeau score 46 points (24 Goals, 22 Assists), Blake Comeau never really regained such scoring form. Up until now that is.
With Pascal Dupuis suffering from a blood clot in his lung, Comeau was inserted into Pittsburgh's top-six rotation against his old team, the New York Islanders. Comeau certainly didn't waste any time against the Isles as he promptly scored a goal in his team's 5-4 loss to New York.
Over the last ten games, the 11% owned (Yahoo!) winger has managed to score five goals – with three of those goals coming Wednesday night against the Maple Leafs. While Dupuis might be out for a while, it is yet to be seen how Comeau handles such an assignment over the long term. Staying in the Penguins' top-six rotation requires effort, work, and consistency. So far, Comeau has handled his duties in a pretty formidable manner, and fantasy managers should definitely keep their eyes on the winger for the next several games.
Colin Wilson (W – Nashville Predators)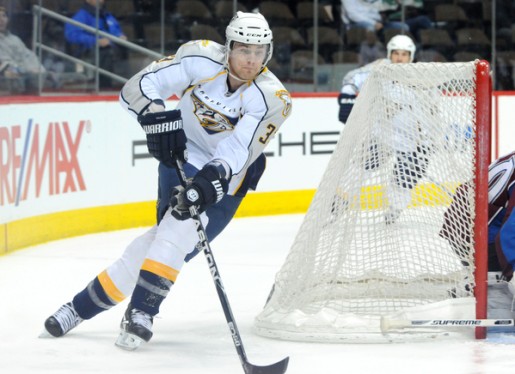 Last year, Colin Wilson set a career-high with assist totals and came within two points of matching his career-high in point totals. Currently owned in only 3% of Yahoo! leagues, Wilson has has nine points (3G, 6A) in 19 games played for the Predators this year.
Wilson has been averaging 15:16 of ice-time per night thus far, and has been gelling well while playing alongside Craig Smith on Nashville's second line. With six (3G, 3A) of his nine points coming in the last ten games, Wilson has found some sort of a rhythm in the Preds' top-six and it's certainly not farfetched to think that the winger could hold down his spot in the rotation for the foreseeable future. Wilson is a very low-risk option to consider at this point and managers could only benefit from adding him to their roster – especially since the forward is currently on pace to set career-high point totals this season.
Alex Killorn (W – Tampa Bay Lightning)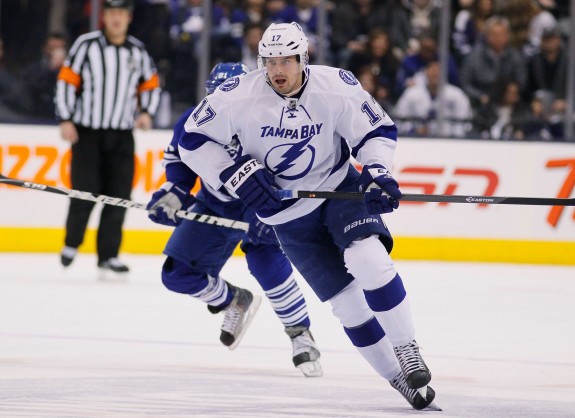 Playing alongside Steven Stamkos and Ryan Callahan isn't a bad deal for any forward, and it certainly hasn't been one for Alex Killorn as of late. The 7% owned (Yahoo!) Killorn has amassed six goals and four assists in 14 games played this year, and eight of those points (4G, 4A) have come over the last ten games after the forward came back from an injury.
While Killorn is only averaging slightly over 15 minutes of ice-time so far this season, the fact that he is playing on Tampa Bay's top line speaks for itself. Finding a top line option in one's free agent or waiver wire pool is as hard as it gets, so when a gem like Killorn is available they are usually snagged by an alert manager. Last year, Killorn scored 41 points (17G, 24A) in his second campaign with the Lightning, and he is proving that he belongs where he has been placed. Fantasy managers should absolutely consider adding Killorn to their rosters as he has been white-hot as of late and will only keep on gaining responsibility with such impressive showings.
Matt Beleskey (W – Anaheim Ducks)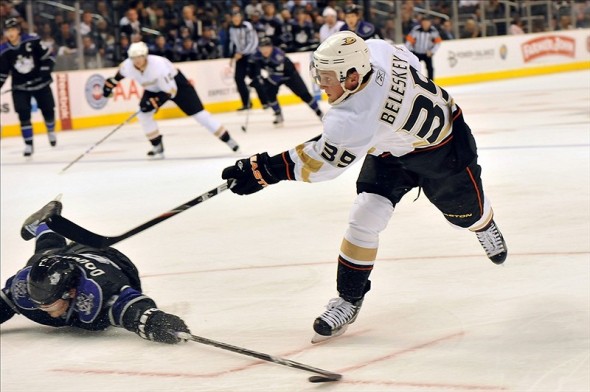 Much like Alex Killorn, Matt Beleskey has been enjoying some top line duties, and it has been paying off for both the forward and the Ducks. While Beleskey certainly isn't known for his scoring prowess as the largest point total that he has registered in his NHL career has been 24 points, the winger has been on a scoring spree this season as he has recorded nine goals and one assist in 22 games played.
With Ryan Getzlaf and Corey Perry being your linemates, it probably won't be hard to receive a fair share of high-percentage scoring opportunities – and that has definitely been the case for Beleskey as he has potted three goals in his last four games. Even though Beleskey's ownership rate is currently sitting at 18% in Yahoo! leagues, it is too hard to gauge how the winger will respond over the last three-quarters of the season. Fantasy managers shouldn't expect Beleskey's name to appear on the scoresheet each and every night, but he is certainly worth some consideration – especially in deeper leagues if he is available -while he is playing with the likes of Getzlaf and Perry.
In his third year with The Hockey Writers, Toli covers all things related to the New York Islanders. Focusing on the Islanders, the NHL Draft & draft-eligible prospect goalies, and hockey history, Toli can be contacted on Facebook by searching/messaging Toli Metter and on twitter by searching @ToliMetterTHW.