The Leafs hit the quarter mark with a record of 11-8-3 which is good enough for 8th in the conference.  While I predicted the Leafs would make the playoffs during my preseason predictions, I still think it's a bad idea. What is 8th place really?
Now, I hope they do make the playoffs, don't get me wrong. I just think going with the status quo is a terrible idea. They need to add, or they need to tear it down. But they can't be happy with 8th, a quick exit from the playoffs and then a low pick. They need a high pick, or they need to add right now to make this team more competitive.
Now, assuming the team is being run by people at least as smart as I am, then here are my predictions for the rest of the season.
1.  The Leafs Will Acquire Mike Richards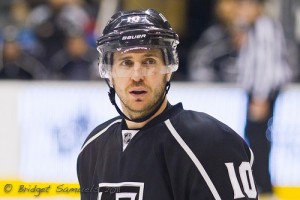 While it's been rumoured for a while, and I wrote about it a few weeks ago, so far nothing has happened. There are, however, a few reasons to believe it might.  1) As evidenced by Kessel, Lupul, Phaneuf and JVR, the Leafs are in love with the idea of finding under-achieving players who have more to give than currently showing and Richards fits this bill to a T. 2) His salary is actually quite a bit less than he'd fetch as a UFA and can easily be afforded by wiping Bozak's or Lupul's off the books. 3) There just aren't that many potential top line centres available that wouldn't require trading Rielly or the team's first rounder. 4) Richards is easily an upgrade over Bozak and anyone saying differently is just not properly informed.
2. The Leafs will move Bozak.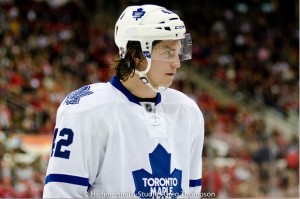 With or without Richards, Bozak has to go. Yes, his points are nice and he is probably at least somewhat underrated, but the stats can't be ignored: he quite demonstrably is riding the coattails of elite wingers and his effectiveness drops drastically when off that line. In addition, Kadri is already a better player and he needs to be taking Bozak's minutes, or, in the event they actually acquire a top centre, hopefully that will coincide with the coach splitting up JVR and Kessel, resulting in Kadri being more effectively utilized, which is a move so obvious it pains me to have to still be calling for it to happen.
Either way, in Kadri they have a player that is already better than Bozak, and in Holland they have virtually the same player who makes $4 million less. For a team up tight against the cap, this is an clear move.
3. Carlyle will be fired.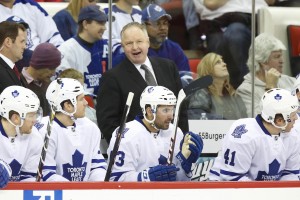 It is my sincere belief that the Leafs rewarded Carlyle with a contract extension this summer to buy him off for being a sacrificial lamb. I don't think it's likely to happen, but I do believe that the goal is to get Babcock and that the idea was to have Carlyle bridge the gap, paying him three years for a single year for the solid he's doing Shanahan.
There are no credible hockey people who think that Carlyle isn't a lame-duck coach who's days are numbered. I believe that they really want him to survive the year (it's a mistake though, because he may be doing irreparable damage to Gardiner and Kadri) and then get lost. I just don't think that will happen. The results have been favorable, but the Leafs are perhaps playing a bit over their heads right now and that only gets them eighth.  The next time they lose a big one or get hammered a few games in a row, they'll have to replace Carlyle with Horacek.
If this happens, I think a lot of people figure it'd be for the interim, but I think Shanahan will abandon his Babcock dreams if it get's to this point.
Horacek is actually a guy I'd prefer over Babcock.  I predict the Leafs will do great under him.
4. The day they fire Carlyle, will also see Dave Nonis canned. 
While Carlyle is the lightning-rod, I think Nonis is just as much of a lame-duck as he is.  I think Nonis stays with the organization and stays on as an assistant GM because he is knowledgeable and experienced. I think he is just too risk-adverse and conservative for his own good as a GM. In his place, Shanahan will name himself GM in the style of Lou Lamoriello. He should too, he's assembled a great team of assistants in Dubas, Pridham and Hunter and it just makes sense rather than bring in a GM who won't have the power a GM is accustomed to.
5.  Leafs fans will finally embrace Dion Phaneuf. 
https://twitter.com/draglikepull/status/538029710425722881
I'm just kidding. This is Toronto after-all. It just wouldn't be the hockey town that it is if there wasn't at least one player that was scapegoated conveniently and unjustly.  It's been five years and the Leafs have still never partnered him with an equal.  If there were to acquire someone to join him on the top line, thereby making Franson into one of the best second  pairing guys this side of Shattenkirk, and hopefully accelerating the development of Gardiner, Percy and Reilly in the process by being able to move everyone down a notch, it would be one of the best days in franchise history.
Now, if only there was a way to go back in time, use Gunnarson as part of a package to get a centre and not sign Robidas…….
Thanks for reading.
Covering the Leafs for the Hockey Writers.