As the main piece coming to Montreal in the Jaroslav Halak trade back in 2010, Lars Eller has always been a subject of curiosity for the fans. Going 13th overall to the St. Louis Blues in 2007, his high draft status hinted at immense potential and his size and skill were tantalizing for a team that skewed towards small and speedy. Entering his fifth season with the Habs, Eller's career up until this point has been a mixture of inconsistency and uncertainty. But this year, things have been better for him so it begs the question, has Lars Eller finally found his game?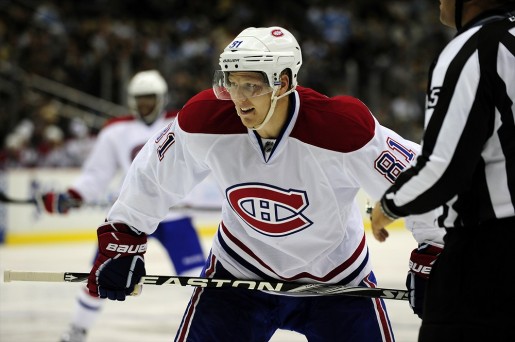 Eller's Progression
Growing up and all the way to his time in the AHL, Eller has shown an ability to put up points. But the NHL proved a different story. When Eller arrived in Montreal, then head coach Jacques Martin slotted Eller into a defensive role. There were questions as to why Martin would slot an offensively gifted youngster into a shutdown role but it appears Martin was onto something. Eller doesn't possess a ton of creativity for a player with offensive capabilities and his inconsistency at the beginning of his career didn't warrant big minutes. But over time, Eller's defensive game has come a long way, to the point where current head coach Michel Therrien has given Eller a heavy defensive load.
Even though he is in a shutdown role, Eller can still burn teams on the score sheet.
Consistent linemates
One thing that has held Eller back in his NHL career has been the lack of consistent and talented wingers. Eller's offense exploded when placed with Alex Galchenyuk and Brendan Gallagher at the beginning of last year but once they were taken away, Eller's game dropped right off as he would spend much of his ice time with the now departed Rene Bourque and Travis Moen and whoever else. But this year has been different. Spending time consistently with Jiri Sekac and Brandon Prust has made Montreal's third line a force. Sekac brings hustle, speed and excellent puck possession skills to the table and Prust is the physical grinding presence. And of course Eller uses his 6′ 2′ 209 LBS (according to NHL.com) body to drive possession. Playing with two players who bring a consistent effort every night and quite simply have styles that mesh with him, has been a boon for Eller and the Habs.
Faith rewarded
Over the summer, GM Marc Bergevin reinforced his faith in Eller by signing him to a four year contract worth $3.5 million per season. The 2014 playoffs were huge for Eller as he put up 13 points in 17 games leading all Habs forwards. He has only nine points in 23 games to start the year but he is playing with more confidence and his line has been very valuable for Montreal. With Tomas Plekanec being put in more offensive situations, Manny Malhotra and Eller especially have helped to pick up some of Plekanec's defensive responsibilities. Despite being pegged as an offensive player on draft day, Eller has emerged as the ever valuable shutdown centre every team needs.
I have a Bachelor's Degree in Journalism from Ryerson University. I am a freelance journalist and a Montreal Canadiens writer for The Hockey Writers. I previously wrote for Simcoe.com and Last Word on Sports as well as interned at TSN.