Hi everyone! We are plugging through the Q&A's and are now up to the Nashville Predators. Let me introduce you to Tyler Davis, our newest writer for Nashville. He was kind enough to sit on our very toasty hot seat and answer all of our questions. Anyway, here are his answers to our "dirty dozen".
=======================================
1. The end of the Barry Trotz era in Nashville was admittedly pretty surreal from an outsider's perspective. What was ultimately his undoing? 
I think that ultimately his undoing was the lack of offensive production. For years the team has struggled to score points. The organization had become stagnant in terms of production, and players seemed to be coasting and towards the end, some discontent between the players and Trotz as we saw several leave in trades around the deadline. I think that the fan base as well as the organization knew that the height of the Trotz era had come and gone, and it was time for a change to spark new life into the team.
2. To say it was a busy offseason in Nashville was an understatement. Which move surprised you the most?
The thing that surprised me this offseason was the emphasis put on acquiring so many Centers. There is definitely not a shortage of Centers, both veteran and youth, to be found in Nashville. I'm not sure if there is one person that surprised me more than the others however.
3. What can Peter Laviolette bring to the table that Barry Trotz could not?
The main thing that Laviolette brings to the table that is a refreshing change for the Predators is a sense of urgency on the offensive side of the puck. He brings a proven track record of winning with the 3 Finals appearances and 1 Stanley Cup. He brings an energy and a hunger that this team has lacked for some time, in my opinion.
4. In the last dozen games or so, we saw a different Craig Smith. Is that the Smith we see going forward?
I believe yes, this is the Craig Smith we see going forward. Smith began to realize his role and reach a new level of potential at the end of last season. After working with Laviolette in the Worlds, he has a very good understand of the system, and what his new coach wants out of him. I would not be surprised to see career highs from him not only in terms of goals, but assists as well.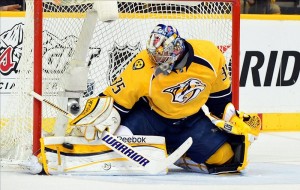 5. Pekka Rinne had a series of setbacks following surgery including infections. With a full summer of conditioning, what do you expect from the Finnish goalie? 
I expect to see Pekka back on top of his game. He has looked good in the preseason and seems to be back to the level he was at before his surgery, if not slightly better than before. I also see him putting up some of the best numbers of his career.
6. Roman Josi was a breakout player for the team last season. Expectations are a bit higher this year. Do you think he can live up to them?
Roman has only improved over the last couple of seasons, and I believe that this season will be no different. With mentor a mentor like Shea, and the addition of a veteran like Anton Volchenkov, I think Roman will continue to impress. It's hard to play night in and night out next to one of the best in the league and not learn and elevate your own game.
7. From the outside media perspective, what do you think the biggest misconception of Nashville is?
I think the biggest misconception of Nashville is the fact that because we are a non-traditional market, hockey won't grow here. However, that is far from the truth. Between the in-line leagues around Nashville, the Youth leagues that have spawned, and the brand new Ford Ice Center that has just opened up, the influence of hockey couldn't be stronger in the community right now. All of this is due to the generosity and commitment that the Predators have to giving back to their community.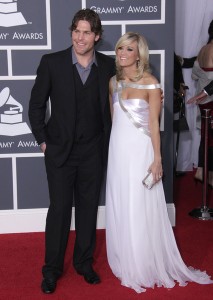 8. With the Mike Fisher Achilles injury, will he be effective at all this season since it usually takes time to get back in a rhythm?
I think it's going to be tough for him to be the leader he's been in the past on the ice in terms of production. I'm sure people will see that and argue that he hasn't been much of a "production leader" over the last couple of seasons, finishing with only 21 and 49 points respectively over the last two seasons. But where Fisher might not be leading in points, he leads in action, attitude, and toughness and that is where I think that he will be effective when he returns to the ice.
9. Will Ryan Ellis see meaningful ice time this year?
I believe that everyone expects big things out of Ryan this season. I also think that he can provide a lot of upside for the Predators if he does. However, I'm not sure if he sees the ice time this season that he or anyone expects. He is going to have to earn the ice this year against several other younger defensemen.
10. Peter Laviolette had issues with chemistry in Philadelphia and Carolina towards the end but has a Stanley Cup and a second Finals appearance with two different teams. How does he piece the new parts in when it comes to the Nashville Predators. 
I think despite the struggles he's had in the past, the youth and potential he has here in Nashville waiting to be developed can only be a positive for him. Nashville is a young team, and has been for a couple of seasons now, but has lacked the right person to be able to develop them and help them reach their potential. I think Laviolette brings a new energy not only to the team, but to the town along with a proven track record of winning.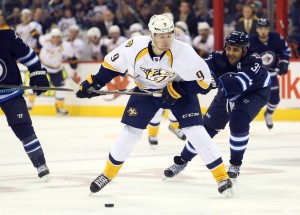 11. What prospects should we be keeping an eye on from the Nashville Predators? Do Forsberg and Jarnkrok make significant impacts in 2014-15?
I think that Forsberg and Jarnkrok are easily the two to keep an eye on. They both had flashes last season at the end that showed just what they were capable of. It's going to be tough for them this year though. After several off season moves to bring in some more veteran and experienced players, it's going to be interesting to see just how the two of them fit into the system.
12. Lastly, what are you predictions for the 2014-15 season. Playoffs? Highlights? Etc. 
I think that the Predators, after fighting a very tough Central Division, wind up in the playoffs. The fan in me wants to think they make it to the second round, but the realist in me knows that is going to be tough once again this year.
This season sees Shea Weber win the Norris Trophy after being in the top 3 finalists the last 3 seasons. Also, I think we see a healthy, reinvigorated Pekka Rinne in contention for a Vezina Trophy.
=====================================
Officially we are under ten to go, Minnesota is next……
Simply a hockey writer who is a jack of all trades. No question is too big or too small and in fantasy hockey there is no such thing as a stupid question. Now a proud, accredited member of the FSWA. I am also a New Jersey Devils lead writer, prospects writer, humorist, and so much more. You can find me on Twitter at @ChrisWasselDFS