The Detroit Red Wings have been hampered by injuries in recent weeks, but despite the number of injuries, they've been able to put together a five-game point streak. And while the point streak is a good confidence builder, they will not continue to accumulate points at that rate based on their level of play.
The Red Wings have had to rely on goaltending far too much this season, as evidenced by Jimmy Howard's .942 five-on-five save percentage. And while Petr Mrazek hasn't been as good as Howard, he still sports a solid .925 five-on-five save percentage.
More Shots on Goal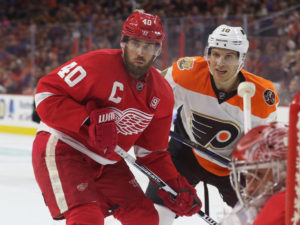 The Red Wings do not shoot the puck enough, and it's a big reason why they find themselves near the bottom of the Atlantic Division standings.
According to Corsica, the Red Wings are last in the league in five-on-five Corsi for per 60 minutes at 47.91 through their first 24 games, last in the NHL in Fenwick for per 60 (36.90) and 27th in shots for per 60 (27.74). Instead of shooting the puck and looking for second-chance opportunities, they generally opt to make a pass that either gets intercepted or leads to a turnover and loss of possession.
Before Henrik Zetterberg scored his backhand goal against Florida on Thursday, he opted to make a difficult pass instead of taking a high-quality shot. Luckily for him, he was able to regain possession and opened the scoring for the Red Wings.
Larkin, Mantha Carrying Team
Dylan Larkin and Anthony Mantha seem to be the only Red Wings not afraid to shoot the puck. Larkin has a team-leading individual shots for per 60 mark of 9.87, while Mantha is right behind him at 9.57.
For a team that is struggling to score as much as the Red Wings are — 24th in the league at 2.3 goals per game — coach Jeff Blashill should encourage his players to shoot at almost every opportunity.
As a team, the Red Wings have 659 total shots, which is 27th in the NHL, according to NHL.com. Pittsburgh leads the league with 821, which is nearly 200 more shots despite both teams playing 24 games. Imagine how many more goals the Red Wings could have if they took as many shots as the Penguins have.
A shot doesn't have to be high-quality to have a chance of going in. Yes, high-quality shots have a better chance of getting past goaltenders, but hockey is a game of randomness, and a number of random things — deflections, bounces, screens, etc. — can lead to a low-quality shot becoming a goal.
It's in the Red Wings' best interest to get more pucks on net, look for second-chance opportunities and hope for deflections and lucky bounces to start generating more goals.