The season is at its quarter mark and the New Jersey Devils are still competing thanks to a handful of generous contributions. Players like John Moore, Damon Severson, and Keith Kinkaid have taken their play to new heights and have buoyed a Devils team currently dealing with the injury bug. But no player's production has been more surprising and integral to team success than Travis Zajac's.
Zajac currently leads the team in points and is on pace for his second-best season in his career. He is steady and confident in the defensive zone. He's picking up the bulk of his points at even strength but is still contributing on the power play and is the team's most utilized forward on the penalty kill. Given his current production and value to the team, there is no question about it: Zajac is earning his $5.75 million salary.
But what makes Zajac such an asset to the team is the fact that he remains one of the team's few natural centers and is exceeding expectations at a position that the Devils have recently struggled to cultivate.
Scoring
Clearly, Zajac's scoring has caught the attention of many this year and is his most surprising strength. After 23 games, the Winnipeg native leads the team in goals and points, with eight and 18, respectively. If he plays the full 82 games at this pace, Zajac would hit a career high in goals (28) and near his best in points (64).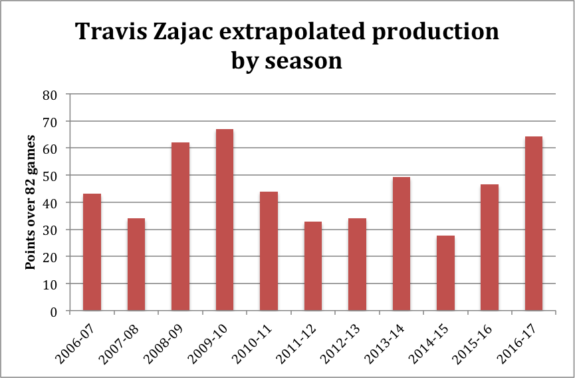 At his current scoring rate, 2016-17 is on pace to be Zajac's best season since he centered a line with Zach Parise, and the second best of his career. He's shooting more frequently – likely a result of playing next to Taylor Hall – and he's been even more efficient firing pucks than ever before, with a 14.3% shooting percentage.
Travis Zajac has as many points as Alex Ovechkin, John Tavares, Corey Perry and Auston Matthews. Craziness.

— Todd Cordell (@ToddCordell) December 2, 2016
There's always a concern when an older player shoots above his average rate, but Zajac has not had a playmaker like Hall in his entire career. Besides, if Zajac regresses back to his career average, it will mean a difference of about three goals at the end of the year. A 60-point season would by all means earn Zajac his salary and more.
Two-way Ability
As has been the story for his entire career, Zajac has become a household name for his superior ability in the defensive zone. For as good as Zajac is at driving play, he is also good at suppressing the opposition.
First, Zajac has been thrown in the deep-end in 2016-17, as has been the case for his entire career. This year, Zajac gets the most defensive zone starts of the top-six besides Kyle Palmieri. The difference is that Palmieri has struggled mightily in driving play and collecting points while Zajac is in great scoring and play-driving form. Even with his role as the least sheltered forward in the top-six, Zajac is holding his own from a possession standpoint.
His only shortcoming, thus far, has been in the goals against department. Cory Schneider's save percentage is significantly lower (88.5%) when Zajac is on the ice. That number is extremely subpar for Zajac, who has a history of buoying save percentage with his play.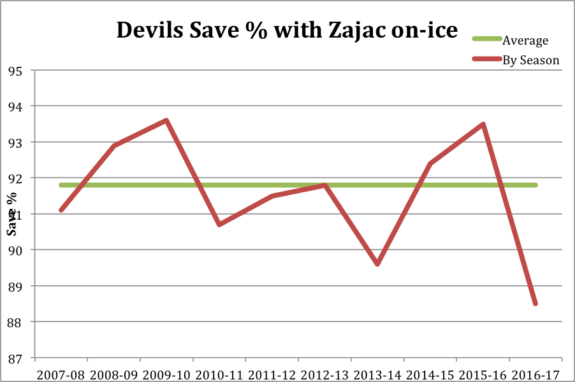 As the chart above shows, Zajac is well below his average and is at a career-low in the save percentage department, so look for this number to improve as Schneider leaves his current cold spell.
Special Teams
Starting with the penalty kill, Zajac is still the Devils' ace. He averages the most minutes per game of all Devils forwards in 4-on-5 play and has kept his team in the top 10 in penalty killing efficiency. In addition, only Adam Henrique has been more successful than Zajac in preventing opposing power play goals.
When the Devils are on the power play, Zajac continues to be a major cog. He is tied for first in points with four. He sees the most time on the man-advantage among Devils forwards besides Taylor Hall. His production on the power play isn't as efficient as it is at even strength, but Zajac is still a major boon to a special teams unit that has struggled this season.
Part of Zajac's comparative advantage over his teammates, both on the penalty kill and power play, is his superb faceoff skills. Of regular forwards, Zajac is second on the team in faceoff percentage with 52.0%, putting him in the top-40 in the NHL. That figure looks even more impressive when considering that many centers above Zajac in that list are faceoff aces that provide little scoring, like the Devils' own Vern Fiddler.
[irp]
Altogether, Zajac is having a great season. He has become a consistent threat to create plays and is still reliable in his own end and on special teams. If the Devils are going to make a push to the playoffs, they will need Zajac to continue to play this key role for the team, or else they could find themselves lacking in skill down the middle.