In each of the first two playoffs of their existence there has been an upset in NWHL postseason play – thanks to the Buffalo Beauts who advanced to back-to-back Isobel Cup Finals as a 3-seed. Last season they pulled off two upsets as they stunned the Boston Pride in the Final and brought a championship back to Buffalo. This season it's the Connecticut Whale (3-11-2) are carrying the title of 'ultimate underdog' as they enter the semifinals as the 4-seed against the league-leading Metropolitan Riveters.
Underwater Underdogs
Whale head coach Ryan Equale knows his team has the unenviable task of trying to stop the league's highest scoring team, a team his group went 0-4-1 against since November 11. But he also knows that the single-elimination playoff format could play into his team's favor. His group has lost four straight games, and eleven of their last 12 games.
He did add a dynamic player in Sam Donovan (Brown University) who was Connecticut's first pick (2nd round/5th overall) in an attempt to add some offense to the league's lowest scoring team this season. "I'm so excited. Anything can really happen and our coach was saying that in the locker room that this is to our advantage. People might take us lightly, I don't really know," said Donovan who already picked up an assist in her two NWHL games. "But anything can happen in a one-game knockout. It'll be fun, I never played in a playoff game. We just have to work hard and stay positive."
Phil G's Three Keys to an Upset: How the Whale Can Beat the Riveters

📝: @philgpbp
📸: @matthewraney
🔗: https://t.co/D8ykPdSvon pic.twitter.com/F1opuACl3Z

— Connecticut Whale (@CTWhale_NWHL) March 14, 2018
There's no big speech coming from Equale ahead of their win-or-go-home game against the 13-3-0 Riveters. "They have to inspire themselves. If they're waiting for me to say those magical words, we're in trouble. I think they feel good about themselves, and confident about the last couple of games against the Riveters," the UConn grad said.
"They know we have to stay out of the penalty box to have a chance to be successful. But I think we are a better matchup with them than we are with Buffalo. Buffalo is a very good team, a good skating team, and they also have a physical side – I think more so, especially with their forwards, than the Riveters do," he added after the final regular season game. "I like how we match up against the Riveters and I think our players feel pretty good about our last couple of performances against them."
Lawler Locked In
Despite the Riveters success against the Whale, and overall this season, the league-leaders are not looking past their opponents as they attempt to win their first NWHL playoff game. "I certainly haven't (looked ahead), I haven't even considered the weekend after this one because Connecticut has given us really good games," said Riveters' rookie Erika Lawler.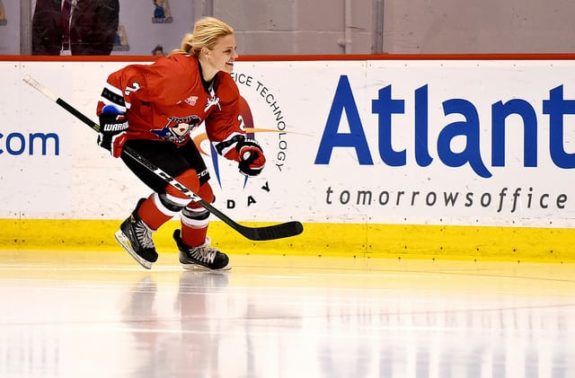 "There hasn't been a game this year against them where I've felt comfortable and I think they're a really talented team with some great players. I don't think it's going to be an easy victory, it's going to be a great game. I'm not counting my chickens before they're hatched when I play the Connecticut Whale, that's for sure."
Lawler has enough big-game experience to go around for herself, you reading this, and myself as well. So rest assured, she isn't going to be worrying pulling any Jedi Mind Tricks on herself ahead of the Sunday SemiFinal. "It almost makes it harder that you beat them so many times because maybe you expect it. You can get into your own head," she said. "I have a lot of respect for that team and it's going to be a great game."
Rivs Ready to Roll
Veterans like Bray Ketchum (who's a few years younger than Lawler and turning 29-years-old the day of the game) know that anyone can beat anyone in a league where the talent is spread out pretty evenly throughout the four teams. She also knows that what happened in games earlier this season don't tell the story of where teams are currently slotted.
"I think if we play our system and play Riveters hockey that we'll come away with the W," said Ketchum who put up 11 points (5g-6a) this season. "They're definitely a hard team to play, they work really hard and they have a good coach behind them this year. They're playing to beat our systems and slow down our game plan – which is: hard forechecking, a go-go-go mentality. The last couple of games against them have been a lot tighter because we play each other so many times and they know us in and out."
The Riveters have been building towards this since the first season. They have learned all of their lessons through the four-win first season, through last season's heartbreak at the hands of the Beauts in the semis, and even through two consecutive home losses to those same Beauts a few weekends ago. They are ready for this challenge and believe that this is their year.
"There's not really much to be said, it's more about execution. Everything that can be said has been said before," said Riveters captain Ashley Johnston, echoing what her opponent said up top. "Great teams find a way to win. If their team produces the best game of their life then we have to find a way to be great plus one."
Lawler summed it up best perhaps before a Tuesday night practice. "Playoff hockey is A-Mazing! That's why we all play, for the playoffs. It's exciting, everyone has a clean slate. Especially in our league this year – any team can beat any team. This is the one practice of the year that I have the most energy for – because it's playoffs week," she said with a smile before getting ready to take the ice and prepare for the most exciting time of the year.