The Philadelphia Flyers have signed 2017 draft pick Maksim Sushko to a three-year, entry-level contract that will begin before the 2018-19 season.
Belarus-born Sushko is an 18 year old right winger who was drafted by the Flyers in the fourth round of the 2017 NHL entry draft. He is playing in the Ontario Hockey League (OHL) with the Owen Sound Attack. Prior to joining the Attack in the 2016-17 season he played in the Vysshaya Liga, otherwise known as Belarus2.
Projected NHL arrival: 2021-22
NHL Upside: Top-nine forward
Sushko has been lighting the lamp through his hockey career putting up 66 points through 17 games in the Belarus U18 league. Out of those 66 points, 37 were goals, an average of more than two goals per game.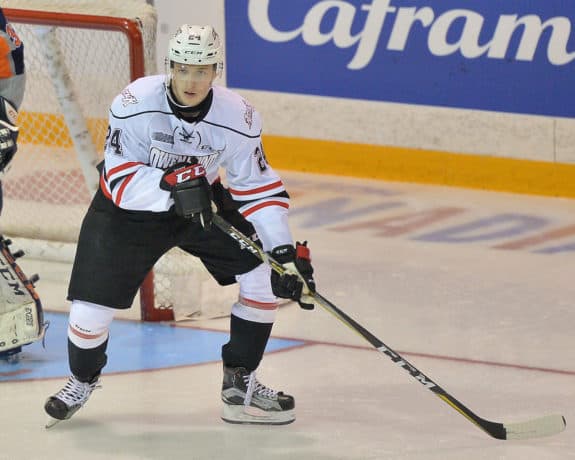 He was named team captain for Belarus at the World Junior Championship, a testament to his leadership skills. He led by example and posted two goals and six assists through six games, another confirmation that the Flyers drafted a promising player.
Sushko has transitioned very well to the North American game, producing on a regular basis throughout his two-year junior career. At the time of writing, he has produced 87 points through 111 games with the Attack. For a lot of players coming from overseas, the transition is difficult and at times overwhelming, this is not the case here.
Full 'Attack' in the Playoffs
With his entry-level contract out of the way, Sushko will have a clear head for the OHL playoffs. If anything, he may have more motivation to show the Flyers that he is serious about contending for a spot and moving his way up the depth chart. The Attack are in the middle of the pack with the potential to do some damage. It's going to be players like Sushko who are going to have to step up and showcase his skills.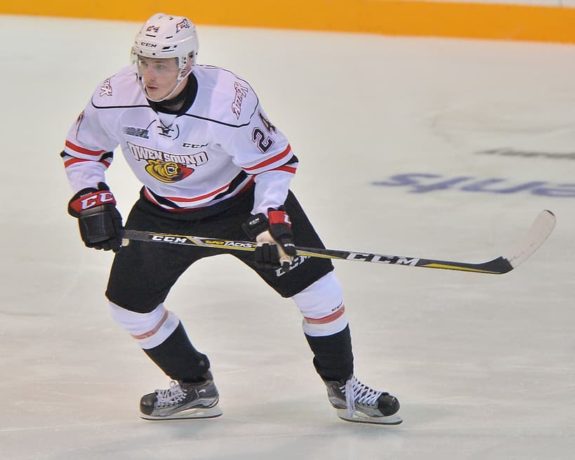 General manager Ron Hextall will have his eyes peeled on the OHL playoffs with the abundance of highly-touted Flyers prospects participating. This is Sushko's opportunity to really get noticed. It's also an opportunity to show that when it's crunch time, he can step up and be a key player.
Transitioning to the Pros
Sushko is in his second season with the Attack. He is an offensive-minded player that sometimes forgets about his own end. That may seem alarming but it is typical of junior players that are offensively gifted. It's not that his defensive skills are poor but that sometimes offense becomes his primary focus.
He will need to adjust to a more two-way game if he wants to make an impact in the American Hockey League (AHL) and the NHL. Especially when you consider that head coach Dave Hakstol is not afraid to sit players if they are not defensively responsible. With maturity and more AHL experience, in a couple of years, this part of his game should develop.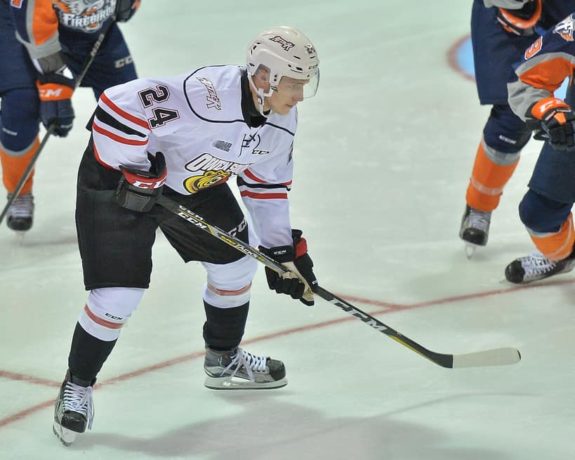 Sushko compensates for any knocks against him with his offensive prowess. He has a great shot that is tough to pick up for goaltenders. He also is a very hard worker along the boards and is very smart with the puck. If he wants to make a smooth transition to the professional ranks, he will have to tighten up his game as some of the habits that were passable in junior because of his skill will be more noticeable when he hits professional hockey.
NHL Upside
My projection for Sushko is that he will be a top-nine forward that will need some seasoning in the minors before making the jump to the NHL. I've kept the projection fairly open because he has displayed that he can be a game-changing player and, depending on how he transitions to the pros he may turn out better than expected. He is a tough player to read because he has been dominant at times but other times just average.
Regardless, I believe he will make the Flyers one day and will be a valuable role player. With more development and other prospect wingers above him on the depth chart, it will most likely take him until the 2021-22 season to crack the lineup. The great thing about Hextall is that the team is in the playoffs due to his expertise and in the process, he is locking up players that are going to have an impact for years to come.
A writer covering the Philadelphia Flyers and NHL Prospects. Kurtis is also a Guelph Storm season ticket holder. Feel free to contact Kurtis at @kurtiswells92, or by email at kurtiswells@rogers.com.