It's the worst time of year for Sabres fans isn't it? The team is once again miles away from anything resembling a playoff conversation and fans don't even have the trade deadline to look forward to anymore. Despite what continues to be a bleak situation in Western New York, there are several interesting storylines to follow as the 2017-18 season comes to a merciful conclusion.
Let's examine a few key aspects to focus on during the final stretch.
Sam Reinhart's Improved Play
One of the pleasant surprises as of late has been Sam Reinhart's continued scoring prowess sans Jack Eichel. It has long been theorized that without his partner in crime, Reinhart would be unable to produce at a pace fitting of a second overall draft pick. While he has never resembled anything close to a "bust", his absence from the scoring sheet early in the year made fans uneasy about his future.
The 22-year-old has put that theory to rest, for the time being, posting 25 points in his last 25 games. Though he is on pace to experience a slight regression in his overall point total from last season, for the first time in his young career, Reinhart has produced at a point-per-game clip for a significant period of time.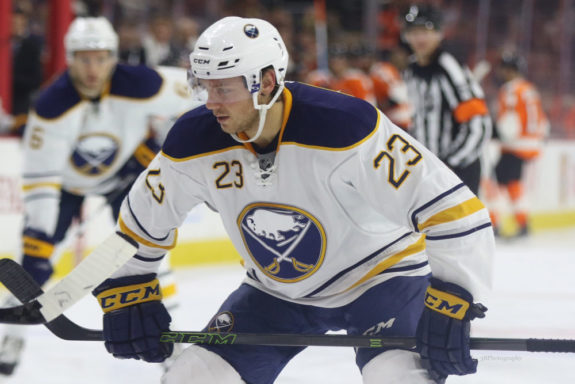 With his entry-level contract set to expire, his continued production over the last month of the season will factor into his compensation this summer as a restricted free agent. It remains to be seen whether the organization will opt to retain him on a long-term contract.
Reinhart needs to continue his current pace over the last 13 games of the season. If he does, that will essentially equate to a half-season of point-per-game production. Should he cool off, Jason Botterill may carry some uncertainty regarding his consistency, and a bridge-deal could be the best option for both the player and team.
The Return of Jack Eichel
After suffering a high-ankle sprain against the Boston Bruins on Feb 10, Eichel has been sidelined for the past 14 games. After it appeared that the Sabres franchise cornerstone would be forced to sit out for the remainder of the season, Eichel took to the ice this past week, participating in team practice for the first time in over a month
The organization would perhaps be wise to keep him in the press box for the remainder of the year so not to risk further injury, but it appears that he will return to the lineup as early as this weekend. Added entertainment value aside, this seems like a strange decision for both the Sabres and Eichel himself.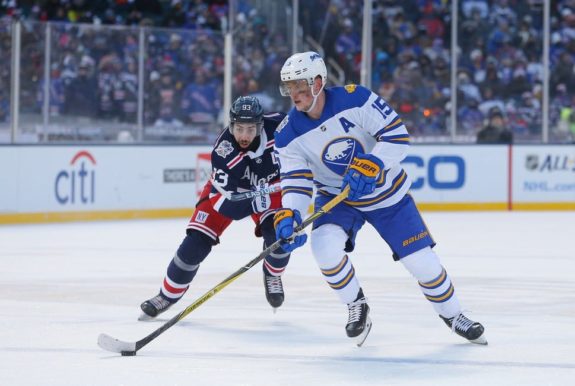 Nobody will fault him for his competitive drive and innate desire to be on the ice, but what's the point? The season has been lost since December and it would be catastrophic if he caused further damage, jeopardizing his availability or durability for the 2018-19 campaign and beyond.
From a statistical standpoint, Eichel was on pace for the highest point total of his career before landing on injured-reserve. If he can continue his near point-per-game pace, he would still break his current record, which might be necessary if he too were set to become a restricted free agent, but he isn't. With a contract that locks him down for the next eight years, he has almost nothing to play for.
Regardless of whether or not the Sabres are making the wisest choice, they're certainly adding a dose of intrigue over the final month. While the team has actually posted a 7-5-2 record without him, there is no doubt that they are a more entertaining squad with him in the fold. It might also be fun to see a reunion of the O'Reagan-Eichel-Rodrigues line that wreaked havoc in the NCAA, even if it's just for one game.
Will Ullmark See Ample Time in Net?
Unless they plan on adding a big-time free agent, or are willing to part with assets via trade, the Sabres have put all of their eggs into the Linus Ullmark basket heading into next season. The Swedish netminder has continued to improve in the minors this year, earning himself a spot in the AHL All-Star-Game. His .923 save percentage with the Amerks ranks him sixth in the AHL, so it's safe to say he's ready for NHL action.
This week, he received his second call-up of the season, and will undoubtedly see time in net for the Sabres in the final stretch. At the NHL level, Ullmark has posted a .918 save percentage and a 2.55 goals-against average in 22 games. In his only start of the 2017-18 season, he was sensational, stopping 44 shots in a 3-1 victory over the Columbus Blue Jackets.
According to head coach, Phil Housley, he'll get another crack or two at the cage in the coming weeks.
"He's going to get an opportunity," said Housley. "When that is, I don't know, but we're going to continue to work through this with our coaching staff and Jason to see the best fit."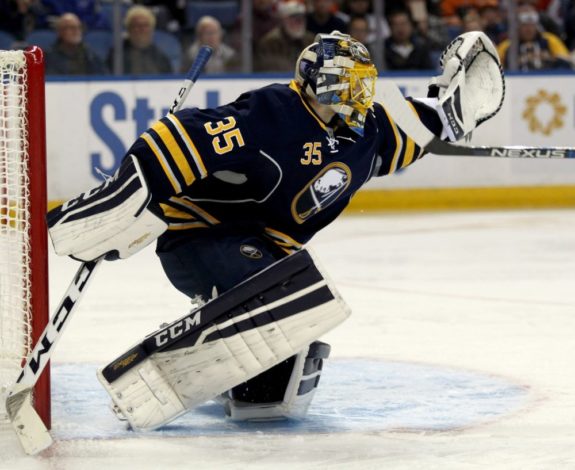 Let's face it, Robin Lehner will be long gone before the start of the 2018-19 season. Though he is still a restricted free agent this summer, there is no way Botterill will pay him more than the $4 million he is currently making and will opt to trade his rights. Recalling Ullmark at this point in the season shows that the Sabres front office wants another good look at him before penciling him in as the starter next year. With the Amerks all but locked into a Calder Cup playoff spot, the Sabres could hang onto the 24-year-old until just before the AHL postseason begins.
Related – Sabres Roster: Who Stays, Who Goes
Will Casey Mittelstadt Join the Fold?
Now, this would certainly make for an intriguing finish, however unlikely it may be. It's no secret that Casey Mittelstadt has had an exceptional season, both in college and in international competition. After slipping to the Sabres at eighth overall in the 2017 NHL draft, the American standout may very well be the most highly rated prospect in the league.
The one pull-up wonder was named to the Big 10 conference all-freshman team last week. Just two months earlier, he was voted the Most Valuable Player at the 2018 World Junior Championship in Buffalo. It's obvious that Mittelstadt is too talented to spend another year in the NCAA, however, it remains unclear what Botterill intends to do with him. Though the University of Minnesota's season has yet to come to a close, fans have speculated for months that the Sabres could sign him to his professional contract once it does.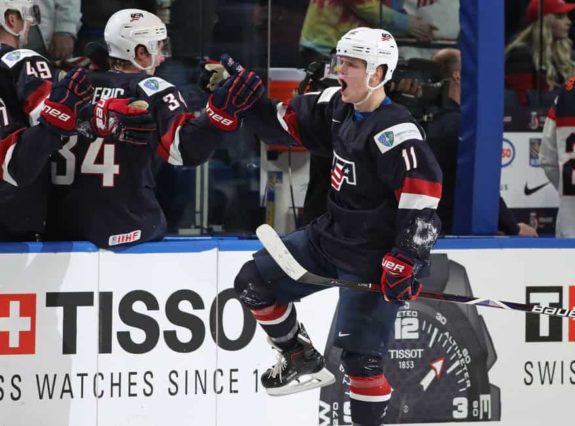 Ideally, Mittelstadt would see a game or two with the Sabres before ultimately being reassigned to Rochester to help the Amerks push for their first Calder Cup Championship since 1995. It's rare to see a player leave college early to spend time in the AHL, but that might be the best thing for his development. If his game can transition seamlessly into the professional ranks, there is a possibility that he could crack the Sabres opening night roster in 2018-19.
Ultimately, the decision is Mittelstadt's to make, but it sure would be fun to see him in a Sabres uniform this season. It would be a brief, shining moment to remember, in an otherwise forgettable season.