From the outside looking in, the Boston Bruins have been one of the best and most consistent teams in the NHL this season. After a rough start that saw multiple injuries to star and role players alike take their toll, the Bruins righted the ship and have been on an upward trajectory for the vast majority of the 2017-18 season.
For those watching the team closely, not much has changed from the start of the season to present day. The Bruins are still dealing with injuries to major pieces on the team including Patrice Bergeron, Charlie McAvoy, Jake DeBrusk, Zdeno Chara and potentially Torey Krug with Brad Marchand and Tuukka Rask also dealing with nagging injuries of late.
One significant change, however, has been the resiliency of this Bruins team who have managed to consistently win despite these injuries and some slumping play over the last few weeks.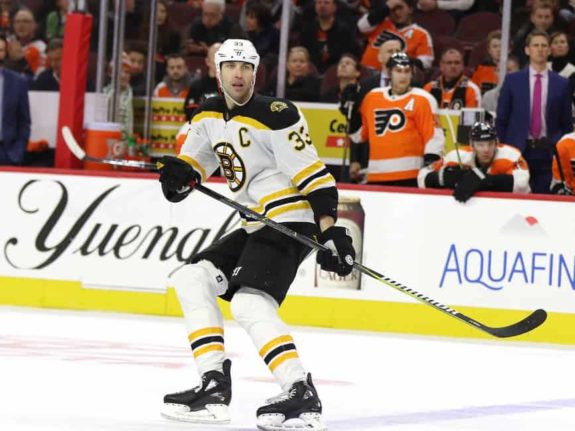 While these wins will likely be unsustainable with all of these injuries piling up, the fact that the Bruins have done what they've done to this point in the season is nothing short of admirable. Still, the team will be without some major pieces for the foreseeable future and the team will need to be even more resilient with both DeBrusk and Chara set to miss the team's next two games.
It's never ideal to lose a player like Chara, especially with McAvoy and Bergeron absence notably hurting the Bruins' defensive abilities. At the same time, however, there's a silver lining to this Chara injury that shouldn't go unmentioned.
Rest Will Do Zdeno Chara Well
There's something to be said about longevity in sports. With Zdeno Chara set to turn 41 in just a few days, the towering rearguard is one of the best examples of a long and successful career that can be found in the history of the NHL and all professional sports in general.
Related: 7 Things About Zdeno Chara
Despite his size at 6 foot 9 and north of 250 pounds, the fact that Chara has been able to play at such a high level throughout his career may actually be more impressive than people tend to realize. In a game that's transitioning towards a quicker pace and mobile blueliners taking the forefront of the discussion, Chara has found a way to consistently adapt over his 1,418-game (and counting) career.
Despite missing time with a torn ligament in his knee in 2014 at the age of 37 years old, a ligament that would be permanently damaged, and breaking his fibula in 2015, Chara has played in 223 of the Bruins last 232 games including all 68 this season. He's averaged at least 23 minutes for the 15th consecutive time this season and has been a mainstay on the team's top pairing, power play and penalty kill.
Having played in 22,263 minutes of ice time in his career, including 1,564 this season alone, Chara getting rest heading into the postseason isn't something that should be seen as an entirely negative situation.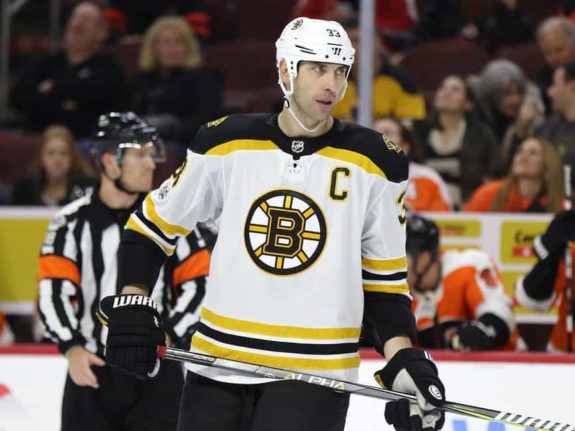 Though he's set to miss the Bruins next two games against the surging Florida Panthers and first-place Tampa Bay Lightning, Chara should likely return to game action sooner than later. The captain getting some rest where he can should only help him as the team prepares for what promises to be a very competitive postseason.
The Bruins are almost guaranteed a playoff spot at this point. While every point counts and home-ice advantage comes into play, the Bruins need to think of the big picture as well and count their lucky stars that Bergeron, McAvoy, Chara, DeBrusk, Rask, Krug and Marchand weren't more seriously injured with Stanley Cup aspirations on their mind.
Chara Having Another Strong Season
As mentioned, Chara has played in all 68 of the Bruins games this season. He's scored seven goals and 23 points in that time and has scored three game-winning goals for the team this season. Logging huge minutes and playing a mentorship role to both McAvoy and Brandon Carlo, Chara's role on this club has been a fairly under-discussed narrative for most of the year.
While the expectation is that Chara and the Bruins will come to terms on some sort of contract extension due to mutual interest from both sides, it's unlikely that either party saw Chara's ability to make an impact lasting this late into his career.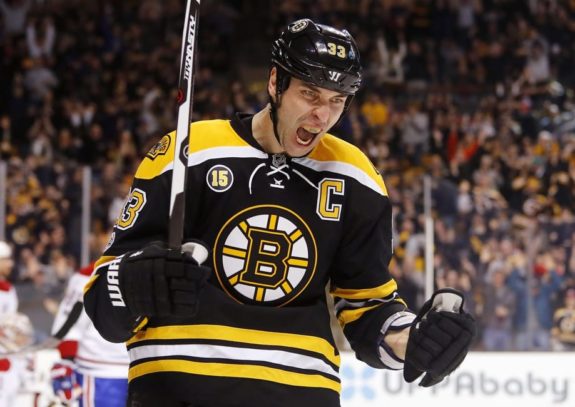 From rumors of being traded to an almost certainty that he'll be extended, Chara has impacted this team both on and off the ice for over a decade now.
With McAvoy set to take the torch and move forward as this club's top defensive option for the foreseeable future, Chara's role will likely decrease as the years pass. His ability to help accelerate McAvoy and Carlo's development should never be taken for granted, though.
Sometimes, the best trades are the ones that aren't made. In the case of Chara and the Bruins, that rings true. The veteran defender may not be happy about missing time, but his body will certainly appreciate any level of rest it can get with the toughest stretch of hockey still to come for Boston.