Saturday afternoon, Brock Nelson scored his fourth and fifth goals of the season in the New York Islanders' dominant 6-1 win over the Philadelphia Flyers. Through nine games this season, the 27-year-old has five goals and six points.
Brock-tober
In the National Hockey Leauge, we've seen players dominate against certain teams, in certain venues, or in certain situations. But have you ever seen a player thrive in a specific month? That's the case for Nelson who, historically speaking, plays his best hockey in October. Not only does he play his best in October, but his production throughout the opening month of the season is far superior compared to the other six months that the NHL regular-season plays through.
In 58 career October contests, Nelson has scored 22 goals and 43 points accompanied by a plus-11 rating. To put that into perspective, Nelson's second best month is March where he has played 13 more games (71) but has scored 11 fewer points (30). And although plus-minus tends to be an overrated and overused stat in today's NHL, Nelson's best plus-minus month besides October is January, where he has an even rating of zero.
Because of this, Islander fans have nicknamed the month Brocktober which was adopted by the Islanders' official Twitter account and MSG Networks on Sunday.
A confident Brock Nelson propelled the @NYIslanders to a huge win in Philly.@brendanmburke & @91Butch go over his game today. #Isles pic.twitter.com/keRWttWNoS

— MSG Networks (@MSGNetworks) October 27, 2018
Typically, Brocktober is bittersweet for both the Islanders and their fans alike because once the calendar flips to November, Nelson often disappears albeit a few stretches here and there. However, this year could prove to be different.
"He's a real talented player," head coach Barry Trotz told Shannon Hogan of MSG Networks regarding Nelson following his two-goal performance on Saturday. "I think he's growing in confidence and it shows in his play. I was really happy with that line. I thought Anders Lee, him, (Josh) Bailey, they played the right way all night; they were productive."
New Linemates, New Hope for Nelson
On July 1, the Islanders lost their captain and franchise player in John Tavares as he signed a seven-year deal with his hometown Toronto Maple Leafs. The departure of the team's first-line center bumped everyone up a spot on the center depth chart, giving reigning Calder Memorial Trophy winner Mathew Barzal the first line job and Brock Nelson the second line center role.
Last season, Nelson's bid for a fourth-straight 20-goal season fell one goal shy but it wasn't entirely his fault. Centering the third line which saw a revolving door of wingers, Nelson was never really able to develop chemistry with any of them.
Now on a line with, for the most part, consistent linemates in Josh Bailey and captain Anders Lee, Nelson can get comfortable and start to know where his wingers will be on the ice.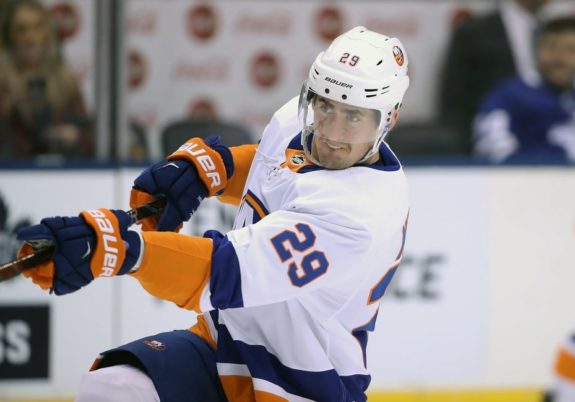 Bailey and Lee are two very skilled players who are both trying to prove that they and their numbers were not the product of playing alongside Tavares.
In his last two seasons, Lee has scored 34 and 40 goals respectively and is off to a pretty good start alongside Nelson with three goals and nine points in as many games, including a four-point performance on Saturday afternoon. Lee, known for his net-front presence, has sort of changed his ways and morphed into a playmaker now that Nelson is his new centerman.
Bailey, on the contrary, has always been the pass-first type of player and has had a primary assist on three of Nelson's five goals this season. Last season, Bailey was 22nd in the NHL with 53 assists in 76 games.
Contract Year Motivation
There are several reasons to think that Nelson can continue to be effective past the month of October. There's the comfortability factor of having consistent linemates and a new coach in Trotz who believes in him (not to say that former coaches Jack Capuano and Doug Weight didn't). But perhaps the biggest motivation for Nelson is that he is playing for a new contract.
Nelson is currently on his third NHL contract and once/if this contract expires, Nelson will become an unrestricted free agent (UFA) for the first time in his career.
In the past, as a restricted free agent (RFA), Nelson didn't have much leverage. Following the expiration of his entry-level contract, Nelson held out for as long as possible before signing a three-year deal worth $7.5 million on training camp eve, 2015. Technically, Nelson had until Dec. 1 to sign, but the Islanders' team policy at the time wouldn't let any RFA play if they didn't have a contract signed by the start of training camp.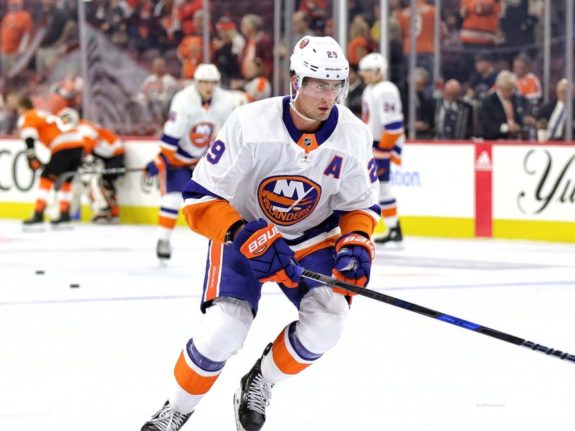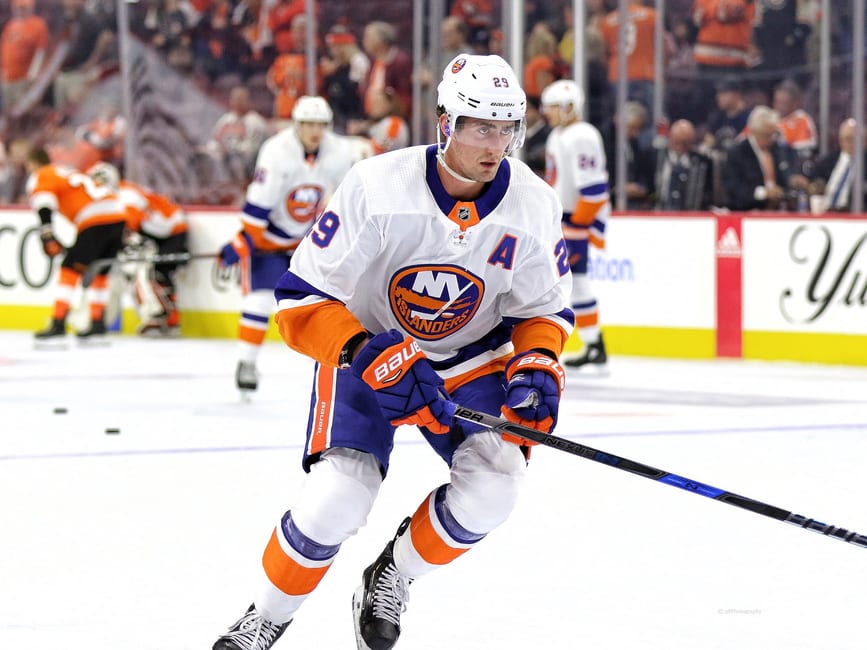 Last season, Nelson filed for arbitration but was able to come to terms on a new one-year deal worth $4.25 million before the hearing. Now, Nelson has leverage being that he could choose to leave for another club.
For example, Los Angles Kings defenseman Drew Doughty was set to become a UFA for the first time in his career this upcoming July 1, but by dangling the possibility of leaving for the Maple Leafs to media as a tactic, he was able to get the Kings to pay him even more (an eight-year deal worth $56 million) than what he might've originally been offered.
"I kind of always knew I was going to stay here," Doughty told Sportsnet "but I just said that (Leafs) stuff in the media just to kind of make sure (the Kings) didn't try to screw me."
Putting the contract situation aside, if the 4-4-1 Islanders are going to defy the odds and make the playoffs this season, they are going to need Nelson to stay consistent and show up past the month of October.
As a die-hard New York Islanders fan, I joined THW to help keep other Isles fans updated on what's going on with their favorite team. Follow me on Twitter (@Shazen21) for updates on the team and when I post new content and check out my YouTube (Islanders Highlights) for player highlight videos, pump up videos, and more!