Throwing haymakers. Crushing opponents into the boards. Deliberately putting his body in front of a pucks being fired at speeds up to 100 mph. Zach Bogosian is back. The Buffalo Sabres alternate captain is finally healthy.
Can he stay that way?
The third overall pick in the 2008 NHL Entry Draft can play solid, physical defense and chip in some offense. He can be a very effective player when he's on the ice. The trouble is that he hasn't been healthy.
Victim of the Injury Bug
It's hard to even judge if Bogosian's talent on the ice is worth his cap hit. Unfortunately, for years, his inability to stay in the lineup has been his only reliable constant.
"It's been awhile since I've been healthy. You try your best to take care of yourself, but it's the nature of the game obviously," said Bogosian, quickly adding, "It sucks."
Since donning the Buffalo Sabres sweater, the right-handed defenseman has run into the same trouble he ran into while with the Winnipeg Jets: injuries. Last season, Bogosian suffered an injury in training camp and then another in January that led to hip surgery. The Massena, NY native played in all of 18 games. In his three full seasons with Buffalo, Bogosian has played 64 games, 56 games, and 18 games, respectively. In other words, out of a possible 246 games, he's missed 108 – nearly half. He's averaging 46 games played over the last three seasons with the Sabres. That's a lot of missed time for a player with a $5.1 million annual cap hit.
For his 10-year career, Bogosian has played in 70-plus games just twice. He has suited up only 70 percent of the time. Factoring out his time with the Atlanta Thrashers before they relocated to Winnipeg and became the Jets, he's been unavailable more than one-third of the time. He just can't stay healthy enough to be on the ice or in the lineup, so it's hard to gauge his performance capabilities.
Bogosian is Back
This season, the 28-year-old blueliner missed the first six games of the season after suffering a lower-body injury in a pre-season game. The setback was apparently unrelated to the hip injury that ended his 2017-18 campaign.
By all signs, Bogosian is healthy. Finally. "I feel good. I think it took me a couple of games to catch up to the game speed," said Bogosian. "It just feels nice to be out there playing games again that's for sure."
He made his season debut against the Vegas Golden Knights and dished out four hits and blocked four shots. He's pinching well and playing aggressively. In his second game back, a 5-1 loss to the San Jose Sharks, he blocked a career-high eight shots before fighting Joakim Ryan after the final buzzer. The next game, he went toe-to-toe with Kyle Clifford and lit the lamp for his first goal since Mar. 27, 2017. "It was definitely a little bit of a monkey off the back," said Bogosian. "It's been a while since I've seen the puck go in the back of the net."
This goal and Bogo's reaction: Priceless. pic.twitter.com/j2Zbr01roZ

— Buffalo Sabres (@BuffaloSabres) October 20, 2018
"He's been a big part of our team since he got back into the lineup against Vegas. I just like the physical aspect of his game and I'm not saying dropping the gloves; he's been tough to play against in front of our net," said head coach Phil Housley. "He's making the right reads defensively, he's boxing out and he's adding to the rush, so he just got better and better and better."
Bogosian has been passing accurately and jumping into in the play at the right times. He scored his first goal of the season on the way to a plus-3 rating in a 5-1 road win over the Los Angeles Kings.
Hat Trick of Fights
Bogosian has returned to the ice with a vengeance, playing with aggression and determination. His instinct is to play physical and use his size with no regard for possible injury. "I think you either have it or you don't. I think it's inside of certain people," said Bogosian. "The game's so fast that it happens out there pretty quick, but it's more just your natural instinct to stick up for a teammate or stand in front of a shot or do that type of thing."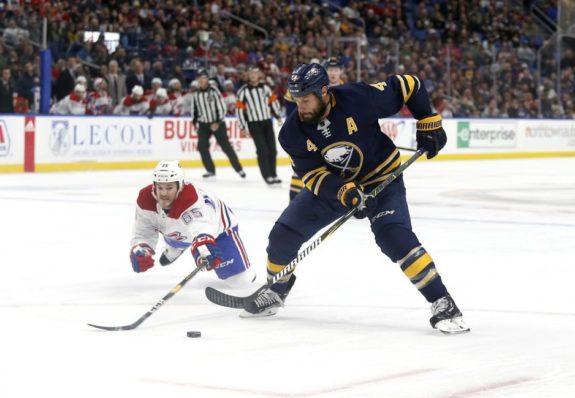 Bogosian is far from a goon – he's fought only 16 times in his first 10 seasons. That said, after his debut against the Golden Knights, he picked a dance partner in three straight games. His fight on Sunday against the Anaheim Ducks provided a much-needed spark for the club ending in a 4-2 win.
"[The fights] aren't something I really go looking for, but if the opportunity arises, yeah, it just kind of happened that way," said Bogosian with a smirk. "I don't think I'm playing any differently or looking for anything differently. It just kind of happened that way."
Statistically Speaking
Since returning to action, Bogosian is doling out 2.2 hits per game, second on the team only to Rasmus Ristolainen (3.0).
Bogosian is blocking 3.2 shots per game, twice the average of nearest Sabres Ristolaine and Jake McCabe. For players suiting up for a minimum of five games, it ranks him second in the entire league, behind only Alexander Elder of the Vancouver Canucks.
Bogosian's Early NHL Years
In 2011, the Winnipeg Jets 2.0 inaugural season, Bogosian was a standout. He anchored the blue line while scoring a career-high 30 points in 65 games. Fans loved his combination of speed, size and physicality. He also reached 71 penalty minutes, demonstrating a willingness to drop the gloves when necessary.
Wrist Surgery
Due to a chronically injured ligament in his right wrist that worsened in the offseason while working out, Bogosian required surgery before the start of the 2012-13 season. He missed six months of ice time following the surgery, but thanks to the lockout, Bogosian only missed 15 out of the 48 games played in the 2012-13 season.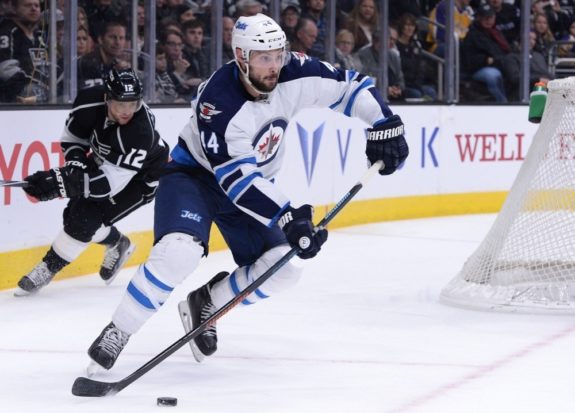 Not worried by his injury and time away from the rink, Kevin Cheveldayoff, the Jets general manager, then inked Bogosian to an eight-year extension worth $5.1 million per season. It was a bit of a gamble for Cheveldayoff, but ultimately it was a risk he was willing to take with the hope that Bogosian is just entering his prime. "We have Zach locked up for what are the best years of a defenceman's career," said Cheveldayoff. "Zach is someone that we wanted to show our faith in we know that as he continues to grow (as) a defenseman, his role and his leadership and all aspects of his game are going to help this team to get to the next level."
Bogosian jumped at the offer; it was a no-brainer for him. "I'm just real happy that Winnipeg believed in me and kind of gave me another chance to kind of prove myself," said Bogosian. "I didn't exactly have the best start of my career in Atlanta, and obviously moving up to Winnipeg gave me a new chance to play in a hockey market and play in a hockey town that really I enjoyed playing in front of.
Trouble Staying Healthy
A groin injury in November sidelined Bogosian for 15 games early in the 2013-14 season. Then, nagging back spasms shut him down before the end of the season. The year was a major disappointment as Bogosian's game was inconsistent. His pain likely prevented him from being confident in joining the rush and his output suffered as a result. He dropped to a paltry 11 points.
Acquired by the Sabres
Weeks before the 2015 NHL trade deadline, the Sabres and Jets made a blockbuster deal.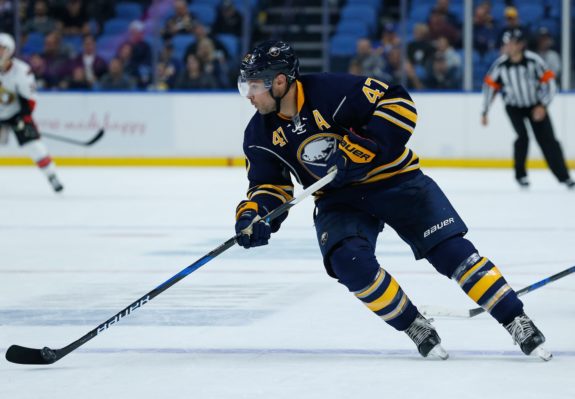 Bogosian was traded to the Sabres along with Evander Kane and goaltending prospect Jason Kasdorf for Sabres' blueliner Tyler Myers, winger Drew Stafford, winger Joel Armia (former 2011 first-round pick/16th overall), the rights to Brendan Lemieux (former 2014 second-round pick/31st overall), and a first-round pick (25th overall) in the 2015 NHL draft, which became center Jack Roslovic. He, like most of the players in the deal, needed a fresh start.
Related: Sabres West Coast Swing Shows Signs of Success
Battling for Respect
This past summer, some fans were on Bogosian's case, scrutinizing his social media posts. He took a moment to crush the chirping troll.
The 6-foot-3, 226-pound defenseman is one of the most popular Sabres in the dressing room. His hard work and determination to battle through adversity and injuries have earned their respect. "When he speaks, they listen," said Housley, who presented Bogosian with an "A" on his sweater prior to the season.
"I live close to him in the summer (in Minnesota) and I know how hard he worked," said Sabres winger Kyle Okposo. "I know what he did for his hips, his groins, his body. To start the way he did, it would've broke a lot of people. He stayed with it."
Early signs show Bogosian healthy and in good form. He's sticking up for himself and his teammates and is following the same approach he's had his entire career… taking it day by day. Here's hoping he has an injury-free year and gets the chance to show the value that he can bring to the team.
Jeff has been covering the NHL for over a decade for various sites. He's been with The Hockey Writers as a lead Sabres writer three years, while also writing a satire column called "Off the Crossbar."