There is always an opposing player that every city loves to hate. He gets away with the cheap shots, agitates the defense, or has the goalie's number. The city hates him… until he becomes one of their own. The Pittsburgh Penguins and their fans are no stranger to this situation. Over the years, general managers have acquired former foes who set fans on edge. How could the city be expected to root for someone who had terrorized their team in the past?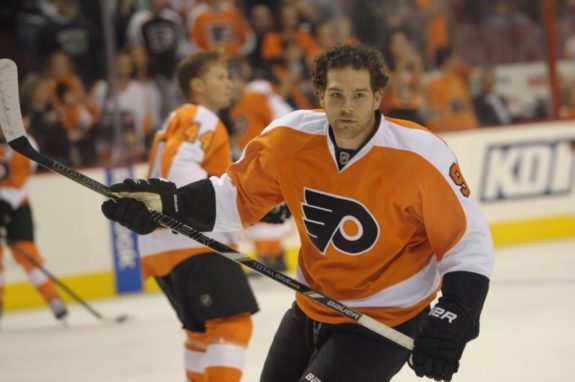 Five particular players faced those odds and did the unthinkable, winning over the cheers, and hearts, of a fanbase that can be resistant to change.
RELATED: The Latest Penguins News & Rumors
Arron Asham
The Montreal Canadiens selected Asham in the 1996 NHL Entry Draft. He bounced from team to team in the Atlantic Division before signing a two-year contract with the Philadelphia Flyers in 2008. Penguin fans disliked Asham simply because he wore the wrong jersey. Asham felt he fit in well with the Flyers culture, which only fueled the fire.
In the summer of 2010, Asham became a free agent and signed a one-year contract with the Penguins, which was extended the following summer.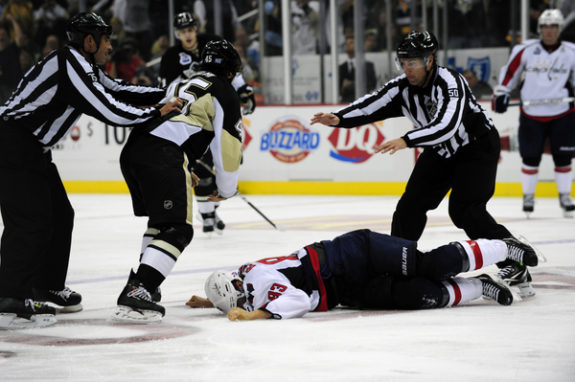 His defining Penguins moment came during the third period of an October 2011 home game versus the Washington Capitals. Jay Beagle got into a scrum with Penguins defenseman Kris Letang, which Asham did not appreciate. The altercation resulted in a fight. Asham took a few headshots from Beagle before shaking his right arm free and firing two quick punches to Beagle's face and jaw. Beagle went down while Asham skated toward the penalty box making "lights out" and "sleeping" gestures to the home crowd.
Cult hero status achieved.
Phil Kessel
Penguins fans were wary of Kessel's reputation before he arrived. Drafted by the Boston Bruins in 2006, he played with the Bs for three seasons before being traded to the Toronto Maple Leafs, a move that was ill-fated from the start.
Former Leafs general manager Brian Burke told SportsNet's Josh Beneteau:
"If we're not going to win, let's at least have a star player with what we charge for tickets," (from 'Brian Burke says Phil Kessel Trade was product of ticket price fatigue', SportsNet – 5/14/18).
In his first return to Boston's TD Garden, Kessel was booed and taunted by his former fans. What's worse, by 2013, despite helping the Leafs reach the playoffs for the first time in seven years, Kessel was beginning to hear boos from the home crowds in Toronto.
RELATED: Phil Kessel – Full Player Profile
When Kessel was traded to Pittsburgh in 2015, Steve Simmons of the Toronto Sun published a scathing article accusing Kessel of being "undedicated," "uncoachable," and likened him to a disease. These comments left Pittsburgh fans wondering if Kessel would bring a negative energy to the Penguins room. Just the opposite, Kessel became an integral part of the Penguins' HBK (Hagelin-Bonino-Kessel) line and ended the 2016 playoffs with 22 points, 98 shots, and a Stanley Cup.
Kessel was instrumental in securing the Penguins' fifth title in 2017, and he's still going strong. On Oct. 11, he recorded his sixth career hat trick against the Vegas Golden Knights in front of the Pittsburgh crowd. There wasn't a boo bird in the building.
Steve Downie
Drafted by the Flyers in 2005, Downie racked up OHL, AHL and NHL suspensions before completing his first full professional season. Downie's claims to fame were late, high hits and sucker punches. In Game 3 of the 2008 Eastern Conference Semifinals, Downie unleashed a late hit on the Penguins' Petr Sykora, putting Downie on Pittsburgh's radar.
He attempted to clean up his act with the Tampa Bay Lightning in 2009, under the direction of head coach Rick Tocchet. He succeeded, with the exception of a March 2010 hit on Sidney Crosby that NHL executive vice-president Colin Campbell called a "dangerous play".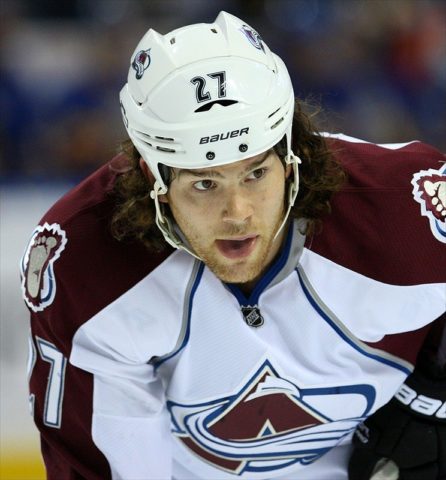 He was traded to the Colorado Avalanche and back to the Flyers before signing with Pittsburgh in 2014, where he was reunited with Tocchet, and wanted to prove himself as a protector, not a thug. Penguins fans love players that stand up for their stars like Crosby and Evgeni Malkin and were hungry for a territorial tough guy after years of long-term injuries, and liberties taken at the team's expense.
Downie lived up to his word, defending the Penguins stars for the 2014-15 season, while also contributing 28 points and 238 penalty minutes.
Rick Tocchet
The Flyers drafted Tocchet in 1983. He was known as a gritty fighter, not afraid to mix things up. He landed in Pittsburgh in 1992 and had fans wondering if they could trust their former cross-state rival. The pinnacle moment for Tocchet came in March 1992, in Chicago. He took a puck to the face and suffered a broken jaw, which would have sidelined most other players. Tocchet, however, donned a futuristic-style helmet, rejoined the game and scored two goals.
Former teammate Ron Francis told The Hockey News:
"I wouldn't expect anything less from him. That's the way he always played. He was a fighter… He just never gave up," (from 'Greatest Teams of All-Time: 1991-92 Pittsburgh Penguins', The Hockey News – 12/31/13).
Tocchet helped the Penguins secure the second of back-to-back Stanley Cups in 1992, and joined the team's 100-point club the same year. After the 2018 playoffs, Tocchet ranked 15th on the Penguins' all-team playoff scoring list with 37 points in 32 games. He retired from playing after the 2001-02 season and began his coaching career the following year. He returned to the Penguins as an assistant coach in 2014 and helped lift the team to their second set of back-to-back Cup victories.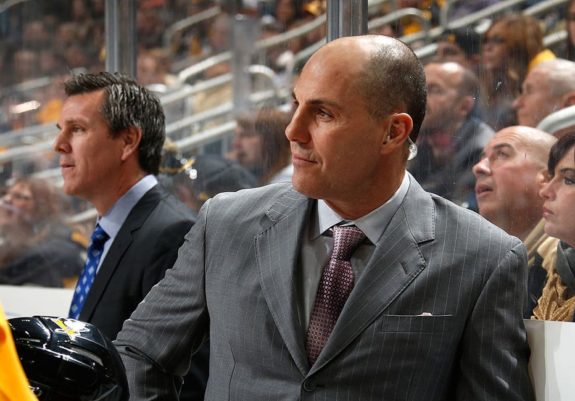 Darius Kasparaitis
The New York Islanders drafted Kasparaitis in 1992. He gained the reputation as an instigator and an agitator in his rookie season with the club, especially during the 1993 playoffs. He was assigned to shadow and antagonize Mario Lemieux in the second round, a tactic that worked. The Islanders knocked the two-time defending Stanley Cup Champions out of the playoffs with an overtime Game 7 win.
Dealt to the Penguins in 1996, Kasparaitis was concerned about how he would fit in with a team he had spent years trying to fluster, though he hit his stride in time.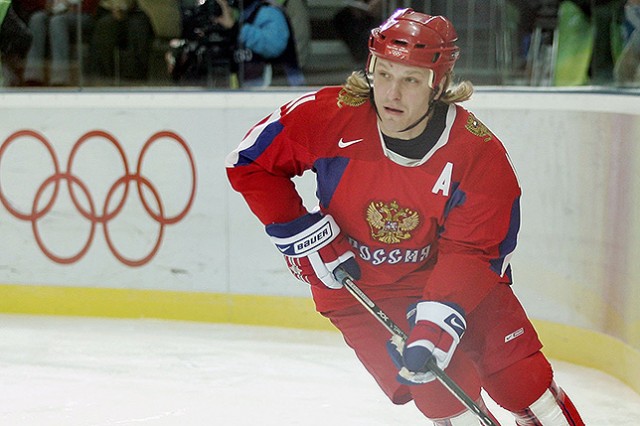 During the 2001 Eastern Conference Semifinals, Kasparaitis performed the most shocking, and arguably most important play of his NHL career. With another overtime Game 7 hanging in the balance, this time against the Buffalo Sabres, Kasparaitis took a pass from Robert Lang and beat Dominik Hasek on the left side to end the series.
Though the Penguins didn't win the Stanley Cup in 2001, Kasparaitis became an unlikely hero who wrote his name in the history books, and on the hearts of Penguins fans, forever.
Christy is a proud Pittsburgh Penguins fan, and now a proud Pittsburgh Penguins writer for The Hockey Writers. She is a graduate of the University of Pittsburgh and Penn State, with degrees in journalism and education. In her spare time, Christy enjoys listening to music, running her blog "Getting to Know Pittsburgh," binge-watching TV shows, spending time with friends and family, and playing with her dog, Max.