The New York Islanders will open their season on Thursday night in Raleigh, North Carolina, against the Carolina Hurricanes. The team opened training camp on Sept. 13, with 68 players on the roster and now, in compliance with Tuesday's deadline, they're at 23. After eight preseason games (5-3-0) and over three weeks of preparing, here's how the Islanders will line up when the puck drops at PNC Arena on their 2018-19 campaign.
First Line
#18 Anthony Beauvillier – #13 Mathew Barzal – #12 Josh Bailey
Headed into training camp, last season's second-line was assumed to graduate to the top-line role. For Anthony Beauvillier and Mathew Barzal, that assumption has come to fruition but head coach Barry Trotz switched it up on the right wing, replacing Jordan Eberle with Josh Bailey.
"They're different players but both really smart on the ice," Beauvillier told Andrew Gross of Newsday regarding Bailey and Eberle. "There are differences, but they're two really good players, so I'm not going to compare them."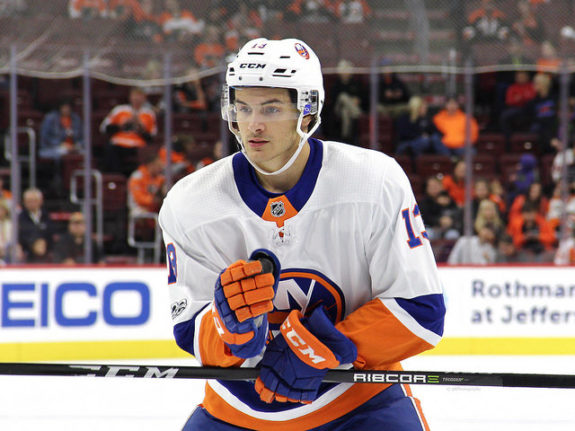 For Trotz, separating Eberle from Barzal and Beauvillier was not only a testament to Bailey's game but addressed a need to spread the scoring out.
"Beau is a very intelligent player who plays a north-south game. Bails is a veteran guy, he can read off Barzy, " Trotz told Gross. "One of the things you find with a tremendous talent like Barzy, they don't always play a standard structure because he's so creative. I think Beau has that ability to work with Mathew and I think Bails has the hockey IQ, he can read off of them and just balance the line out."
Barzal led the league in assists this preseason with eight in six games while Beauvillier scored three goals and six points in as many preseason contests. Bailey also had six points with two goals and four assists in five games.
Second Line
#27 Anders Lee – #29 Brock Nelson – #7 Jordan Eberle
The pressure's on Brock Nelson. After losing John Tavares this summer, Nelson has been bumped up to second on the team's depth chart at the center position. To his left, is Anders Lee who is determined to prove that he can score 30+ goals without the help of Tavares, and Eberle, who Trotz thinks can add a "little bit of flash and dash" to the line.
The trio will also be playing for new contracts, as all three are pending unrestricted free agents. Nelson was held scoreless in five preseason games but contributed to two Islanders goals. Lee (four goals in five games) and Eberle (five assists in six games) looked solid and ready to go in their contract year.
Third Line?
#17 Matt Martin – #53 Casey Cizikas – #15 Cal Clutterbuck
The Isles' top-six is pretty solid but this is where things get murky. The team has two fourth lines. To start the season, the Islanders are reuniting the team's fourth-line that was labeled the best fourth-line in hockey from 2014-2016.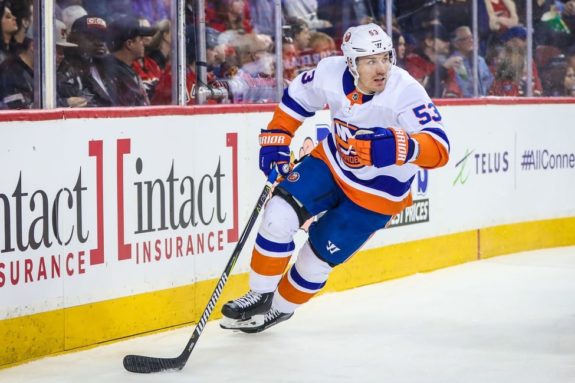 After 2016, Matt Martin signed a four-year deal with the Toronto Maple Leafs but two seasons later he's back where he belongs alongside Casey Cizikas and Cal Clutterbuck. The line is notorious for their hard-hitting, high-energy game and ability to spark their team and the crowd.
The line combined for two points during the preseason with Cizikas assisting on a Clutterbuck's power-play tally in the team's preseason opener.
Fourth Line?
#47 Leo Komarov – #51 Valtteri Filppula – #11 Tanner Fritz
The Islanders' two July 1 free agent signings, Leo Komarov and Valtteri Filppula, didn't play well during the preseason. However, Komarov signed a four-year deal this offseason and Filppula's one-year deal has a no-movement clause, so the two are obviously on the roster.
Expected to join them on this fourth or third line? Tanner Fritz, who was waived in training camp but has remained with the team despite clearing waivers and now being Bridgeport-eligible. Throughout the preseason, Trotz has praised Fritz.
Barry Trotz on #Isles F Tanner Fritz, who cleared waivers yesterday but remains with team: "Tanner has had a really good camp. He's one of those guys that's right there but we have a lot of veteran guys right now…He deserves to stay right now."

— Andrew Gross (@AGrossNewsday) September 26, 2018
The 27-year-old had three goals and seven points in 34 games with the Islanders last year and beat out Kieffer Bellows, Josh Ho-Sang, Jan Kovar, and others for a roster spot. Fritz had one point in four games, setting up Bellows for a power play goal in a 2-0 win over the New Jersey Devils. Filppula had two assists in three games with both helpers coming at Madison Square Garden while Komarov was held off the scoresheet in four exhibition games.
Offensive Scratches and Injured Reserve
#14 Tom Kühnhackl, #32 Ross Johnston, #16 Andrew Ladd (IR)
Like Fritz, Tom Kühnhackl has now cleared waivers but he will remain with the team to start the season. The two-time Stanley Cup champion signed a one-year deal with the Isles this summer and could split time with Fritz on the third line.
After being called up in late January last season, Ross Johnston was pegged as the next Martin. Well, Martin's back now but Johnston signed a four-year deal this offseason so he will stay with the team to start the season. He would have to clear waivers if the Isles want to send him to Bridgeport.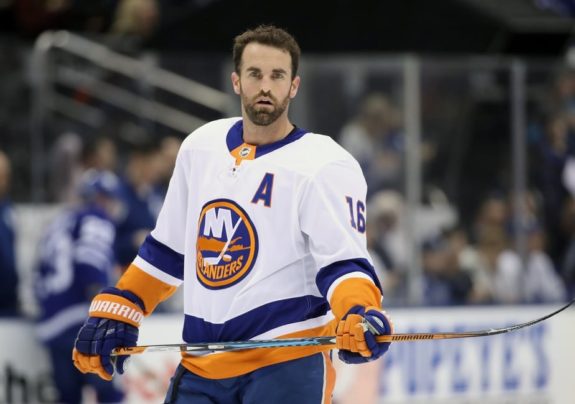 Andrew Ladd looked determined to bounce back this season. He was one of the first Islanders to return to Long Island for informal skates but missed 12-straight practices before taking the ice with the team on Wednesday and didn't appear in any of the team's eight preseason games. Kühnhackl had no points in four preseason games while Johnston had a goal and a decisive fight win in three.
Defensive Pairings
#21 Luca Sbisa – #2 Nick Leddy
Since arriving on Long Island before the 2014 season, Leddy has been on the left side of the top pairing on defense. Trotz, however, is trying Leddy on the right side despite that he's a left-handed shot. He played on the right side for most of his time in Chicago with the Blackhawks.
For now, the team doesn't have a clear top pairing as they have spread their talent through the pairings. Paired with Leddy is Luca Sbisa, who was at training camp on a PTO (professional) but wound up signing a one-year deal worth $1.5 million.
Due to injuries, Sbisa was only limited to 30 regular-season games with the expansion Vegas Golden Knights but scored two goals and 14 points over that span with an additional four points in 12 playoff games. The 28-year-old had 495 NHL games under his belt and is the veteran presence that Trotz and Lou Lamoriello were craving for their team.
#3 Adam Pelech – #6 Ryan Pulock
As a defenseman, Ryan Pulock scored five goals in as many preseason contests which were good for third in the league. Coming off a 32-point rookie campaign, the 23-year-old looks poised to breakout. To his left, will be Adam Pelech who compliments Pulock's game well, as he tends to stay back on defense while Pulock likes to get involved on offense.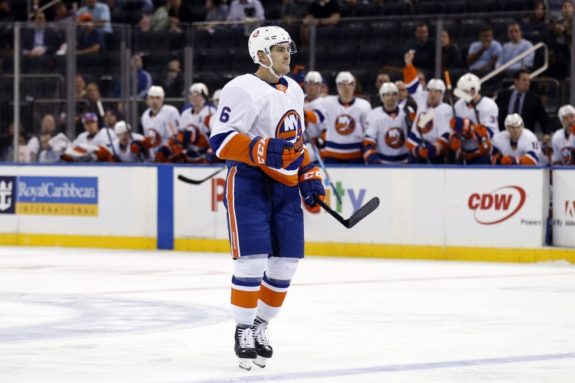 #4 Thomas Hickey – #55 Thomas Hickey
In spreading out the team's defensive depth, Johnny Boychuk will likely see a decrease in ice-time this season after being a mainstay on the top pairing since 2014. The 34-year-old veteran has begun to wear down as he gets older but has played with Thomas Hickey in the past. The two should be a strong, shutdown pairing with both getting ice time, perhaps together, on the penalty kill.
Defensive Scratch and Goaltenders
#24 Scott Mayfield (healthy), #1 Thomas Greiss, #40 Robin Lehner
As it stands, Scott Mayfield is the odd man out on defense. It's a tough situation for Mayfield, who is entering the first year of a five-year contract extension signed last season but if someone isn't playing too well or is injured, Mayfield will get into the lineup. The 25-year-old had two goals and 12 points in 47 games with the Isles last season.
In goal, it's complicated. With the season beginning on Thursday night, it sounds like Trotz doesn't have an official starting goaltender. Robin Lehner was signed this summer to seemingly fill that role but Thomas Greiss had an impressive preseason.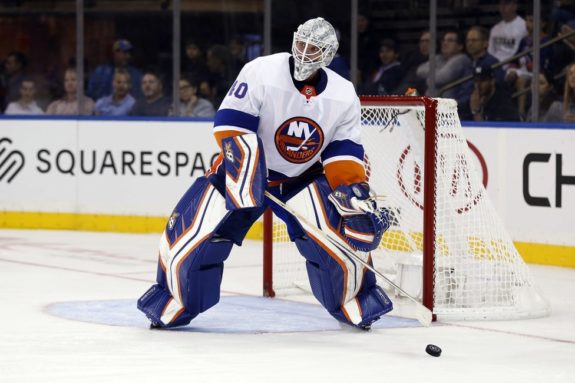 According to Gross, it seems as if Greiss will get the nod on opening night. That doesn't mean that he's the team's starter but Trotz would like for one of the two to emerge as the clear-cut candidate.
"Generally, in the past, I've had a No. 1," Trotz told Gross. "I haven't had many 40-40 guys. I don't know too many teams that have been successful 40-40. Ideally, you want to get to a No. 1 who's in there and gives your team that same feel every night."
As a die-hard New York Islanders fan, I joined THW to help keep other Isles fans updated on what's going on with their favorite team. Follow me on Twitter (@Shazen21) for updates on the team and when I post new content and check out my YouTube (Islanders Highlights) for player highlight videos, pump up videos, and more!