The New York Islanders last took the ice on April 7 in Detroit to conclude their 2017-18 season, and a lot has happened since. Through the long offseason, the franchise and their fans have experienced several ups and downs, from bringing in Barry Trotz and Lou Lamoriello to losing their franchise player, John Tavares.
On Tuesday, a tweet followed up by a post in The Athletic, reminds us that the puck is close to dropping as a group of Islanders have begun to gather at Northwell Health Ice Center (the Isles' practice facility) for informal skates.
Few #Isles on the ice earlier today @NHIceCenter. Clutterbuck, Ladd, Hickey, Martin, Greiss, Lehner and local guy Ryan Hitchcock. Training camp starts in 3 weeks.

— Arthur Staple (@StapeAthletic) August 21, 2018
Among those back on Long Island, preparing for the 2018-19 season are Andrew Ladd, Cal Clutterbuck, Thomas Hickey, and Thomas Greiss. One of the newest Islanders, Robin Lehner, has also been taking part in these skates as has Matt Martin, who is returning to the team that drafted him 148th in 2008 after spending the last two seasons with the Toronto Maple Leafs. Ryan Hitchcock, a Yale University product who hails from Manhasset, Long Island, has been participating too, he gets ready for his first full season of professional hockey with the Bridgeport Sound Tigers.
It is encouraging to see the group of NHL regulars (it is unknown if others have joined the informal skates since Tuesday) back on the ice nearly three weeks ahead of training camp (Sep. 13) as the majority of them have a lot to prove as they attempt to recover from a down season and fill the void left by Tavares and others who've departed.
Playing With a Lot to Prove
Ladd, for example, hasn't been what the Isles had hoped he would be when they signed him to a seven-year deal worth an average of $5.5 million per season on July 1, 2016. Two years into his Isles tenure, the 32-year-old has just 35 goals and 60 points in 151 games. In addition to arriving early, Ladd changed his offseason routine this summer to help him adapt to the modern NHL.
Ladd told Arthur Staple in his most recent post in The AthleticNHL, "When I first came into the league it was about working as hard as you could in the gym and preparing strength and stamina-wise for the season. Now it's shifted a little more to the skill development side. I focused more on that, being on the ice and getting my body moving on the ice the way I want it to. Hopefully, I can see some results there." (from 'Isles summer notebook: The boys (some of them) are back in town', The AthleticNHL – 8/22/18)
The Islanders are hoping that, no matter where Ladd plays in the lineup, he can get back to scoring the 20+ goals that encouraged the Isles to sign him long-term.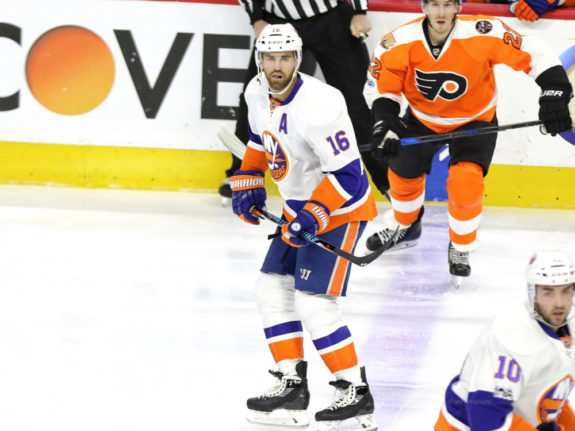 Another player on a long-term deal with a lot to prove after a tough season is Clutterbuck. Extended midway through the 2016-17 season to a five-year deal worth $17.5 million, Clutterbuck scored just eight goals and 18 points in 78 games last season. With four years left on the deal, the 30-year-old winger is aware that he hasn't lived up to expectations but is confident that he will rebound this season.
Clutterbuck told Staple, "I haven't been contributing the way I'm capable, the way I want to, but I do have the confidence that if I do my work, I'll have a chance to do well, play well and be a contributor to the team. I'm more excited than I am frustrated about last year or nervous about what's to come." (from 'Isles summer notebook: The boys (some of them) are back in town', The AthleticNHL – 8/22/18)
On the same day the Islanders signed Ladd (and Jason Chimera) in 2016, the team lost three core players in Kyle Okposo (Buffalo Sabres), Frans Nielsen (Detroit Red Wings), and Matt Martin (Toronto Maple Leafs). Two seasons later, Martin is back as Lamoriello, the same general manager that signed him to a four-year deal with the Leafs in 2016, traded goaltender Eamon McAdam to Toronto for Martin on July 3.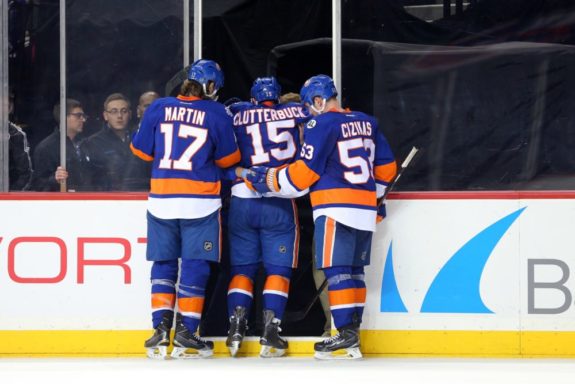 In his last season with the Isles, Martin put up career-highs with 10 goals and 19 points in 80 games playing on the team's infamous fourth line alongside Casey Cizikas and Clutterbuck. Even as a member of the Maple Leafs, Martin was seen on Long Island training and skating with some of his former (now current) teammates ahead of training camp. Seeing him on the ice isn't surprising.
Martin, like many others, has a lot to prove after finding being a healthy scratch for the majority of the second half of the season with the Leafs. Playing in only 50 games, the 29-year-old found the back of the net just three times and added nine assists playing in a minimal role.
Rebounding From a Historically Bad Season
Thomas Hickey spent most of last season on a pairing with Ryan Pulock, and if Pulock isn't ready to replace Johnny Boychuk on the team's top pairing, expect Hickey to see increased ice time, playing alongside Pulock.
Hickey, along with Calvin de Haan, reached free agency but Hickey quickly re-signed with the Isles on opening day, with a four-year deal worth $10 million. De Haan, however, signed a four-year deal with the Carolina Hurricanes.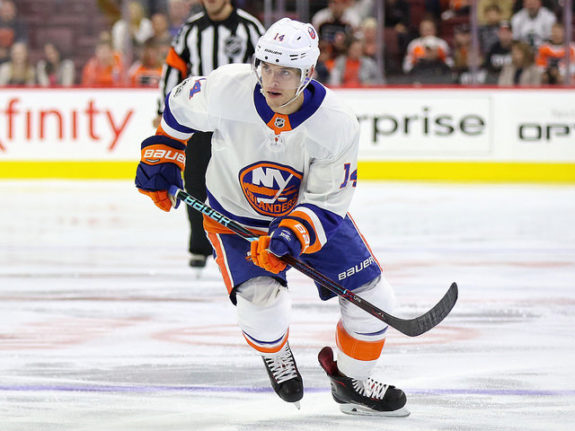 Most encouraging of all to see is both Isles goaltenders arrived ahead of schedule and will look to battle for the job as the team's starter. Robin Lehner appears to be the frontrunner but Thomas Greiss isn't out of the running. Both have been starting goaltenders in the past — Greiss with the Islanders towards the end of the 2015-16 season and for the majority of the 2016-17 season, and Lehner in all three seasons he played with the Buffalo Sabres.
Lehner was a pending restricted free agent and the Sabres opted not to extend him a qualifying offer and later found their starting goaltender in the free agent market (Carter Hutton). Playing in Buffalo the past three seasons has done no favors for the 27-year-old's record or statistics but he still has a very respectable career record of 72-97-35 along with a 2.82 goals against average (GAA), a .915 save percentage (Sv%), and eight shutouts. Signed to a one-year, "prove it" type deal worth $1.5 million, Lehner will once again be playing for a contract.
It wasn't a great year for Greiss and that's why many have already pegged him as the backup goaltender. However, like Ladd, Greiss changed his offseason routine this summer, reuniting with Adam Francilia who runs a camp with some of the best goaltenders in the game such as Devan Dubnyk (Minnesota Wild) and Connor Hellebuyck (Winnipeg Jets).
Help for the Goaltenders
Perhaps the biggest thing for both goaltenders is that this summer the Islanders brought in two well-established goaltending coaches: Mitch Korn (director of goaltending) and Piero Greco (goaltending coach). Both coaches are coming off championship seasons (Korn with the Washington Capitals, Greco with the Toronto Marlies of the AHL) and gave a proven ability to improve their netminders' play.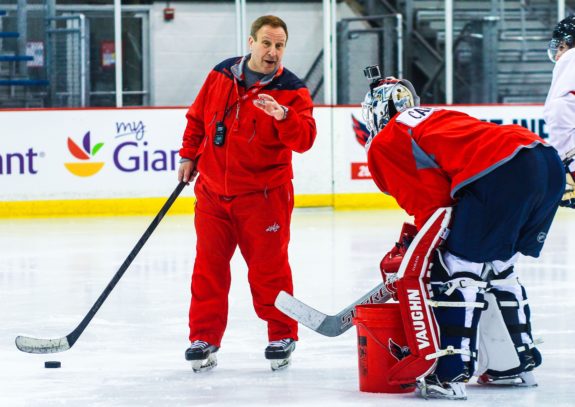 Greco, for example, worked with Garret Sparks and Calvin Pickard last season, two of the best goaltenders in the American Hockey League while Korn has worked under Trotz's staff in Nashville with the Predators and with the Capitals.
Greiss told Staple ,"Everywhere he went he had great success with guys like Rinne, Holtby, all winning teams and all great goaltenders. It's exciting. I think they're going to bring some fresh ideas, new tactics. It's going to be a positive change and I'm looking forward to it." (from 'Isles summer notebook: The boys (some of them) are back in town', The AthleticNHL – 8/22/18)
As Sep. 13 gets closer, players will begin to trickle in for what should be a very competitive training camp but for now, the seven skating together on Long Island serves as a reminder that the 2018-19 season is almost upon us.
As a die-hard New York Islanders fan, I joined THW to help keep other Isles fans updated on what's going on with their favorite team. Follow me on Twitter (@Shazen21) for updates on the team and when I post new content and check out my YouTube (Islanders Highlights) for player highlight videos, pump up videos, and more!